UltraViolet: Building a Movie Library in the Cloud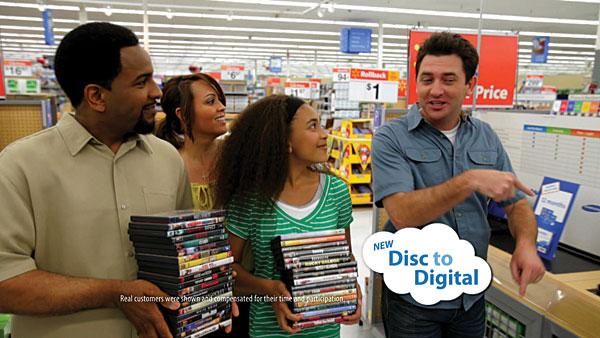 I half expected an ordeal as I walked into Walmart carrying a small shopping bag with several movies, ready to take the new Disc-to-Digital service for a spin. I was directed to the electronics department where I was greeted by a large placard that read: "Access your movie collection. Any time. Any place. 3 Easy Steps..." Offered in Walmart stores across the country, the service is operated through the chain's online streaming service, Vudu, and is intended to provide an easy way to set up a cloud-based digital movie library with DVDs and Blu-ray Discs you already own. It works in conjunction with the UltraViolet (UV) cloud-based clearinghouse established last fall by the Digital Entertainment Content Ecosystem, a consortium backed by five major movie studios—Warner, Paramount, Sony, Fox, and Universal (see "Ultra Mobile" in May 2012's Perfect Focus).
I told the sales clerk, Jeron, I had a few discs I wanted to convert to digital and followed him to the photo department where I handed him Mission: Impossible III and Talladega Nights on Blu-ray and Pirates of the Caribbean: Dead Man's Chest, Bruce Almighty, and Pink Panther on DVD. He asked if I had an UltraViolet or Vudu account and smiled with relief when I told him I had both. "This is my first time doing a conversion," he said. Setting up the free accounts was easy, and you don't have to enter credit card information on Vudu unless you're making an online purchase. Vudu maintains your digital library and facilitates streaming and downloading from the cloud while UV keeps track of the digital movies you acquire (and the rights associated with them) so you can play them on a variety of Internet-connected devices. I was asked to list the movies on a simple form along with my name and phone number; next to each title, you specify disc type and indicate if you want to upgrade DVDs to HD. It costs $2 to add an HD copy of a Blu-ray Disc or an SD copy of a DVD to your Vudu library and $5 to upgrade a DVD to HD.
Jeron walked over to the computer terminal and started registering the movies but found that Pirates (Disney) and Pink Panther (Sony Pictures) weren't available for conversion; Disney is the only major studio that doesn't support the UltraViolet system and, among the supporting studios, the selection of movies available for conversion is limited but growing. (There's a search bar on Vudu's Disc-to-Digital page where you can find out if a title is available for conversion.) A couple minutes later, I got the thumbs-up—digital copies of the other discs were available in my Vudu account. Jeron told me he was supposed to stamp the discs (to prevent authentication under another account), but he couldn't find the stamper. Oops. I paid the $6 (plus tax) for three digital conversions and headed home. I was in and out of the store in 20 minutes.
I logged onto Vudu at home, and the movies showed up in the My Vudu section, ready for streaming to my iPad and streaming or downloading to my PS3 and PC. The service also supports Xbox 360 as well as Vudu-enabled Blu-ray players and HDTVs but does not support streaming or downloading to iPhones or Android smartphones. Vudu is set up for streaming directly to the iPad (no app required) but only in SD, and downloading is not an option. Even so, image quality was very good. And while I was able to stream or download M:I III to my PS3 in HD (720p or 1080p), SD was the only download option for the PC. You're supposed to have to register your devices, but that part of the UltraViolet system is apparently not yet functional. Clicking on the Our Apps & Devices tab produced this message: "UltraViolet Devices Coming Soon! Adding a device will be as easy as clicking a button." It left me wondering if the UV process will become more cumbersome once device registration is active.
To broaden my experiment, I bought the Special Edition Blu-ray + DVD + Digital Copy version of Tower Heist. A card in the box instructed me to go to a Website and follow prompts to redeem my Digital Copy, but first I had to set up an account with Universal Studios. While it was a painless affair, I was a bit annoyed that I had to set up yet another account (three and counting). When I logged in, I was prompted to sign into my UV account and enter the 12-digit authorization code on the card. The movie immediately showed up in Vudu, ready for streaming and downloading. While I was clicking around on the Universal site, I stumbled on a page that said I could also access my digital movies through Flixster, which—unlike Vudu—supports streaming to iOS and Droid phones, so I set up a Flixster account (four and counting). My budding digital library showed up on Flixster, but not until several hours later. I downloaded the Flixster app to my phone and was able to stream and download my movies to the tiny screen (not that I plan to make a habit of doing that). I could also stream and download Tower Heist to my PC, but only in SD, even though a Blu-ray Disc was included in the package. Disappointing to say the least. While the movie was downloading, an onscreen notice said only five downloads were permitted. Adding insult to injury, fine print on the sticker touting the "All-New UltraViolet Movies in the Cloud" read, "Stream/Download by 7/27/12," which was only two months away. You snooze, you lose. What's more, I couldn't stream or download M:I III from Flixster as it was "not yet available for streaming or download." All those restrictions left me feeling cheated.
The idea behind the UltraViolet ecosystem is a noble one, and my limited experiment showed that the system works. But it is far from perfect. The biggest frustration for me is that there are no standard procedures and rules. Where you can play your digital movies is not a given, nor is HD resolution when you convert a Blu-ray Disc. The upshot: Be sure to read the fine print before you start building your digital library.