Car Tech Crescendo
The Pace of Change Shows No Signs of Letting Up.
The road to driverless cars is lined with technology we couldn't have imagined a few years ago. From auto parking and rich head-up displays to cutting-edge "infotainment" features, dashboard tech is right up there with horsepower/performance, handling, and other traditional car buying metrics. And the pace of change we've seen over the past decade shows no signs of letting up—if anything, it's accelerating now that technology has become an integral part of the shopping experience.
If you haven't been to a new-car showroom in a few years, you might be surprised by the level of technology offered in today's cars. Here's a peek at some of what you've been missing.
Lane departure warning – A forward-facing camera "looks" ahead and triggers alerts (audible, visual, and steering-wheel vibration) if you drift out of your lane. With some systems, the driver can choose between an alert-only mode and an aid mode that applies torque to the steering to keep the car in its lane.
Automated parking – You've probably seen the TV ads. Front- and rear-mounted sensors detect objects around the vehicle and guide it into a parking space while you sit back and watch the steering wheel spin. Parallel parking was never so easy. You have to wonder if any kids have tried to engage this feature while taking their driving test… Ford has even demonstrated a system that can be controlled from outside of the vehicle (video below).
Adaptive cruise control – Forward sensors help the driver maintain a safe distance from the vehicle ahead. If you get too close, the system triggers a warning and automatically adjusts your speed.
Blind spot alert – Rear-corner-mounted and side-looking radar sensors detect vehicles in your blind spot and issue an alert (Ford illuminates an indicator in the rearview mirror).
Curve control – Sensors reduce engine torque and apply braking if you enter into a curve too quickly.
Collision avoidance – Radar, laser beams, and cameras (or some combination thereof) scan the road ahead and issue an alert if you're approaching the vehicle in front of you at an unsafe speed; the system also readies the brakes for stopping and, in some cases, actually applies the brakes as shown in the illustration from Volvo below.
Rear-view camera – When you put the vehicle in reverse, a rear-mounted camera turns on and commandeers the dashboard screen so you can see what's behind you; guide lines are superimposed to help you avoid scraping your nice aluminum wheels on the curb or side-swiping the car you're parking next to.
And then there's the fun infotainment stuff that's finding its way into a growing number of cars…
Bluetooth connectivity – Remember how cool it was the first time you were able to wirelessly connect your phone to your car and make and receive calls without touching your phone? It's now possible to stream favorite tunes stored on your phone through the car's sound system without having to mess with cables.
Smartphone integration – Your phone is loaded with cherry-picked apps you use every day, so the ability to integrate it with the car's dashboard is one of the most practical features an automaker can offer. It puts a wealth of options safely at your fingertips, allowing you to get movie times, track down the nearest Starbucks, you-name-it without having to reach for your phone—but you have to make sure your phone is compatible with the car.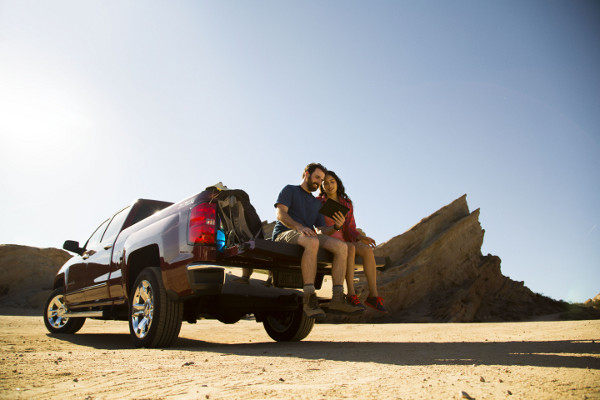 Mobile Wi-Fi and music streaming – Having a car that can conjure a Wi-Fi hotspot is great for passengers, drivers who work from the road, and anyone who enjoys online music services like Pandora, which is available as a dashboard app on more than 100 car models from the major automakers.
Text-to-voice/voice-to-text – Texting while driving tops the list of deadly driver distractions and should be avoided like a gaping pothole. That's why dashboard tech that converts text and e-mail messages to speech and reads them aloud through the car's speaker system might be the most important safety feature an automaker can offer. The driver can stay connected without having to touch the phone and respond via voice commands, preprogrammed messages (Lexus offers 15), or, in the case of BMW, a natural language dictation interface from Nuance called DragonDrive! Messaging. Again, you have to make sure your phone is compatible with the car. Of course, some automakers also offer voice control for controlling dashboard features, and Mercedes-Benz has a Nuance-powered news app that reads stories to the driver.
Dashboard tech is constantly evolving with a number of fascinating possibilities on the horizon. Here's a quick look at a few of them.
Augmented reality– Google Glass-like functionality will play a key role in head-up display technology as we move into the future. In addition to presiding over JBL, Harman Kardon, Infinity, and other venerable brands, Harman supplies audio and infotainment technology to nine of the 15 largest automakers and is always working on next-gen dashboard technology. One example is a high-resolution interactive head-up display (HUD) that combines navigation data with street data from a front camera to present an "augmented reality" view that overlays the navigation arrow directly on the road ahead. Using simple hand gestures, the driver can wave alternate travel routes, weather reports, and all kinds of other information into and out of his line of sight.