Car Tech Crescendo Page 2
Even more impressive is Land Rover's "Transparent Bonnet virtual imaging," a prototype system that uses cameras mounted in the front grille to create a windshield display that shows what's directly in front of and underneath the wheels, effectively creating an invisible hood.
Traffic light control – Audi is testing a traffic-light-assistance system in Europe that collects data about local traffic-light patterns and presents a countdown timer showing when upcoming lights will change so you can adjust your speed to avoid red lights.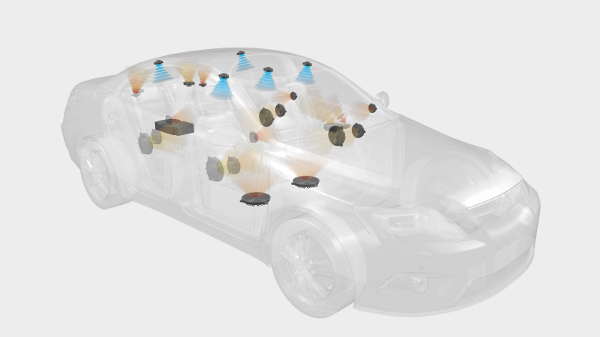 Rolling concert hall – As a follow-up to the 15-speaker JBL QuantumLogic Surround (QLS) system introduced in the Ferrari FF a couple years ago, Harman has developed QLS 3D, which adds speakers to the vehicle's headliner to literally heighten sonic realism. The core of the system is a proprietary algorithm that extracts individual elements from the recording and redistributes them to create an enhanced QLS mix that takes advantage of the additional speakers while preserving the spatial qualities of the original recording. The system has yet to be adopted by an automaker.
Awesome Aftermarket and New-Car Add-Ons
If you think the aftermarket has been left behind, think again. Top-line receivers from Kenwood, Pioneer, and JVC offer a surprising array of high-tech features in addition to common features like dual-zone capability so front and rear passengers can play different sources, Siri Eyes Free voice functionality for iPhones, DVD/CD playback with Dolby Digital processing, SiriusXM compatibility, and HD Radio for disciples of old-school FM who somehow tolerate the barrage of commercials that defines modern radio.
Let's take a closer look at state-of-the-art aftermarket technology as well as some of the latest OEM technology that's making its way to new cars.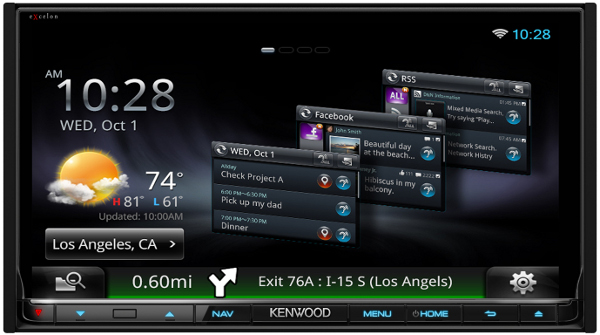 Kenwood: Double-DIN Sophistication
In case you haven't noticed, the good old double-DIN aftermarket head unit is alive and well—and more sophisticated than ever. Kenwood's eXcelon DNN991HD Connected Entertainment Receiver is brimming with technology in the form of a 7-inch WVGA touchscreen monitor, built-in apt-X Bluetooth and Wi-Fi (via a USB dongle), and Garmin navigation featuring 3D terrain mapping, traffic monitoring, and Kenwood's Route Collector app for keeping a log of daily outings and travel routes. Other highlights include text-to-speech/speech-to-text functionality for safely handling e-mail/texting and social media while driving and a bevy of sound enhancement features including a 13-band equalizer, digital time alignment, proprietary Drive Equalizer Technology that helps overcome road noise by boosting select frequencies, and DSP modes such as Sound Elevation and Space Enhancer.
The head unit supports iTunes Radio control, Pandora control for iPhone and Android, and comes with pre-installed apps for iHeartRadio, AUPEO! Personal Radio, Facebook, Twitter, YouTube, and more. Connections include an HDMI/MHL input for mirroring iOS and Android displays on the DNN991HD's spacious screen, two USB ports, three 5-volt pre-outs, an AV input and output, and jacks for a rear-view camera and steering-wheel controls. Price: $1,500
kenwood.com
Pioneer: CarPlay Goes Aftermarket
Pioneer's flagship AVIC-8000NEX Network Connected Receiver is one of the first aftermarket head units to feature Apple CarPlay and a true tour de force featuring multi-touch navigation with swipe and pinch-and-zoom functionality and real-time traffic data on a 7-inch touchscreen with a customizable user interface. Expanded Bluetooth capability is said to improve call quality and ensure that you can browse and select media stored on your phone, while Pioneer's Advanced Sound Retriever algorithm aims to improve the sound quality of compressed music by restoring lost audio data.
Other highlights include an AppRadio mode for operating apps from a compatible iOS or Android phone on the receiver's screen, Aha Radio (see below), FLAC file playback, MixTrax, which creates a nonstop mix of music complete with DJ-inspired transitions and effects, including pulsating lights (!). Sound-tailoring tools include a 13-band graphic equalizer, time alignment controls, and adjustable high- and low-pass crossovers. Connections include an HDMI port, two USB ports, and dual camera inputs. Price: $1,400
pioneerelectronics.com