Four Steps to Hi-Res Heaven
The difference between regular and high-definition video is something that most folks will immediately recognize when they see it. But what about high-resolution audio? Unlike HDTV, which caught on fairly quickly and enjoyed a broad base of support from program providers and hardware manufacturers, hi-res audio or HRA, (now an industry-sanctioned term) has struggled to move out of its audiophile niche since downloadable content first came online back in 2008.
That may be changing, thanks in part to some unusual media attention. Most music fans are familiar with Neil Young and his extensive music catalogue. But many didn't know until recently that Young has been a vocal opponent of the CD, which he has long derided as a low-resolution format that sucks the "life" out of studio master recordings. As for compressed audio formats like MP3 and AAC, forget it; in Young's estimation, they don't even rate.
But, rather than simply gripe about the situation, Young took decisive action to, in his words, "rescue the art form that I've been practicing for the past 50 years." The result is Pono, an end-to-end solution for delivering hi-res audio to like-minded music enthusiasts who crave better-than-CD-quality playback. But while Pono has been the most high-profile of all the HRA developments, it's actually just the latest addition to an expanding ecosystem of HRA music services, software applications, and hardware.
We previewed Pono in detail last year, and you can get an update on it here in the sidebar. But let's first define HRA and dive into the details of how it can deliver sound that's better than what we're used to hearing on CDs, not to mention via compressed downloads and streaming services.
I Wanna Get High, So High
As with HDTV, which bumps up the number of pixels used to display video images from around 300,000 to just over 2 million, the benefits of hi-res audio are easy to appreciate when you check the specs on paper. The CD format samples audio files at a 44.1-kilohertz rate (44,100 times a second) with 16-bit encoding. With digital audio, that first number, the sampling rate, is critical because it defines how frequently the recording system looks at the original analog signal coming from the microphone(s) or analog master tape. Having more samples means less time between them, so there's less guesswork to fill in the gaps later when the signal is reconstructed for playback on your speakers or headphones. The second number is the signal's bit depth; it defines how many possible codes are available to describe the signal's amplitude (i.e., loudness) for any particular sample. Every additional bit adds exponentially more options, which yields a reconstructed signal with finer resolution and less rounding error.
What makes hi-res audio different is that hi-res systems sample the original analog signal at a much higher frequency than CD—usually either 96 or 192 kHz—and typically with 24-bit encoding. DSD, another high-resolution format used for downloads from a few online services, taps the same technology employed for SACD, a format that, along with DVD-Audio, made a failed attempt for major-label and public acceptance back in the early 2000s. DSD uses only a 1-bit sample size, but collects samples at either 2.8 or 5.6 megahertz—that is, 2.8 or 5.6 million times per second.
In 2014, the Consumer Electronics Association (CEA) partnered with major labels to come up with a formal specification for hi-res, one that would differentiate it from CD-quality audio. It is now defined as "lossless audio that is capable of reproducing the full range of sound from recordings that have been mastered from better-than-CD-quality music sources." ("Lossless" meaning that the final source as played back is equivalent to an uncompressed signal.) The CEA breaks down those sources into four categories of "Master Quality Recordings":
• MQ-P: from a PCM master source that is 48-kHz/20-bit or higher (typically 96/24 or 192/24 content)
• MQ-A: from an analog master source
• MQ-C: from a CD master source (44.1-kHz/16-bit content) in which legacy CD masters are employed as source material and resampled at a higher rate and bit depth. (A controversial approach, to be sure.)
• MQ-D: from a DSD/DSF master source (typically, 2.8- or 5.6-MHz, 1-bit content)
To help push mainstream adoption of HRA, the CEA is also making available a hi-res audio logo that can be applied to products spec'd to deliver HRA experiences, according to the CEA definition. This should make it easier for someone who's curious about HRA but confused by the technical details to select the right gear when shopping. And there has been an explosion in HRA-capable products over the past few years—everything from pricey portable players and standalone digital-to-analog converters (DACs) to low-cost A/V receivers. We'll look closer at those categories in just a bit.
STEP 1: Start a Hi-Res Library
While some high-resolution content is available on shiny disc via Blu-ray and the aforementioned SACD and DVD-Audio formats (still alive), the bulk of it is available for download to your computer hard drive from a range of online music stores. But before you can start building your hi-res library, you'll have to install some appropriate library and player software. For most people who download and rip music, iTunes is their default digital music software. While iTunes can play HRA files, it has a serious limitation: To play files at resolutions higher than 44.1/16, you first need to launch your computer's audio control panel and switch the settings to match the source format's native resolution. When you have a mixed-format music library, including files at 192/24, 88.1/24, 96/24, etc., not to mention CD-quality 44.1/16 or compressed MP3s, having to hit the control panel each time you play a specific track can get old fast.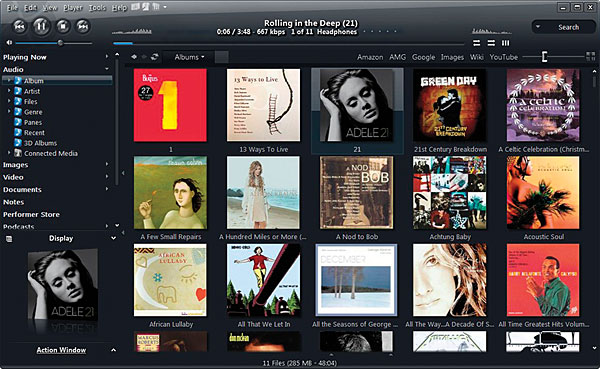 To get around this, you'll find a number of media players available that run alongside or on top of iTunes and automatically switch audio settings depending on the track being played. Aside from freeing you from having to repeatedly open up your computer's audio control panel, these let you use the standard iTunes library interface that most of us are used to. Popular software options in this category include Audirvana+ ($49), Amarra Hifi ($35), Pure Music 2 ($129), and BitPerfect ($10).
In addition to programs designed to piggyback on iTunes, there are standalone media player applications with their own library and playlist GUI that can handle HRA files. Popular options for the Windows platform today include JRiver MediaCenter ($50), Foobar2000 (free), MediaMonkey (free), and Signalyst ($147). JRiver and Signalyst are also available on the OS X side for Mac users. Most of these programs allow you to play DSD files in addition to those encoded as lossless FLAC files and straight PCM-format ones. JRiver has the added benefit of video playback and also works as a DLNA server for streaming your media to DLNA-compliant devices over your home network.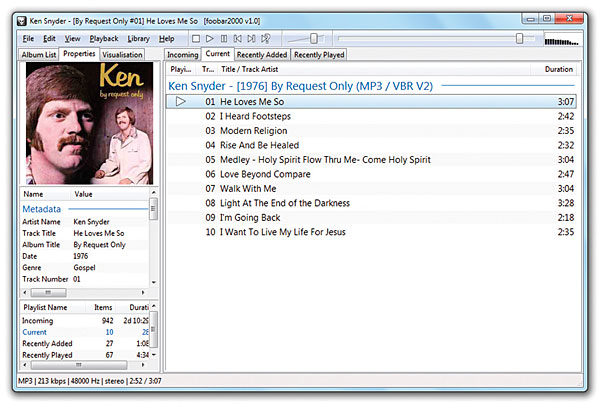 And speaking of file types like FLAC and the others: Don't assume a file's label necessarily makes it hi-res. As described above, hi-res audio is defined by the sampling rate and bit depth of the digital file and the quality of the originating master. These have nothing to do with the type of compression algorithm used to package the file for transport and storage. Hi-res will always be packaged lossless or uncompressed, however, with some common file types being WAV, AIFF, and DSD (uncompressed) and FLAC, ALAC, or WMA Lossless (lossless). You'll want your media software to be compatible with the common file types you plan to acquire, as well as those existing lower-res MP3s or AAC files you may want to bring along for the ride.
STEP 2: Get a USB DAC
Once you've got things straightened out on the software player side, it's time to check out HRA-capable hardware. The main item you'll want that you probably don't already have is a separate USB DAC. There are plenty of options here to consider, ranging from highly affordable ($100 and under) to pricey (thousands of dollars). USB DACs also come with a range of features. Many provide an internal headphone amp for private listening, along with the ability to connect your source computer to an external audio system. Some also function as an integrated amp, typically with sufficient power to drive a decent set of desktop or bookshelf speakers. Reviews of outboard DACs can be found here.
No matter which USB DAC you decide on, the key feature you'll want is asynchronous transfer mode. This allows the DAC to bypass the computer's internal timing and take control of the clock rate at which data is converted to audio—an important factor for eliminating timing errors that degrade sound quality. Being able to sidestep the inconsistent timing mandated by a usually busy computer—a device that continually performs loads of other processing functions aside from audio digital-to-analog conversion—is the key reason you'd consider using an external USB DAC in the first place, as opposed to the DAC already present in your computer or even those typically found today in most AV receivers.
The most affordable—and portable—hardware option for diving into HRA is a USB stick-style DAC. It either plugs directly into a USB port on your computer (like a standard USB thumb drive) or connects via a USB cable. A few examples in this category include the AudioQuest DragonFly ($149), Meridian Explorer2 ($299), Audioengine D3 ($149), Cambridge Audio DacMagic XS ($189), HRT microStreamer ($199), and Sony PHA-1A ($300). The AudioQuest, Audioengine, and HRT models handle files up to 96/24; the Cambridge Audio and Meridian handle up to 192/24. Each DAC also contains a headphone amp. You'll find our reviews for some of these here.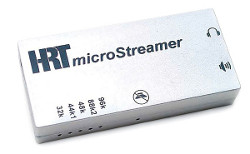 Beyond the ultra-small stick DACs are a number of DAC/headphone amps that can work on the go or on a desktop or rack at home; many are compact enough to be tossed in a suitcase, but may not offer quite the same portability as the models listed above. Some are battery-operated or powered by their USB connections, while others have a wall-fed power supply. Options include the Audioengine D1 ($169), iFi nano iDSD ($189), Micromega MyDac ($369), Cambridge Audio DacMagic 100 ($299), and Sony PHA-2 ($600). All units with the exception of the Audioengine handle files up to 192/24; the iFi and Sony can also process DSD. Additionally, there's the Sony UDA-1 ($799), a desktop integrated amp/DAC that offers a built-in 20-watt x 2 amplifier and output connections for desktop speakers.
High-end standalone USB DACs are another option—one that's popular with audiophiles who have a swanky dedicated listening room and don't mind lugging their laptop around to use as a source. These DACs tend to be pricey, and some omit convenience features aimed at desktop audiophiles, such as a headphone amp.
There are also a small number of better AV receivers that feature a built-in DAC with an asynchronous USB input for direct connection to a computer, making them a good option for combining HRA with your home theater. Two examples are the Cambridge Audio Azur 751R ($2,700) and Pioneer Elite SC-89 ($3,000).
STEP 3: Make Everything Else Hi-Res
Investing money in new media player software and a USB DAC doesn't make sense if the rest of the gear you'll use for HRA listening isn't up to snuff. The benefits you get with good hi-res recordings include wide dynamics, crisp detail, and a sense of spaciousness and depth that you just don't get when listening to compressed streams or badly mastered CDs. But you'll need to use speakers, amps, and headphones of high enough quality to hear those benefits; the cheap desktop speakers that came with your computer or inexpensive earbuds are out of the question.
Fortunately, in a home theater environment, the same type of gear you depend on to deliver a good movie or music experience should also suffice for HRA. And unlike with other new developments such as Dolby Atmos, you won't need to upgrade your speakers or receiver. Just make sure the system has a good subwoofer for to enjoy the extended bass you get with the best hi-res files, as well as amps powerful enough to let your speakers play loud passages with ease.
For tabletop or desktop use, you'll definitely benefit by investing in a high-quality desktop speaker system. Recent models that we've selected as Top Picks include the Audioengine 2+, PSB Alpha PS1, and Definitive Technology Incline. Each of these options is available for under $500. And with the PSB, you'll still be in that price range even after adding the company's potent SubSeries 100 compact subwoofer.
Headphones are a good match for HRA audio listening; the intimate listening environment created through 'phones lends itself to picking up the added nuance of hi-res files. High-quality options from traditional headphone makers, along with newcomers and speaker manufacturers looking to get in on the game, have exploded in recent years. They can be pricey, but our Top Picks list includes a range of outstanding models available for under $400 (B&W P7, NAD Viso HP50) and a few that sell for under $200 (V-Moda XS, Audio-Technica ATH-M50).
With a good pair of headphones in your arsenal, you may also want to consider an HRA-capable portable player for listening to hi-res tunes on the move. With the demise of the iPod classic (R.I.P.), such players have become the go-to option for those who want a simple, pocket-sized device devoted to high-quality music playback.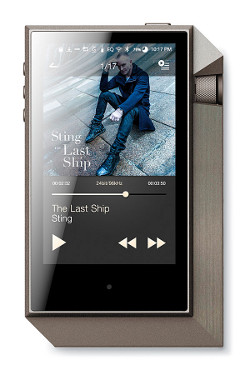 HRA-capable players are available now from companies including HiFiMan, FiiO, Astell & Kern, Pono, and Sony, which resurrected its Walkman concept in order to champion the cause of HRA. Prices range from $300 (Sony and FiiO entry models) to $2,500 (Astell & Kern's AK 240). The main features you gain as you step up in price include things like DSD compatibility, Wi-Fi connectivity, and an OLED display, as well as machined metal control knobs that can adjust volume in fine increments.
STEP 4: Grab Some Tunes
Step 4 on your hi-res journey is the most fun: Start collecting music. Granted, the number of online stores that sell hi-res music is still somewhat limited, as is the total breadth of content offered. But the online catalog is growing rapidly these days, with plenty of selections in a wide range of music genres.
The granddaddy of HRA music download sites is HDtracks.com. This destination boasts an extensive collection of classical, jazz, rock, and world music in 24-bit FLAC, ALAC, WAV, and AIFF formats, much of it available in 88-, 96-,176-, and 192-kHz sample rates. Miles Davis, Black Sabbath, Richard Wagner, Led Zeppelin, even pop stuff like Lady Gaga—it's all there in hi-res.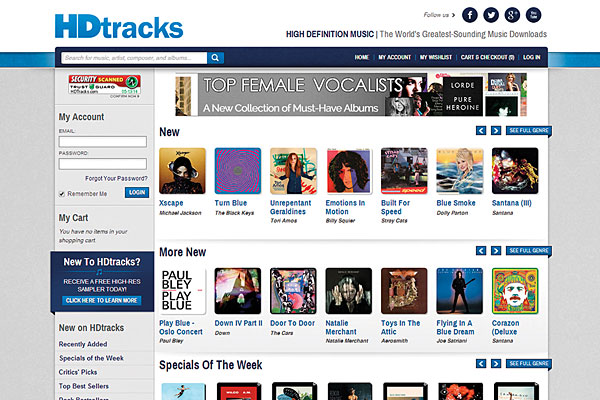 Another go-to site for HRA downloads is Acoustic Sounds' Super HiRez store. While the selection here isn't yet as extensive as what you'll find at HDtracks, the site boasts plenty of titles available in the DSD format that many audiophiles prefer, including plenty of great classics such as Dave Brubeck's Time Out, Steely Dan's Gaucho, Michael Jackson's Thriller, and many others. (Acoustic Sounds also sells LPs, SACDs, and hi-res gear, as does Music Direct, another site with disc and hardware options. Audio Advisor is popular for equipment.)
Additional online music sites that sell HRA downloads include the Pono Music Store (see sidebar), Onkyo Music, ProStudioMasters, the Bowers & Wilkins Society of Sound, iTrax, and others. You'll also find smaller audiophile record labels that support sales and sometimes free hi-res downloads of their own titles, among them Blue Coast Records and the Nordic label 2L. Search for "hi-res audio downloads" and start poking around; you might find a few gems.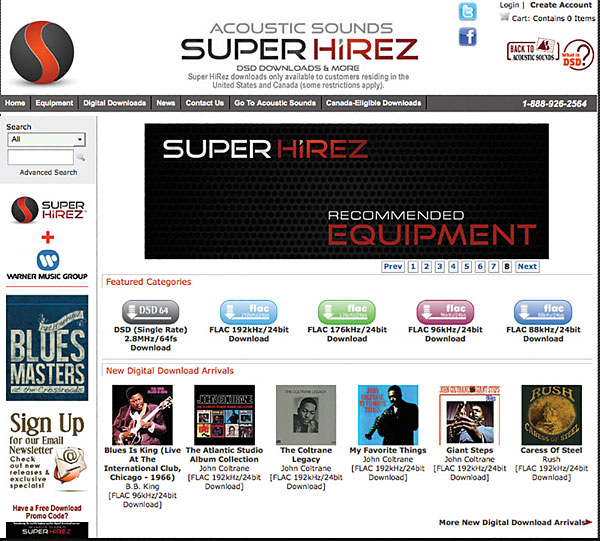 As for streaming hi-res, the Tidal music service, which at this writing offers lossless CD-quality streams (along with Deezer; currently available only through Sonos systems), will soon make content available in hi-res. The company plans to bring its extensive catalog to the streaming realm via Meridian's MQA (Master Quality Authenticated), a new compression technology that enables bandwidth-hogging HRA files to be efficiently packed for real-time transfer over the Internet. (See "Streamers Say Yes to MQA,". And Note that Meridian MQA is unrelated to the CEA's MQ-A designation.) HRA streaming promises to provide a more affordable alternative to pricey downloads that run $18 to $25 per album.
Flying "Hi"
Now that you've got your HRA software, hardware, and music in order, it's time to luxuriate in all that high-resolution goodness. Compared with the sound of most CDs, the careful listener will find much to appreciate in the meticulously mastered titles that are characteristic of the best HRA digital files, and hi-res offers an enormous technical and sonic advantage over everyday downloads from the likes of iTunes and Amazon. If you truly care about engaging with your music, you really owe it to yourself to check out what hi-res audio has to offer.