Tracking Surround: Rush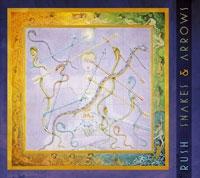 Snakes & Arrows Anthem/Atlantic
---
Music •••• MVI Mix ••••½ Extras ••••
And now it has come to this: Rush finally takes the studio-album surround-sound plunge on the MVI edition of
Snakes & Arrows
. Somewhat delayed, the boxed single-disc package arrived 2 full months after the initial CD release (
see original review
), helping fuel a 66% sales increase on the title, according to
Billboard
(July 14). Was it worth the wait? Well, does Tom Sawyer have mean, mean pride?
WORKIN' THAT HISTORY - OVERTIME
Before we get to the nitty-gritty, I thought I'd delve back into my own interview archives to see how the guys in Rush have felt about surround sound over the years (and not just because nobody else has deigned to ask them). It's downright fascinating to see the way their positions have evolved over time.
In October 2000, I asked bassist/vocalist Geddy Lee what he thought about recording new music in surround sound. His answer: "I guess I'm still on the fence about it when it comes to studio recording. The problem is, there's no way to make a subtle shift to the back of your head. It's rhythmically jarring. But I can see the future of live albums as 5.1-channel DVDs."
In May 2002, I sat down with both Lee and guitarist Alex Lifeson and posed the 5.1 question again. "I have mixed feelings about it," said Ged. "I would think that it would be distracting, quite frankly; it would take away from the music, as opposed to enhancing it. But maybe they said that about stereo...." Added Alex: "Quad is more appropriate, but that didn't last long."
In October 2003, while we were discussing his hands-on role in the 5.1 mix for the Rush in Rio DVD, I asked Lifeson if the band would (re)consider recording new material in surround. "I don't know," he said. "We'd have to think about that. But I certainly wouldn't close the door on the idea." However, he was quite clear about not wanting to revisit older material: "If we went into the studio to remix an old record, it would be so tempting to go in and redo parts. It's very wrong."
In November 2005, when I met with Lifeson to discuss the surround mix on the R30 DVD, he seemed to be softening his position somewhat. "Surround is a great, uplifting experience, and I think we have some records that we'd consider doing that way. Again, we haven't spoken about any of this yet. Probably the safe thing to say is that I'm much more open to doing this as long as the integrity of the original content isn't messed with." He specifically cited the running water in "Discovery," Part III of the title suite of 1976's 2112, as something he'd like to hear in surround. (Me too! Me too!) "You could be sitting right by that little stream, you know," he mused. "It would be quite dramatic and dynamic." (Agree! Agree!)
I'll be speaking with Alex soon about how he, Geddy, and drummer/lyricist Neil Peart came to their 5.1 decision(s) about Snakes - and, of course, if they've changed their minds about revisiting older, classic material. As soon as that chat goes down, we'll bring it to you here in S&V Webland.