Toy Story 4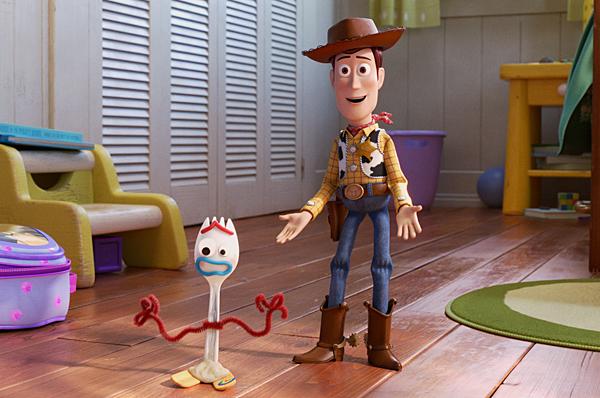 Toy Story 3
, makes (literally) a new friend out of a discarded spork. She calls him Forky and he soon becomes her favorite toy. But that's just the first act. On a road-trip with Bonnie's family, cowboy-toy Woody reunites with his old flame Bo Peep. Bo, now a "lost toy," has acquired the skills of an action hero—a sort of RamBoPeep. When Forky goes missing in a musty antique shop, Woody and Bo set out to retrieve him from a creepy doll, Gabby Gabby. A looney pair of stuffed toys, Ducky and Bunny, and a motorcycle-rider toy, Duke Caboom, join in the rescue.
The ending of the last Toy Story sequel was universally judged a beautiful finale to the Toy Story saga, with nothing more needing to be said. When plans were announced for a fourth film in this platinum-plated franchise, most believed it would be anti-climactic, but this latest sequel might just be the best. Its plot is intriguing, its characters irresistible, and its final scenes deliver an emotional punch every bit as moving as the ending of Toy Story 3.
Picture resolution on Disney/Pixar's Ultra HD disc is phenomenal, particularly inside the antique shop where every detail looks like an elaborately dressed, live-action set. Creative uses of HDR and color aren't always prominent but are nonetheless striking on night scenes inside the antique shop and at a nearby carnival.
The disc's Dolby Atmos soundtrack was hard to fault apart from Disney's notorious current practice of low-level audio mastering. The surround channels aren't wildly active, but they are used effectively enough when needed. While there's not enough deep bass here to roll down your socks, there's plenty enough to provide a kick where it counts. Randy Newman's delightful music score is also a big audio plus.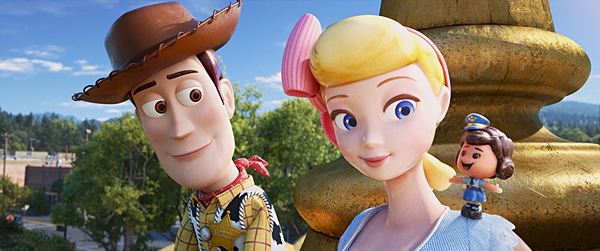 A second regular Blu-ray is devoted exclusively to special features, with some spillover onto the included Blu-ray movie disc. The extras are a mixed bag, but some are definitely worth a look. They include several deleted scenes (roughly animated—the scenes in a feature film rarely get fully animated until the production's final cut is set in stone), the anatomy of a scene, a full audio commentary track, and enticing trailers for Disney's Frozen II and the next Pixar movie, Onward.
ULTRA HD BLU-RAY
STUDIO: Disney/Pixar, 2019
ASPECT RATIO: 2.39:1
HDR FORMAT: HDR10
AUDIO FORMAT: Dolby Atmos with Dolby TrueHD 7.1 core
LENGTH: 100 mins.
DIRECTOR: Josh Cooley STARRING: Tom Hanks, Tim Allen, Annie Potts
On her first day at pre-school, Bonnie, the kid who received Andy's toys at the end of