Tedeschi Trucks Band: Made Up Mind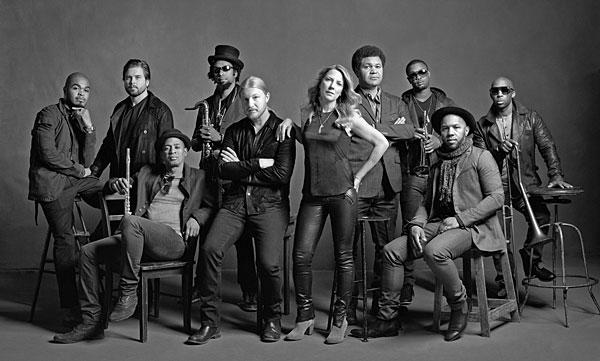 Made Up Mind
.
Mind
shows how TTB has finally forged the right blend of improv interplay prowess and gutbucket roots rock.
Tedeschi's whiskey-tinged vocals recall the rasps of two royal Bonnies (Raitt and Bramlett), delivering a consistent cadence and tone throughout Mind's 11 tracks. Her best performances come on the pleading but defiant "Do I Look Worried" and the sunny Memphis soul homage "Part of Me." Mind's lead single, "Me," is a duet with trombonist Saunders Sermons, whose sweet falsetto drives the choruses around Tedeschi's vocal vinegar.
The album's centerpiece ballad "Sweet and Low" is rife with fine detail. The background harmonies drop out the first time Tedeschi punctuates the last word of the repeated title phrase, its lingering vocal echo followed by 3 seconds of silence before the band kicks back into gear. And at the song's denouement, after Trucks has put on one of his many slide-guitar clinics, he unleashes a few tweeting riffs as a nod to the burbling end of the coda to Derek and the Dominos' seminal "Layla."
Trucks carves a wide guitar-heroic swath all over Mind, and we could probably rename him Stevie Duane Clapton without much recrimination. His prime showcase is the 6:35 that comprise "The Storm," wherein the distorted intro riff gets doubled by the bass line, a pattern that continues throughout each of three successive solos that also play off Kofi Burbridge's organ fills. By the time the third solo cycle erupts, drumming tandem Tyler Greenwell and J.J. Johnson get into the fray, complementing each other with intense bass-drum thumping in the left channel and furious, ringing cymbal crashes in the right. No doubt about it: "The Storm" is a "Voodoo Child" for the 21st century.
Tedeschi is no ax slouch herself, as the couple squares off on the back half of the gnarly "Whiskey Legs," with Trucks overdriving the right side and Tedeschi channeling Albert "Iceman" Collins on the left. Who won? Call it one helluva jamtastic draw.
The final track, "Calling Out to You," is the album's acoustic digestif, tender yet powerful in its live-in-the-studio approach. Listen for the insistent timekeeping foot-tapping as Tedeschi intones, "You gotta do right by your woman / And she'll do right by you." And so will TTB. Mind matters.
CD
Studio: Sony Masterworks
Audio Format: PCM Stereo 44.1-kHz/16-bit
Number of Tracks: 11
Length: 52:49
Producers: Jim Scott, Derek Trucks, Doyle Bramhall II
Engineers: Jim Scott, Bobby Tis
The potent combo of married co-bandleaders guitarist/vocalist Susan Tedeschi and slide-guitar maestro Derek Trucks and nine (or so) of their closest friends hits its stride on group album number three,