Steve Hackett - Genesis Revisited: Live at Hammersmith
Legacy. Some artists embrace it, some resist it. Early-period Genesis guitarist Steve Hackett decided to go the extra mile to dance on the volcano of his past, charging firth, er, forth to majestically recast the arrangements of a top-drawer selection of his '70s output with the British prog giants.
Hackett and his accomplished band took great command of the stage while doing so at London's historic Hammersmith Apollo (née Odeon) on May 10, 2013, for this vigorous three-CD/two-DVD set. The CDs contain fine stereo offerings of that storied night, but it's the live surround mix on DVD by longtime Hackett keyboardist Roger King—who also helmed the texturally engaging 5.1 mix for Squackett's A Life Within a Day, Hackett's 2012 collaboration with Yes bassist Chris Squire—that captures this band's unique, unquiet mojo to its fullest.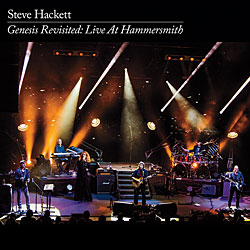 "The Musical Box" opens with a precious music box tinkling faintly in the center. Vocalist Nad Sylvan channels his inner Peter Gabriel when he implores, "Play me my song," and you instantly hear the audience sing along word for word in the surrounds like it's an indelible part of their collective DNA. Drummer Gary O'Toole counters with "here it comes again" in the front right, and then nimble band interplay takes over, with Rob Townsend's flute solo in the front right and King's organ response in the left, followed by Lee Pomeroy expertly expanding on Mike Rutherford's 12-string riff template in the right. Disjointed audience clapping appears in the surround left, but no one is thrown off as Hackett's fiery leads during the climactic "now, now, now" section entangle in every channel.
The 27-minute take on "Supper's Ready" is the crux of the show. O'Toole's finger cymbals ring and cling true up front during the buildup intro. The kids' chorus swarms in all channels, and Hackett's dazzling solos move and build organically from the center to the surrounds and then all around, his manic fretboard tapping leaving no doubt about the origin of some of Eddie Van Halen's acknowledged influences.
Four months following this recording, I saw a thrilling Genesis Revisited Live show in New York. I asked King afterward if he'd accomplished his 5.1 goals on Live at Hammersmith, and he said he felt it was true to the music's intent by keeping the mix rooted up front and then letting it naturally unfold all around the listener. I concur. There's no trick in this tale, as Genesis Revisited is worthy of repeated revisiting.
CD & DVD
Label: InsideOut
Audio Formats: 44.1-kHz/16-bit PCM Stereo (CDs); DTS-HD Master Audio 5.1 48-kHz/24-bit (DVDs)
Number of Tracks: 19
Length: 2:41:20 (three CDs); 3:18:44 (two DVDs: performance 2:41:20, documentary 37:24)
Producers: Steve Hackett, Roger King (5.1 mix)
Engineers: Benedict Fenner, Martin Knight