Star Trek Home Theater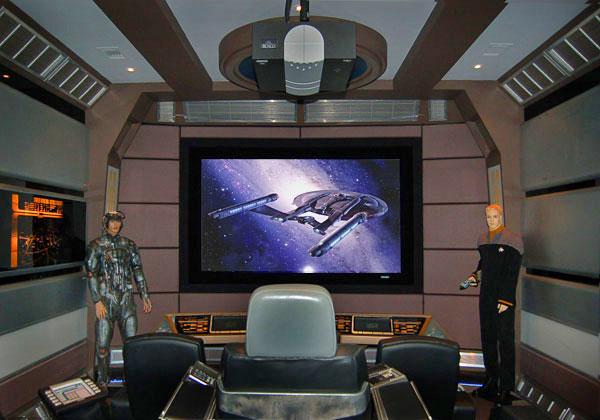 This major re-do of a theater features actual props from the Star Trek Series and Movies. Recently featured on VH-1
The Fabulous Life
, this home theater is out of this world.
We acquired many of the authentic props from the Christie's Star Trek Auction held in New York in October of 2006. My wife and I were two of about 300 who attended this historical auction in person. Our winnings included a coveted Captain Chair, as well as two command consoles, a three-computer panel display and even the walls of the famed Starship USS Enterprise.
We commissioned Dennis Erskine and his team from Design Cinema Privee to take our conceptual design and integrate the props into a high-end home theater. The old theater was to be remodeled down to the studs and included new dry walling, electircal and lighting. The video was upgraded from a Runco CRT to a new Runco 1100 Ultra 1080P projector along with a Lumagen VisionHDQ Video Processor; Toshiba's HD-XA2 HD-DVD was added along with a SONY Playstation 3 for Blu-Ray. A Crestron 1700 touchscreen controls 14 different lighting scenarios through 3 Lutron grafik eye controllers.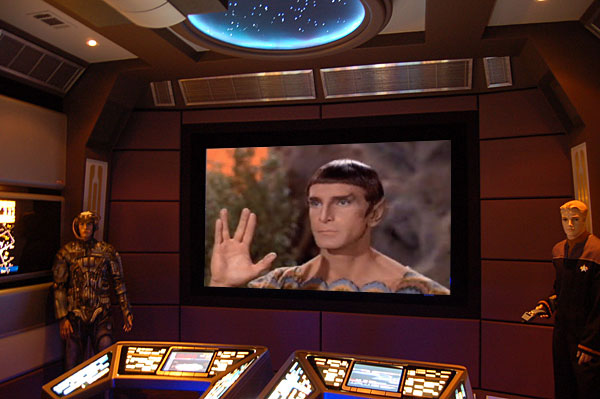 To enhance the video of the Runco Projector, Dennis suggested a Stewart micro perforated 110" curved screen. On the audio side the theater features THX rated Atlantic Technology speakers and Triad bronze speakers for surround sound within the columns. Finally, Buttkicker tactile sound was added to each chair in the theater.
Both the design team and construction crew was briefed by us from the design of plexiglass panels to the correct paint on the "turbolift" doors. Reference materials included still pictures from both the series and the movies. In fact, Rick Sternbach who worked as senior illustrator on Star Trek provided technical advice on the 7 month long project. Features include a customized Stardome with the milky way galaxy and shooting stars.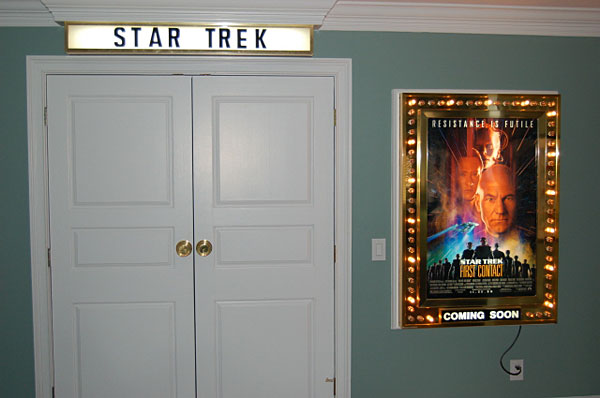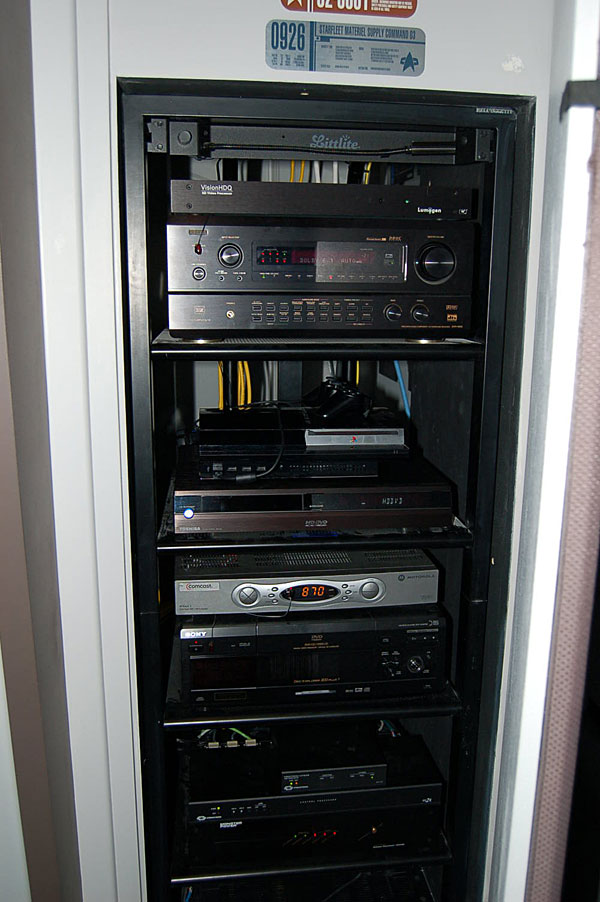 Equipment List
Runco 1100 Ultra 1080P Projector
Stewart curved micro-perf 110" screen
Denon THX 4800 Receiver
Lumagen Vision HDQ Video Processor
Monster Reference PowerCenter Line Conditioner HT 32500
Motorola DCT 3412 HDTV Receiver
Lutron GrafikEye Light Controllers (3)
Toshiba HD-DVD HD-XA2
Sony Playstation 3 with Blu-Ray
Sony 300 DVD changer
Adcom GFA-2535 Amp for additional surround speakers
Atlanta Technology 378 THX Center Left Right and Sub
Triad surround Bronze in Wall Speakers
Crestron 1700 touchscreen and controllers
Dell Media Center with five 17 inch LCD flat panel monitor screens
Buttkicker Tactical Sound/LFE Motion Producers
Location: Atlanta, Georgia
Designer: Dennis Erskine-Design Cinema Privee
Construction: Richard Jacobs Homes