Speakers AlFresco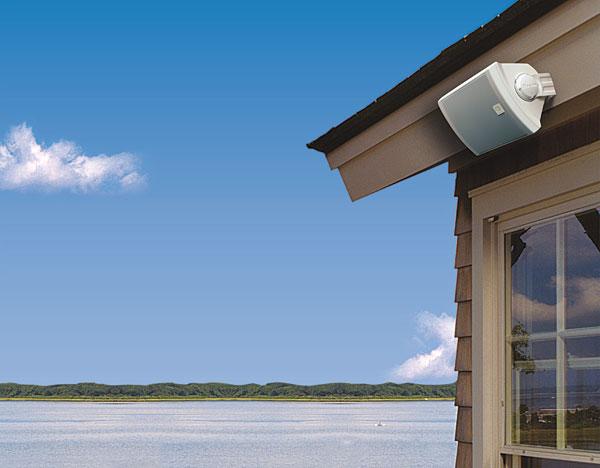 Audio is not supposed to be fun. That's why outdoor speakers are a terrible idea. Music is meant to be enjoyed in an acoustically perfect room by a single person sitting in the sweet spot. While you listen, it might be permissible to reverently handle a gatefold album jacket or dutifully edit metadata to make it absolutely perfect. But it is not permissible to swim, soak up the sun, watch the kids play with the dog, pour daiquiris from a pitcher, or hobnob with neighbors. Above all, it is never socially acceptable to barbecue while listening to music. If you are a morally upright audiophile, you may safely assume the rest of this story will be in the same vein. Go now. Retreat to your music library while I discipline the riffraff.
Are We Alone, Fun People?
OK, the great outdoors will never be an acoustically ideal environment for music reproduction. Audiophile speakers need boundary reinforcement to work their magic. But if you have both a nice house and a nice backyard, why must you give up music—or even the news—just because you've walked out the back door? When friends and family come over for lazy summer evenings, you may find yourself wanting something more satisfying than a stereo system murmuring through a back window, a compact docking system that can't play loud, or, heaven forbid, a boom box. Most outdoor speakers are inexpensive, and if you've already got an audio/video receiver with unused additional zones, you're already halfway there—especially if you can verify that your AirPlay- or Bluetooth-compatible mobile device is within outdoor streaming range of the receiver.
Speakers can be designed for outdoor use only, for indoor use only, or both. You'll often see outdoor speakers billed as either weather-resistant (good) or weatherproof (better). Some manufacturers see a distinction between the two; others don't. "I wish the terminology were more standardized across the industry," says Stephen Shenefield of Boston Acoustics. "The makers of 'bullet-resistant' glass might advise us to never use the word 'proof' since there are no certainties in life."
Visually, outdoor speakers can take novel forms—not only the popular rocks and planters, but also fountains and frogs, which we've refrained from covering for lack of lily pads. Though outdoor speakers commonly get a smidgen of boundary reinforcement from back walls and eaves, most are voiced with a bass boost to compensate, in part, for the lack of full-room reflections. Some manufacturers offer outdoor subwoofers to further boost bass response. We'll examine our institutional conscience and get back to you about those in some other lifetime.
Even if you choose not to clobber your neighbors with an outdoor sub, the output of your outdoor speakers will inevitably drift over the fence. So if you want to cover a large area, it's wiser to add more speakers and play them quietly than to play a few speakers loud. Oh, and unless your neighbors are ax murderers, invite them to the party. A little diplomacy may raise the socially acceptable decibel level.
A few other installation tips: The speakers should be situated where they won't be obstructed during use, often 6 to 8 feet high, and always tilted downward to prevent water from collecting. In many situations a spacing of 8 to 10 feet works well, but every installation is unique. Cables should be certified as safe for in-wall or outdoor use, which means CL2 or CL3. Only cables specified as "direct burial" should be placed underground—and to extend the life of the installation, consider burying cables in conduit as well. Caulk around cable holes. Allow a few extra inches of cable for tilting. To ensure everything goes right, especially if you're not perfectly confident in your ability to drill holes in wood or masonry, consult a CEDIA-certified custom installer with a track record in outdoor speaker installation.
The three outdoor speaker models reviewed here share the following traits: All are midsized, as outdoor speakers tend to be. All are voiced for enhanced bass response to compensate for lack of boundary reinforcement. None is beamy—wide dispersion is a desirable trait in outdoor environs. These speakers have perforated metal grilles, their plastic enclosures taper toward the back, and they have no ports to let in little critters. All are supplied with metal C-mount brackets that can tilt either horizontally or vertically, depending on how you install the speaker, and are held in place by easy-to-adjust dial screws with 2.75-inch heads. All have hexagonal, plastic-nut, gold-plated binding posts. While these are not the cheapest outdoor speakers on the market, all three models are affordable, and they come with a minimum five-year warranty or better—so your installation and investment should make you happy for some time to come.