Speakers AlFresco Niles Audio OS6.5
Niles Audio OS6.5
Price: $460/pair At A Glance: Rounded, organic design • Nearly indestructible build quality • Broad dispersion
The Niles OS6.5—again, that's an O, not a zero—is billed as an indoor/outdoor speaker. In fact, you might use it in an indoor stereo or surround system, the manufacturer says. Whether you live at the South Pole or on the Equator, this may be the speaker for you. The manufacturer says it can survive temperatures from minus-50 to plus-185 degrees.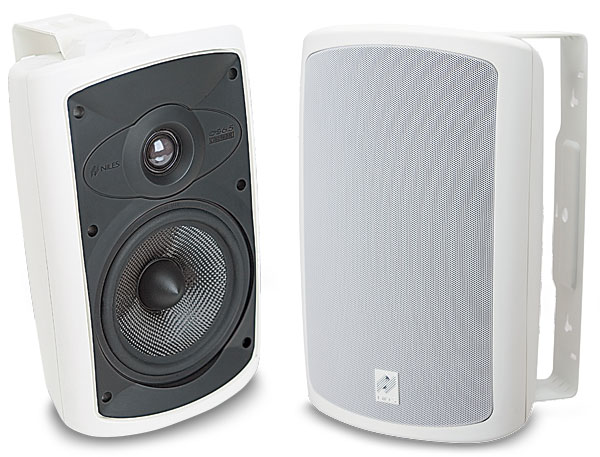 Niles isn't fooling around when it uses the term "weatherproof" in its literature: This speaker exceeds federal anticorrosion specifications (MIL-STD-883D) for military or aerospace use. To attain that status, it had to pass dozens of environmental, mechanical, and electrical tests. For water protection, it meets the IEC IPX5 standard, which means it can withstand 12.5 liters of water sprayed from a 6.3mm nozzle at a distance of 3 meters for at least 3 minutes. The OS6.5 is also flame retardant, meeting the UL 94-V2 standard: When ignited, it will stop burning within 30 seconds, rather than spread the fire. Its enclosure is a mix of ABS plastic, nylon, and UV stabilizers, the latter to resist sunlight.
This speaker's distinctive shape is all curves with not a single flat surface or sharp edge to be found. It has an organic look, as though hatched from a seed in some idyllic speaker meadow. That enables it to fit more easily under eaves and into corners. The nondetachable, curved, aluminum grille has the smallest perforations of any of the three speakers, which makes it look slightly more elegant when viewed up close and personal.
If you don't like the color, you can change it. This is the only speaker reviewed whose manual says it can be painted (apply a coat of primer first). The OS6.5 comes supplied with a transparent plastic grille cover, so you can apply the desired shade of Lapis Lazuli or Alabama Crimson without dribbling paint into the baffle or splashing the drivers.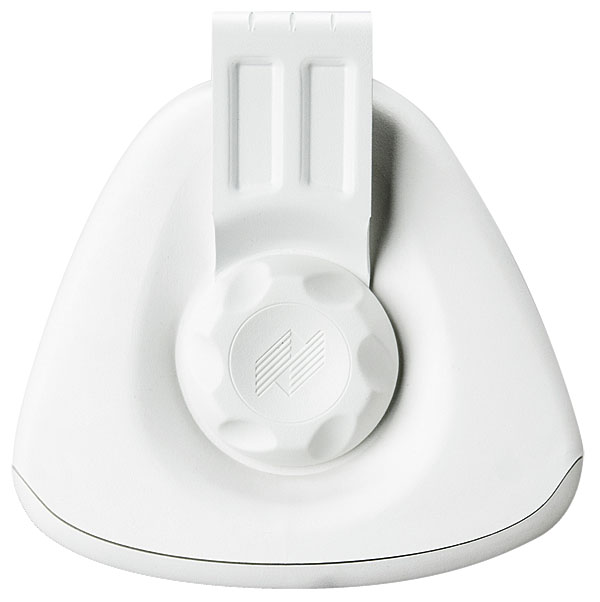 You'll love these speakers every time you touch them. The C-mount bracket dial has six finger-width diagonal grooves, making it the grippiest dial of the three speakers: No matter how your hand approaches it, your fingers naturally land in the grooves. The bracket has six perforations. From the top, they include: half-inch horizontal oblong, T-shaped keyhole, half-inch round and half-inch vertical oblong in center, T-shaped keyhole, and half-inch horizontal oblong at bottom. There's also a threaded insert to enable installation of an optional mount with a wider potential range of adjustment. Binding posts are angled downward, an unusual arrangement, to repel moisture.
The driver array includes a 6-inch, interlaced, carbon-fiber cone and a 1-inch trilaminate Teteron dome tweeter with fluid cooling. The woofer basket is integrated into the baffle, which is said to increase cone area relative to cabinet width and better optimize bass performance for the given cabinet size. While all three of the speakers reviewed were tuned to have aggressive bass, the OS6.5 was the most surprising—perhaps because it has the smallest enclosure. The Joan Osborne bass riff men-tioned earlier was competitive with the two larger speakers. The OS6.5 also had the most consistently broad coverage of the three. I could walk around the room and hear the same tonal balance pretty much anywhere: The shallow-body acoustic guitars of Robert Fripp and the League of Crafty Guitarists kept their crispness on Bach's "Corrente" (Intergalactic Boogie Express), and every one of the Yorkshire voices in Waterson:Carthy's "Stars in My Crown" (Common Tongue) retained its distinctive beauty. The price for that wide dispersion was vague imaging in the sweet spot: Chris Whitley's ribbon miked vocal on "Wild Country" (Dirt Floor) was more woolly and elusive than it ordinarily would be.
Alone among the three manufacturers covered here, Niles offers a limited lifetime warranty for this speaker. Information is available on its Website.
Specs
Type: Two-way dome monitor
Tweeter (size in inches, type): 1, trilaminate teteron
Woofer (size in inches, type): 6, carbon fiber
Nominal Impedance (ohms): 8
Recommended Amp Power (watts): 5-125
Available Finishes: White or black composite plastic
Dimensions (W x H x D, inches): 7.43 x 12 x 7.75
Weight (pounds): 7.5
Price: $460/pair
Company Info
Niles Audio
(800) 289-4434
nilesaudio.com
HT Labs Measures
Sensitivity: 88.5 dB from 500 Hz to 2 kHz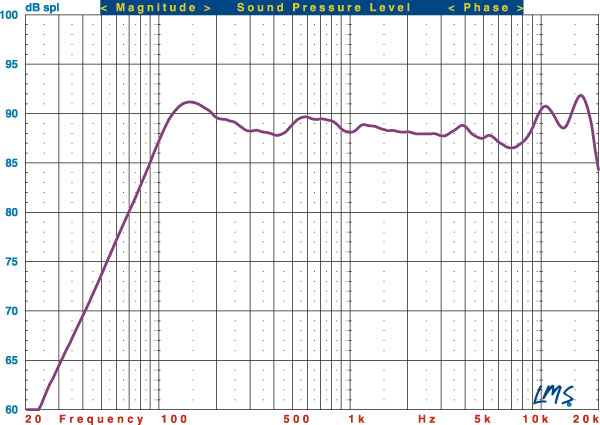 This graph shows the quasi-anechoic (employing close-miking of the woofer) frequency response of the OS6.5 outdoor speaker (purple trace). The passive loudspeaker was measured with the grille at a distance of 1 meter with a 2.83-volt input.
The OS6.5's listening-window response (a five-point average of axial and +/–15-degree horizontal and vertical responses) measures +1.80/–1.98 decibels from 200 hertz to 10 kilohertz. An average of axial and +/–15-degree horizontal responses measures +2.32/–1.70 dB from 200 Hz to 10 kHz. The –3dB point is at 92 Hz, and the –6dB point is at 79 Hz. Impedance reaches a minimum of 4.49 ohms at 208 Hz and a phase angle of –49.86 degrees at 129 Hz. —MJP