Speakers AlFresco NHT O2
NHT O2 Outdoor Speaker
Price: $199 each At A Glance: Plays loud and smooth • Solid imaging • Strong bass emphasis
First, let's get one thing clear: NHT's O2 outdoor speaker is spelled with a capital O. Googling 02, with a zero, will be both confusing and futile. Of course, the O stands for "outdoor"—and that's the kind of speaker this is. The O2 is the only speaker in this review that makes no claims about indoor use. "Because we know outside is where the parties happen, the O2 has been specifically engineered to play loud without complaint and specially tuned to make deep bass outdoors," NHT's Website says. That may make the speaker too robust for typical indoor home use, as NHT's John Johnsen says. But he adds that the bass tuning and the speaker's overall ruggedness make it a good choice for more challenging indoor spaces such as bars, nightclubs, and health clubs.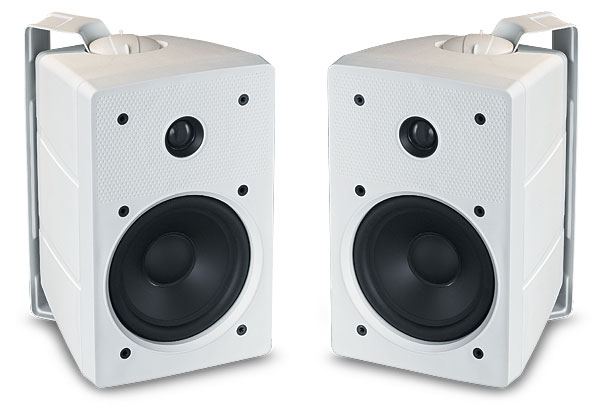 NHT does not make a distinction between weatherproof and weather-resistant—specs describe the O2 in both ways. Minnesota winters and Arizona summers won't faze these speakers: They are designed to withstand temperatures of minus-20 to plus-140 degrees. Protected installation is optional, Johnsen says: "They will last longer and look nicer when mounted under eaves and covered decks, which protect them from UV rays, even though they have UV protection."
NHT cofounder Chris Byrne adds: "During summer months, the speakers can be in an unprotected place assuming not a lot of heavy rainfall. While they are weather-resistant, sooner or later direct exposure to the elements may cause problems. We do not recommend leaving them out in cold, harsher winter climates. They need to be brought in for the winter if you want them to last. Morning dew, mist, etc. during summer months should cause no issues."
This two-way speaker has a 6.5-inch polypropylene woofer and fluid-cooled and -damped fabric dome tweeter in a mica-filled polypropylene enclosure. While the woofer is similar to that in NHT's Model Two bookshelf speaker, the tweeter and enclosure are decidedly different. Both drivers are slightly recessed—enough to warrant a little toe-in for best soundstaging, but not enough to induce beaminess. The upper half of the baffle is dimpled to control diffraction. The O2's flat, detachable grille has six plastic pins in rubber grommets. The C-bracket has just three perforations: two T-shaped keyholes on either side of a half-inch center hole. There is also a threaded insert on the back of the cabinet, offering the option of installing a more versatile mount—perhaps one with a ball joint that would afford any combination of vertical and horizontal tilt.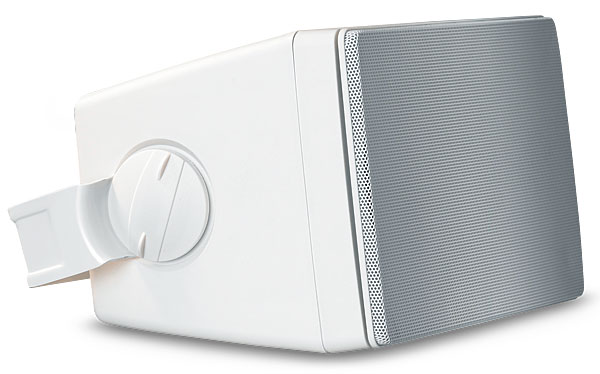 All the speakers in this review are rated for power handling of up to 125 watts. However, the O2 has the highest minimum recommended power at 25 watts (versus 10 for Boston and 5 for Niles). It is also the only one with a nominal impedance of six ohms (versus eight for the others). On paper, that may make it slightly more demanding, although I didn't have any trouble running it (and the other two) with a Pioneer Elite VSX-53 receiver.
While all of these speakers have strong bass response for their size, the O2's was the strongest. The unison string-bass/piano bassline in the title track from Geri Allen's The Gathering was overwhelming—though I was listening indoors in my reference room on my reference system, and outdoors I'm sure I'd have felt differently. The thundering bass guitar riff that kicks off Joan Osborne's "Right Hand Man" (Relish), swooping in a field of tremolo-drenched guitars, took a few extra prisoners.
The O2 played the loudest of the three speakers with the least audible strain—and practically demanded it, in fact, by getting bland at lower volumes. The speaker's ingratiatingly warm tonal balance made blasting painless: Sandy Denny's dynamically eloquent vocal in "Banks of the Nile" from Fotheringay's debut album didn't go thin or steely when she pushed the envelope. The biting guitars in Metallica's "Enter Sandman" were excitingly buzzy but not abrasively gritty, while the more rolled-off guitar sound of Mountain's "Mississippi Queen" hit my midrange-dominated pleasure center head-on. In "Natty Dread" by Bob Marley & the Wailers—the raucous live version from On XRT: Live from the Archives, Vol. 2—crowd noise whooped and hollered across the soundstage. This track is impressively rowdy on any equipment, at any volume, but at the party-hearty level supported by the O2, I felt I was in the heart of a lively crowd.
The NHT has a five-year warranty.
Specs
Type: Two-way dome monitor
Tweeter (size in inches, type): 1, polyester fabric
Woofer (size in inches, type): 6.5, polypropylene
Nominal Impedance (ohms): 6
Recommended Amp Power (watts): 25-125
Available Finishes: White polypropylene
Dimensions (W x H x D, inches): 7.3 x 11.7 x 7.5
Weight (pounds): 7.2
Price: $199/each
Company Info
NHT
(800) 648-9993
nhthifi.com
HT Labs Measures
Sensitivity: 88.5 dB from 500 Hz to 2 kHz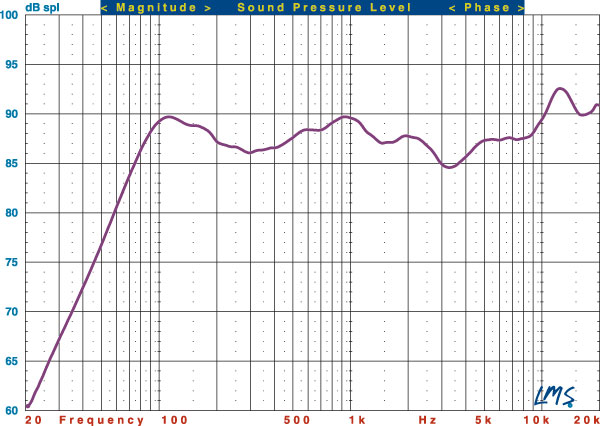 This graph shows the quasi-anechoic (employing close-miking of the woofer) frequency response of the O2 outdoor speaker (purple trace). The passive loudspeaker was measured with the grille at a distance of 1 meter with a 2.83-volt input.
The O2's listening-window response (a five-point average of axial and +/–15-degree horizontal and vertical responses) measures +0.91/–3.87 decibels from 200 hertz to 10 kilohertz. An average of axial and +/–15-degree horizontal responses measures +1.32/–2.95 dB from 200 Hz to 10 kHz. The –3dB point is at 76 Hz, and the –6dB point is at 66 Hz. Impedance reaches a minimum of 4.30 ohms at 162 Hz and a phase angle of –45.12 degrees at 98 Hz. —MJP