Sony XBR-65X900E LCD Ultra HDTV Review Test Bench
Test Bench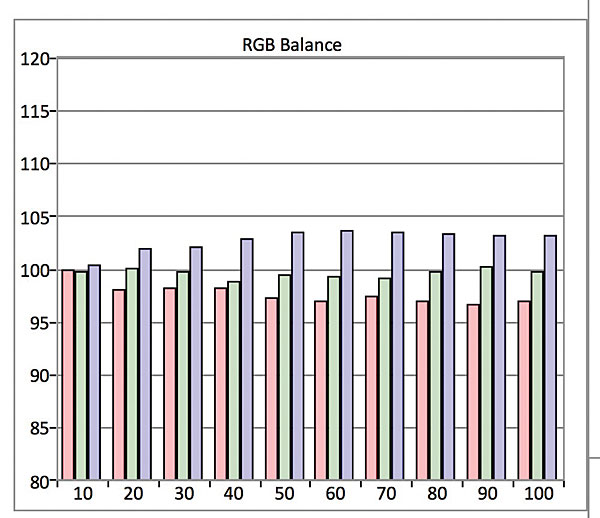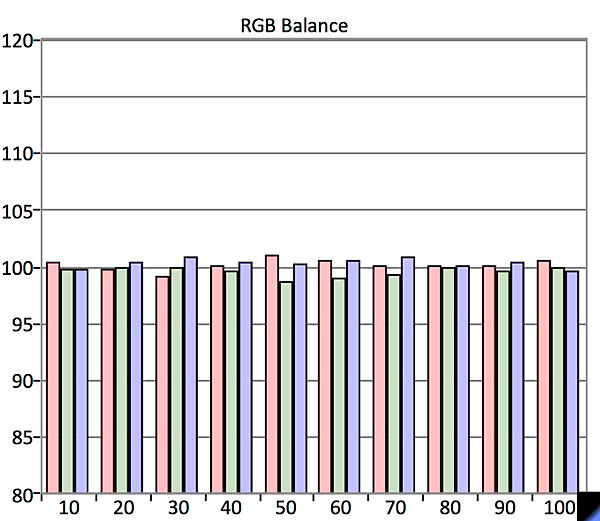 Pre- and post-calibration measurements were made with the Sony's Cinema Pro preset active. Maximum standard dynamic range contrast measurements were made with the High Auto Local Dimming setting active. With this configuration, the Sony's black level measured 0.001 ft-L and peak white 36.58 ft-L, for a contrast ratio of 36,580:1. Native contrast of the panel (measured with Local Dimming turned off) was 5,928:1.
During HDR tests using a Samsung test disc and custom workflow designed for CalMAN 2016 calibration software, the XBR-65X900E managed 776.1 nits of light output on a 10% window pattern, 515.8 nits on a 25% pattern, and 461 nits with both 50% and 100% patterns. The TV's measured P3/DCI color gamut coverage (within the UHD Rec. 2020 envelope) when using the same workflow was 93.5%.
Before calibration, the Sony's default Warm color temperature preset in Cinema Pro mode delivered a mostly accurate grayscale, with the Delta E averaging out to 2.1. Calibration in the Expert 1 mode improved that average to 0.8, with a high of 1.3 at 100% brightness. (Delta E is a figure of merit that indicates how closely a display adheres to the Rec. 709 HD color standard. Experts generally agree that levels below 3 are visibly indistinguishable from perfect color tracking.)
With the Cinema Pro mode's default settings active, the Sony's measured color points were mostly accurate, with the Delta E averaging out to 2.1. That's a good thing, too, because (like other Sony flat-panel displays) the XBR65X900E doesn't provide any color management system adjustments.
With the –1 Gamma preset selected, gamma in the Cinema Pro mode averaged 2.3 and displayed mostly linear tracking. Post-calibration, gamma tracking improved slightly, averaging 2.2, with a high of 2.3 at 80 IRE.
Picture uniformity was excellent, with gray full-field test patterns showing no uneven brightness when viewed on axis. Viewed off axis, the XBR-65X900E showed the same contrast falloff typical of other VA (verticalalignment) LCD TVs. The Sony performed perfectly on our suite of video processing tests. Clipping, luma resolution, and chroma resolution all checked out fine, as did 3:2 and 2:2 pulldown patterns with both HD and SD sources. The TV's sharpness control needed to be set to a minimum of +20 to pass the luma resolution test; settings below that threshold had the effect of softening images.—AG