Sony VPL-VW600ES 3D LCOS 4K Projector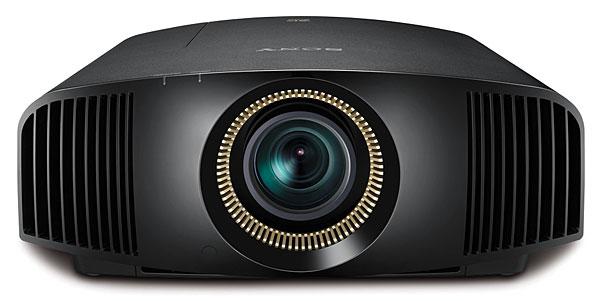 PRICE
$15,000
AT A GLANCE
Plus
Smooth, clean detail
Excellent color
Rich, dark blacks
Minus
Occasional iris pumping
Pricey
THE VERDICT
With its compelling reproduction of smooth detail, fine color, and impressive brightness with 2D content, the VPL-VW600ES offers a tantalizing taste of 4K.
In case you haven't noticed—or have just returned from an extended spring break in Antarctica—the newest thing in home video is Ultra HD, or 4K. 3D is so 2010. 4K is now.
But 4K home projectors are still a rarity, and so far, there haven't been any true 4K consumer projectors even remotely approaching the price of a good 1080p model. Until now, that is. Sony's new VPL-VW600ES comes in at an MSRP of $15,000, or just over half the price of the company's VPL-VW1100ES, a recent update of the VPL-VW1000ES (Sony's first consumer 4K model). That's not exactly chicken feed, but it's a move in the right direction.
Features
In its textured flat black finish, the VPL-VW600ES physically resembles the VPL-VW1000ES and VPL-VW1100ES, but it's changed enough to be clearly different. The inputs, including two HDMI ports, are on the side. The projector is extremely quiet in its Low lamp mode and louder but still comfortably quiet in fan noise in the High lamp setting.
Each of the Sony's three LCOS-based, 0.74-inch SXRD (Silicon X-tal Reflective Display) imaging chips has a resolution of 4096 x 2160, with an aspect ratio of 1.89:1. That resolution is the full professional 4K resolution used for digital cinema. All current flat-panel Ultra HDTVs have a resolution of 3840 x 2160.
Zoom, focus, and horizontal and vertical shift are all motorized. With a 120-inch-diagonal (105-inch-wide) 16:9 screen, the possible throw distances (lens to screen) range from 12.1 to 24.75 feet. Five lens memories may be programmed for focus, picture size, picture position, and aspect ratio.
The VPL-VW600ES's Panel Alignment feature provides manually adjustable color convergence to within a fraction of a pixel, either globally or by zones (153). While the color alignment was quite good out of the box, the convergence controls enabled a subtle improvement. But the adjustments must be made using an internal test pattern, which didn't always align precisely with an external pattern. I had to go back and forth a few times to get it right.
There are nine selectable Calibrated Presets (picture modes). I chose the Reference mode for the 2D calibration. Among the controls I left off were Motionflow (with frame interpolation and/or dark frame insertion to reduce motion blur), Reality Creation, Smooth Gradation, both Noise Reduction controls, and Clear White.
A Color Temperature control offers a variety of selections, among them D65 (the Rec. 709 color standard) and five Custom settings offering high and low adjustments for red, green, and blue. A Color Correction control is actually a color management system, with Hue, Saturation, and Brightness controls for red, green, blue, yellow, cyan, and magenta. There's also an Auto Calibration feature, designed to tweak the color after a period of use (not tested). Ten preprogrammed Gamma Correction settings are offered, plus Off, but with no provision for custom gamma.
The Cinema Black Pro menu includes controls for the two lamp settings, a Contrast Enhancer, and Sony's Advanced Iris. The latter's Auto Full and Auto Limited settings operate the iris dynamically to enhance contrast, closing it down in dark scenes and opening it up in brighter ones. There's also a control in this menu called "Brightness," but it's misnamed. Unlike the main Brightness control, which adjusts the black level, my measurements indicated that the Cinema Black Pro Brightness control behaves like a manual adjustment for the iris. It may be used together with either of the Dynamic iris settings, or by itself when the Dynamic feature is turned off.
The projector offers the usual 3D features, including 2D-to-3D conversion. The 3D sync transmitter is built into the case: A pair of active 3D glasses is provided for a nominal shipping charge; extras are $50 each. When 3D is operating, the Advanced Iris feature is disabled.
Setup and Performance: 1920 x 1080 Sources
For this review, I used my resident 96-inch-wide, 2.35:1 Stewart StudioTek 130 G3 projection screen (without an anamorphic lens). The projector was located approximately 14 feet from the screen and was used in its Low lamp mode unless noted otherwise.
The factory's D65 Color Temperature setting, used for my early viewing, was reasonably good, resulting in only subtle visible differences between the pre- and post-calibration results. I used the Limited Dynamic Control setting of the Advanced Iris, and the Low (or for some sources, the Middle) setting of the Contrast Enhancer. Advancing the Sharpness setting beyond 15 produced progressively more visible white line edge enhancement. As is typical on many consumer displays, the menu's Gamma number was only a rough approximation of the actual gamma (see Test Bench). The 2.4 Gamma setting worked best for me, though a few sources looked better in either 2.2 or 2.6.
The Sony VPL-VW600ES's video processing, at least with HD source material, was excellent. There were a few more rotating bar jaggies on the MA HD test than on the absolute best-performing displays we've seen, but not enough to deny a passing grade. But there was one oddity. While the projector had no problem upconverting 480p, 720p, 1080i, or 1080p to the projector's native resolution of 4096 x 2160, it would not upconvert, or even display, a 480i source. With the latter, a red "Frequency Out of Range" note appeared on a black screen. This should not be an issue for most users, since virtually all sources new enough to justify an expensive projector offer their own upconversion to 1080p. Nevertheless, this is the first 4K display we've seen with this limitation.
I had no complaints whatsoever about the VPL-VW600ES's resolution, 2D brightness, or color. The best Blu-rays in my collection looked as good as I've ever seen them—or better. If I went all out with the settings, in the High lamp mode, I could achieve 53 foot-lamberts of peak brightness (!), but I settled for a more eye-friendly 16 to 21 ft-L (depending on the source and my mood). The material I watched covered the gamut from the humor and warmth of Quartet to the computer-animated Bolt and Monsters University, the sci-fi actioners Oblivion, Prometheus, and King Kong (2005), and even an opera, Puccini's Turandot. The latter, apart from its brilliantly colored and detailed costumes and sets (a Franco Zeffirelli production for the Metropolitan Opera, which always means a bling explosion), served another test purpose. As with many concert videos, it was 1080i. But you'd never have known this from its truly eye-popping images. In a few tight close-ups, the Sony even revealed some poorly finished details that would never have been visible from the audience.