Sony VPL-VW600ES 3D LCOS 4K Projector Page 2
Like all dynamic irises, however, the Sony's produced some brightness compression. This phenomenon can reduce the impact of bright objects in a mainly dark image. This was visible most often on scrolling end credits, where the ratio of white letters to the black background varies constantly, but only rarely on real program material.
I did, however, occasionally see another anomaly from the dynamic iris: brightness pumping. It appeared consistently in transitions from a black screen to a bright one, obvious mainly in the opening warnings and other clutter found on virtually all discs, where the bright, stationary title screens would fade in over a half-second or so instead of popping up immediately at full brightness. Such pumping was rarely visible, however, on real program material. You can avoid it by turning off the iris' Dynamic Control, but at some sacrifice to the projector's otherwise excellent blacks. For me, the pumping I spotted was so infrequent (apart from those title screens) that I found the reduced black level with the dynamic iris operating more than worth it.
The Sony's blacks were almost as good as they get in a projector. My 2.35:1 screen helped, as it always does, by shifting the black bars on widescreen films to above and below the active screen surface. But dimly lit scenes—including the dark caves in Prometheus, the night scenes in King Kong, and the many night and basement sequences in War of the Worlds (2005)—looked almost as good as I've ever seen them. They've been bettered, marginally, only by the best projectors I've seen to date from "Brand J," which (until this year's models) haven't featured a dynamic iris, and a very few flat-screen displays (OLEDs, the best plasmas, and well-implemented LCDs with full-array, locally dimmed LED backlighting).
4K Sources
For this review, I was fortunate in having a wide range of 4K material available for the first time, courtesy of Sony's FMP-X1 media player. This device alone sells for $700 plus the cost of a tablet to control it. Sony requires its Xperia tablet when using the player with projectors and sent one to us for the review. A promotional package price of $16,000 for the projector, player, and tablet was available during our evaluation but was ending in March.
With the FMP-X1, you can download a selection of 4K movies from the Sony Entertainment Network. There were 67 of them available as of early February 2014, all from Sony Pictures and most of them priced at $30. Most of them offer very brief, free previews for a taste of their video quality before purchase. Some are also available as 24-hour rentals for around $7.
Each movie download took hours, and setting up the player the first time was a bit of an ergonomic nightmare. But once I got everything up and running (with plenty of phone assistance from Sony's help line), using the setup proved painless.
As I've mentioned before in reviews of other 4K displays, the 4K images offered a compelling combination of smoothness and detail. Some observers have also mentioned an increased feeling of depth—a sort of 3D-ness without 3D—but I think that's a bit overstated. While the 4K material varied a bit in quality, as source material always does, at best it did look spectacular.
But when I compared the native 4K downloads with two reference-quality Blu-rays (The Amazing Spider-Man in Sony Pictures' "Mastered in 4K" form and Battle Los Angeles in the regular Blu-ray release), the differences were surprisingly subtle, which could be attributed in part to the Sony's upconversion. The full 4K version, in all cases, looked a little cleaner and smoother. But short of the direct A/B comparison I did, you'd be hardpressed to spot the difference. Ultra HD, at least at this point, is not as revolutionary a video upgrade as, for example, the transition from VHS to DVD, or from DVD to Blu-ray.
3D Performance
For those who are still passionate about 3D, the Sony will fill the bill. Yes, its 3D is still dimmer than 2D, but with every brightness-boosting feature wide open, it's tolerably vivid. The 3D images actually looked brighter than they measured (about 4 ft-L, peak white), since the 3D gamma is very low. The dynamic iris is not available in 3D.
My only 3D complaints, apart from the inherently dimmer 3D images, involve Sony's 3D glasses. They were far from the most comfortable I've worn and are battery powered, which means you must replace the batteries rather than simply recharging them. That aside, the VPL-VW600ES's 3D images were crisp and colorful. They were also remarkably free of ghosting. The subtitles in Avatar that convert the Pandoran language have previously generated ghosting even on some of the best 3D displays I've reviewed. Not here. If you like 3D, the Sony should satisfy your need for depth.
Conclusion
The VPL-VW600ES is more than a worthy addition to Sony's projector lineup. Its smooth, clear, and crisp images were a revelation, and it's no exaggeration to say that apart from the ability of some very pricey models that can service a really huge screen, it's the best projector yet to sit on my projector stand.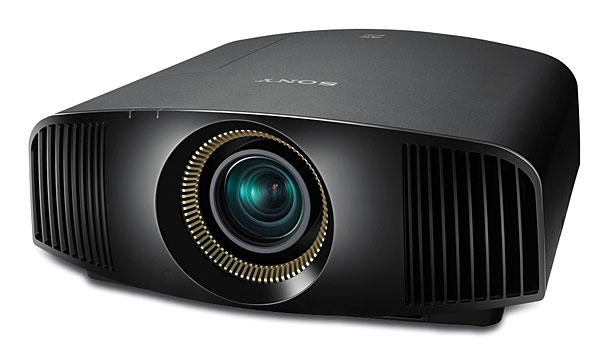 But the comparisons I made do raise the question of whether or not the increased resolution of 4K sources might offer significant visible advantages over well-done upconversion of 1080p material onto a large 4K display. Fortunately, there's more in play here than simply greater pixel density—the possibility of better color. The sources available on the Sony server use the standard BT. 709 (Rec. 709) HD color gamut, plus x.v.Color enhancement. I didn't use x.v.Color here because switching it on in the VPL-VW600ES defeats the projector's gamma options. But what x.v.Color might offer is archaic compared with the other color enhancements that might find their way into future 4K sources and displays: a wider color gamut (x.v.Color is not a color gamut, but rather an extension of selected colors), a deeper color bit depth, and less aggressive color subsampling.
The VPL-VW600ES does have a version of HDMI 2.0 with the ability to pass 4K at up to 60 frames per second and HDCP (High-Bandwidth Digital Copy Protection) 2.2. That's a start, but potential buyers should understand that no one knows yet to what extent the VPL-VW600ES (or any other existing Ultra HD display) will be able to take full advantage of the color enhancements that might become part of the evolving Ultra HD (4K) specifications—specifications that are not yet finalized as I write this.
Nonetheless, this is an exceptional projector, and if your pocket is deep enough, it's an easy recommendation.