Sony VPL-HW50ES 3D SXRD Projector HT Labs Measures
HT Labs Measures
Full-On/Full-Off Contrast Ratio: 20,894:1
Except as noted, all of the measurements (and charts) here are for 2D operation and were taken on a 96-inch-wide Stewart Filmscreen StudioTek 130 screen (gain 1.3). The projector was in the low lamp mode, the Advanced Iris was on Auto Full, the Contrast Control was on 70, and there were approximately 160 hours on the lamp.
The above contrast ratio was taken with the projector positioned at approximately 14 feet from the screen using a Minolta T-10 light meter to measure directly off the lens. The peak-white level on the screen was 17.58 foot-lamberts measured with a Minolta LS-100 light meter. From these two measurements, we calculate that the black level on screen was 0.0008 ft-L. (The LS-100 will not measure below 0.001 ft-L, thus the reason for the two-meter interpolation.)
Using the same technique, with the Advanced Iris turned off and the manual iris set for an onscreen brightness of 17.55 ft-L, the black level increased to 0.0065 ft-L, and the full-on/full-off contrast ratio dropped to 2,710:1.

Color-tracking charts were generated in SpectraCal CalMAN, www.SpectraCal.com
The color tracking before calibration in the D65 Color Temperature setting was respectable, with a maximum Delta E of 5.0 at 100 percent brightness and an average of 3.16. After calibration, the maximum Delta E was 0.72 at 20 percent, with an average of 0.5. (Delta E is a measure of how closely a display comes to the desired D65 color temperature, with values under 3 to 4 considered essentially perfect to the eye.)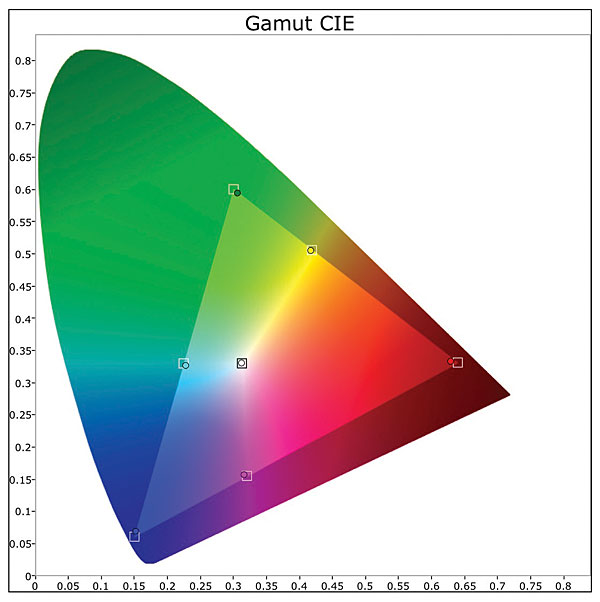 Apart from lows of 2.5 at 70 percent and 2.72 at 80 percent (likely due to the operation of the dynamic iris), the gamma never rose above 2.38, for an overall average of 2.33 at a gamma setting of 2.2.

The 3D calibration results (charts not shown) were surprisingly good. The average post-calibration Delta E was 1.76 (never higher than 0.83 up to 80 percent brightness but increasing to 2.78 at 90 percent and 8.0 at 100 percent). The gamma averaged 1.42 and dropped below 1.0 at 80 percent and above. As noted in the review, low gamma is often used in 3D to get adequate perceived brightness (a low gamma produces higher brightness in the mid-brightness region). The surprising thing is that such an odd gamma does not appear to compromise the picture.—TJN
LATEST VIDEO