Sony VPL-HW50ES 3D SXRD Projector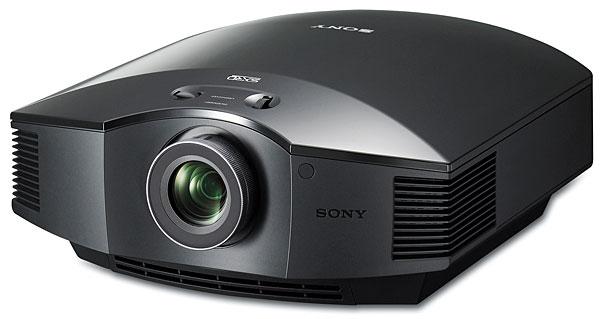 Price: $4,000 At A Glance: Superb detail resolution • Superior blacks and shadow detail • Solid color performance • Includes spare lamp
In Sony's pantheon of projectors, the VPL-HW models are the company's solid middle-class family. While a product selling for $4,000 or nearly so isn't likely to be found at Target or Walmart, in the projector world it sits nicely between bargain basement and "if you have to ask" pricing.
Last year's VPL-HW30ES was a favorite at Home Theater. The new VPL-HW50ES may look identical on the outside and isn't dramatically changed overall. But with some significant refinements, not to mention freebies that were options last year, it offers even better value than its predecessor.
Description
Sony's recent home theater projectors have all been designed around SXRD (Silicon X-tal Reflective Display) imagers. SXRD is Sony's proprietary version of LCOS (Liquid Crystal on Silicon). This technology offers theoretical advantages over LCD, the most significant being narrower gaps between the pixels. With more of the chip devoted to actually producing the image, there's less chance of seeing the screen-door effect.
To provide for possible misalignment of its three SXRD imaging chips (a potential issue with all LCOS or LCD projectors), the VPL-HW50ES can electronically shift the positions of the red, green, and blue images in fractions of a pixel. Unlike last year's VPL-HW30ES, which offered this feature only over the whole image simultaneously, the VPL-HW50ES offers adjustments in 144 zones around the screen— a refinement previously available only on Sony's more expensive models. The convergence on our sample was good enough out of the box that I felt no urge to tweak it, but it's good to know these adjustments are available if needed. In theory, such electronic controls might have a negative effect on resolution, but I haven't found this to be a serious issue.
The projector can fill a 100-inch-diagonal (87-inch-wide) 16:9 screen at distances ranging from 10.1 to 15.3 feet. The focus, zoom, and shift are entirely manual, so there are no automated lens memories. A new V Stretch aspect ratio feature has been added to accommodate an anamorphic lens in a constant-height setup.
The VPL-HW50ES offers nine Calibration Presets (picture modes). Each allows for different settings in 2D and 3D. These settings include four preset Color Temperature selections, plus five Custom memories with high (Gain) and low (Bias) white-balance controls for red, green, and blue.
The Cinema Black Pro menu includes the High and Low Lamp Control settings together with the controls for Sony's Advanced Iris. The latter offers two dynamic options (Auto Full and Auto Limited), a manual iris setting with a range of fixed settings, and an Off selection that turns the iris fully open. You cannot use both the dynamic iris and the fixed, adjustable iris together.
Sony's dynamic irises have been the best in the business in the past, and this one is no exception. Yes, dynamic irises bring with them slightly odd gamma curves, a compromise needed to optimize the operation of the iris. There's also brightness compression, which can make bright highlights in an otherwise dark image appear dimmer than they should as the iris narrows in response to the dark average picture level. But in my viewing, these effects were rarely distracting, and the projector's superb black level was more than adequate compensation.
There are 11 Gamma Correction settings, including Off. Sony also offers a PC program called Image Director 3, which provides for custom gamma adjustments. This program was not tested here.
Sony's Real Color Processing (RCP) feature provides Color, Hue, and Brightness adjustments for each of the primary and secondary colors—in other words, it's a color management system. The preset BT.709 Color Space setting was very close to correct in 2D (Color Space 1 was closest in 3D). I tried using the controls to correct for blue, the least accurate color, but while the result measured better, it looked worse (blue noise). I left RCP off.
Sony's Motionflow (a motion- smoothing, frame-interpolation feature) includes two sub-controls: Film Projection and Motion Enhancer. I saw no benefit to the former, and the latter has the usual effect of making film look like a video soap opera. I also left Motionflow off.
With a 2D 1080p/24 source, the projector operates at a refresh rate of 192 hertz. With a 1080p/60 source (or a 1080i/30 source deinterlaced to 1080p/60 either externally or by the projector), the VPL-HW50ES refreshes at 240 Hz. With Motionflow off, the extra frames required to reach these refresh rates are repeated. With Motionflow on, they are interpolated.