Sony Pictures Doubles Down on IMAX Enhanced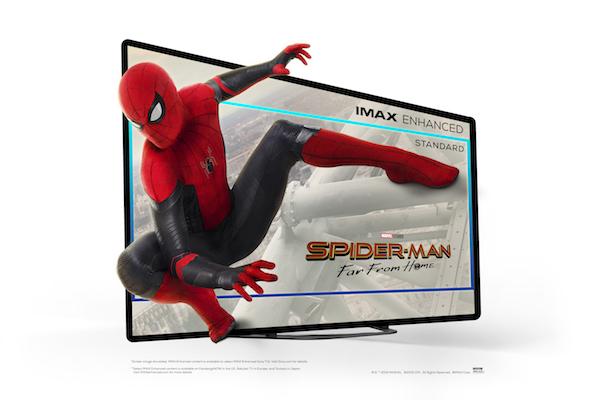 Sony Pictures Entertainment (SPE), IMAX, and DTS announced this week that SPE will release "hundreds of new titles in the IMAX format over the next two years, including all upcoming SPE and IMAX theatrical releases." The announcement follows the expansion of IMAX Enhanced content onto multiple streaming services worldwide, including FandangoNOW here in the U.S.
What is Imax Enhanced? To sum up briefly, it's both a certification program and an end-to-end ecosystem for audio and video gear and content. On the video side, IMAX Enhanced provides a noise-reduction mode intended to deliver optimal image quality when IMAX Enhanced movies and documentaries on Ultra HD Blu-ray and streaming services are displayed on IMAX Enhanced-certified TVs and projectors. On the audio side, it requires a special DTS processing mode that optimizes the custom theatrical mix for playback on home systems so they can replicate the experience of hearing a soundtrack in an IMAX theater.
When we last checked in with Imax Enhanced at the 2020 CES, they were touting broad hardware support, with brands such as Sony, TCL, Denon, Marantz, Definitive Technology, Anthem, Harman, Onkyo, Pioneer, and McIntosh having signed on. IMAX Enhanced content was still thin on the ground at the time, however. And while the library of movie titles has ramped up over the past few months, with Jumanji: The Next Level, Spider-Man: Homecoming, Venom, Bad Boys For Life, Spider-Man: Into the Spider-Verse, Only The Brave, Men In Black: International, Zombieland: Double Tap, A Beautiful Day In The Neighborhood, Little Women (2019), and Charlie's Angels (2019), all having been released in the format, the SPE announcement means that viewers can expect to see not just documentaries, but more IMAX Enhanced movie content at home.
Will the forthcoming IMAX Enhanced titles sourced from the SPE library be available on Ultra HD Blu-ray as well as streaming services? When I put that question to the company, I was told, "Sony has already released a number of titles on 4K UHD disk with the IMAX Enhanced program, and as the slate of new titles is announced, you'll be hearing about many more soon." So, yes, definitely maybe, but the prospect of new releases appearing on Ultra HD Blu-ray is looking pretty good.
For more information on IMAX Enhanced, including a FAQ page, visit imaxenhanced.com
Related:
IMAX Announces Expansion of IMAX Enhanced Program
IMAX Enhanced Home Theater Certification: What We Know So Far