Spider-Man: Into the Spider-Verse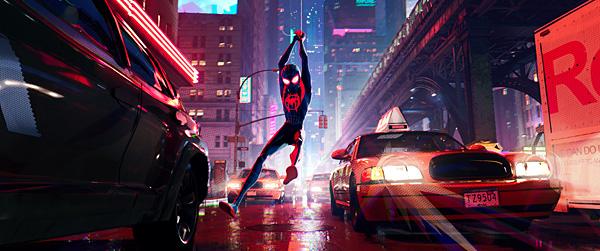 Into the Spider-Verse is a gleeful embrace of all things Spider-Man, born of everything that has come before, both the good and the not-so-good. This is the superhero movie we get when everyone involved loves the source material, starting in this case with the winning combination of Phil Lord and Christopher Miller (The LEGO Movie). Serving here as a producer/co-writer and producer, respectively, they have helped to craft something at once irreverent and deeply reverential, rewarding loyal readers and inviting the uninitiated to swing along on a mind-bending adventure. There are radioactive spiders and young bite victims, but when a hole in the space/time continuum is ripped open, Miles Morales (voiced by Shameik Moore)—the latest costumed wall-crawler—comes face-to-face with very different doppelgangers from five other dimensions. Together, they must find a way to send themselves back where they all belong, and stop the villain responsible, using methods unlike anything we've ever seen before.
The extraordinary animation techniques used for Into the Spider-Verse push the boundaries of what's possible in cinema. Computer-generated but with extensive hand-drawn elements, the film's 2.39:1 image is a playground marked with deliberate ghosting, haloing, geometric patterns, and even subtle Ben-Day dots. The result is a state-of-the-art look but with a timeless comic book style. Each of the half-dozen principal crimefighters gets his or her distinct and wholly appropriate visual style, and the juxtaposition is part of the fun. Chromatic color separation with multiple levels of focus is used to convey depth of field and draw the eye where the filmmakers want it to go. Meanwhile, the virtual camerawork is so aggressive that it creates a pseudo-stereoscopic effect. (Unfortunately, no 3D Blu-ray edition is available.) In contrast with the more fantastical scenarios, the five boroughs of New York City have a gritty appearance, while digitally generated smoke behaves as organically as the real thing. Expect a noticeable loss of detail when viewing the HD Blu-ray, along with a harsher edge to highlights that's not evident in the HDR10-enhanced Ultra HD disc version.
The film's keen sound design keeps the emphasis on character, as we notice from the more traditional sonic rendition of Miles' day-to-day life in Brooklyn versus his forays into the superhero domain. Things can get crazy pretty fast in that action-filled über-realm, which is when the entire room comes alive. The Dolby Atmos soundtrack's whole-hearted exploitation of the soundfield is yet another way that the creators of Into the Spider-Verse immerse us in their wondrous world, a true 360-degree environment where absolutely anything can happen. There are liberal doses of crashes and explosions, and voices that dance nimbly between surround speakers. The mix also toys with your sense of direction—up-and-down, side-to-side—in a way that's appropriate for arachno-folk who scoff at gravity.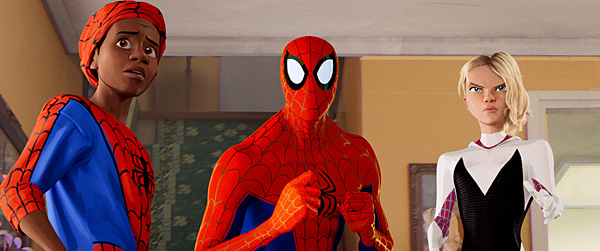 Extras on the 4K disc include a new cartoon starring Spider-Ham, along with a fascinating audio commentary by Lord/Miller joined by directors Bob Persichetti, Peter Ramsey, and Rodney Rothman. Over on the regular Blu-ray disc, selecting Play from the main menu gives you the option of an "Alternate Universe Mode" that offers both a different way to experience the movie (this version opens with the Spider-Ham short before the feature, for example) and a behind-the-curtain exploration of creative roads not taken. Since it incorporates extra scenes—in crude form—this redux adds to the film's 117-minute running time. Seven above-average featurettes and two surprisingly well-produced music videos round out this platter.
Into the Spider-Verse is an outrageous comedy, an honest family drama, a rock-solid thriller, and an audio-visual marvel. It's one journey that everybody should take.
ULTRA HD BLU-RAY
STUDIO: Sony, 2018
ASPECT RATIO: 2.39:1
HDR FORMAT: HDR10
AUDIO FORMAT: Dolby Atmos with TrueHD 7.1 core
LENGTH: 117 mins.
DIRECTOR: Bob Persichetti, Peter Ramsey and Rodney Rothman
STARRING: Shameik Moore, Jake Johnson, Hailee Steinfeld, Mahershala Ali, Brian Tyree Henry, Lily Tomlin

An animated Spider-Man movie? In the midst of the character's latest live-action reboot? Using six different iterations of the character, all but one of which are only known to die-hard comic book fans? A direct-to-video tie-in, right? Wrong: Not only was Spider-Man: Into the Spider-Verse a big-screen box-office success, it also snagged an Oscar for Best Animated Feature Film of 2018.