Zombieland: Double Tap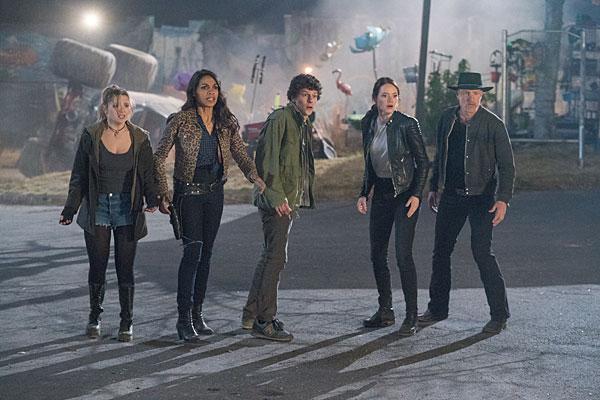 Zombieland: Double Tap
revisits the characters of Tallahassee, Columbus, Wichita, and Little Rock (played by Woody Harrelson, Jessie Eisenberg, Emma Stone, and Abigail Breslin, respectively) 10 years after the original
Zombieland
takes place. There is plenty of clever dialogue and zombie kills to keep the film moving at an entertaining pace, even though it lacks some of the freshness of the original. This latest version of the zombie apocalypse also benefits from an excellent supporting cast that includes Rosario Dawson, Thomas Middleditch, Luke Wilson, Avan Jogia, and Zoey Deutch in an especially humorous performance.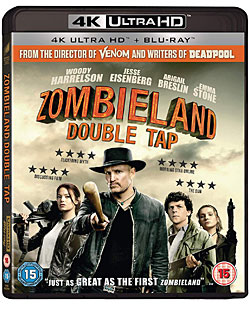 Originally shot at 3.4k resolution and mastered in 2k, the IMAX Enhanced picture on this Ultra HD Blu-ray looks excellent. As you might expect from an apocalyptic wasteland, most of the outdoor scenes are overcast and dreary looking, but there is plenty of detail in the cracks and peeling paint of the overgrown buildings and leaves and dirt covering the roadways. The blacks of Wichita's leather jacket come across as ultra-dark, but the fibers of Tallahassee's equally rich, black cowboy hat are clearly evident. While the color palette of this HDR10 presentation is not especially vibrant for the most part, the vivid and brilliant blue, yellow, and red neon lights of the Hound Dog hotel in a nighttime shot punch through the pitch-black darkness with exceptional clarity and brightness.
Zombieland: Double Tap's DTS:X soundtrack is effective and dynamic during the many battles with the zombies, but I wished that the full array of channels had been used to provide more consistent ambience throughout the entire film. There is little surround and overhead road noise to envelop the quartet of lead characters as they travel in their Pontiac Trans Sport minivan, or crowd noise when they arrive at the Babylon commune. But the aural fireworks really ramp up when monster truck Big Fat Death arrives during the final battle scene, the crunching and thumping sounds of zombie bodies bouncing off the monster truck as its methanol-supercharged engine revs coming
across as insanely entertaining.
Most of the extras are available only on the included standard Blu-ray disc except for the director's commentary and one short featurette. The eight featurettes, extended bloopers and outtakes, and deleted scenes are mostly throwaways that are not particularly insightful or entertaining. A Movies Anywhere digital download code is also provided.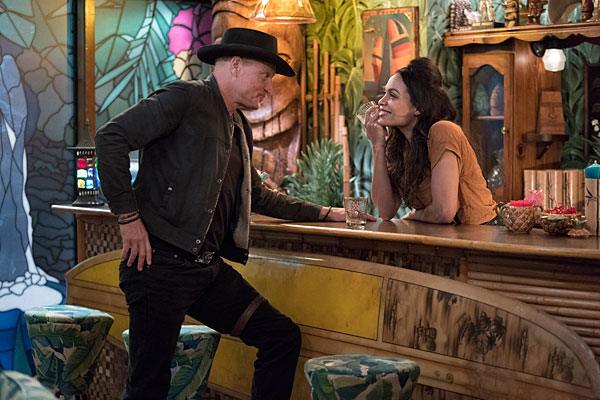 Ultra HD Blu-ray
Studio: Sony, 2019
Aspect Ratio: 2.39:1
HDR Format: HDR10
Audio Format: DTS:X
Length: 99 Mins.
Director: Ruben Fleischer
Starring: Woody Harrelson, Jesse Eisenberg, Emma Stone, Abigail Breslin, Zoey Deutch, Avan Jogia