The Social Theater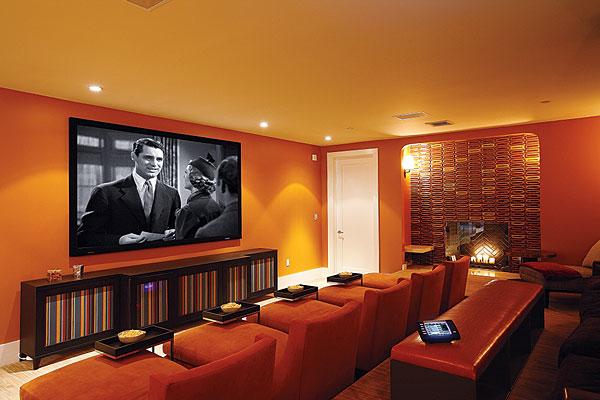 New construction has its advantages, especially when building a home theater. Since Innerspace Electronics of Port Chester, New York, was brought in on this project early in the construction, they could ensure that this theater was designed adequately for best picture and sound.
The homeowner was looking for a comfortable room where the family could gather to watch movies and socialize. It was important that it was equally functional for the children as well as the adults.
Located in the basement, the theater measures 26.3 x 18.375 x 9 feet. Due to its placement in relation to the rest of the house, no acoustic treatments were needed to isolate the sound.
This relaxed theater appears more like a large living room than a traditional theater. The warm color scheme was provided by Worth Interiors. Unique lounge chairs with trays for drinks and snacks contribute to the chill-out environment. Innerspace Electronics came up with the solution of a custom equipment cabinet that would blend nicely into the décor.
All the main equipment, including a Denon A/V receiver and a Kaleidsescape Kplayer-5000, is hidden in the cabinet, which is placed under the 100-inch- diagonal Stewart screen. A Runco VX-2000d projector is installed on the ceiling at the back of the room. Also in the cabinet are three Triad InRoom Gold Center speakers for the LCR array, along with a REL R-505 subwoofer. Four Triad InWall Gold/4 Omni surround speakers were installed in the back wall and in the ceiling toward the middle of the room.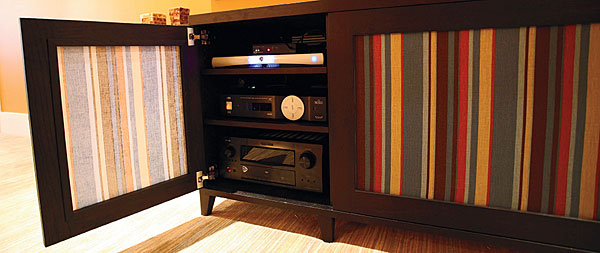 The homeowner's vast movie collection was integrated into a Crestron home automation system, allowing all family members to access system controls from any room and watch any movie at any time. The Kaleidescape's DVD server stores the family's entire movie collection.
The room is an all-purpose space, and while watching movies is the main reason the homeowner had the theater built, it also serves as a great area for watching TV and sports, even playing games and just socializing.
Contact: Innerspace Electronics, Inc., (914) 937-9700, innerspacelectronics.com