Simplified Home Integration
Anyone can have a room full of gear that is overflowing with the latest technology, however, how does it integrate into the dcor, and more importantly how does it integrate with the humans in the room? Even the most tech savvy can become flustered trying to get all their AV gear to work together. However, add in a host of sub-systems like security, HVAC, telephone, home network and multi-zone audio/video, integration becomes absolutely critical.
Imagine spending tens of thousands of dollars on a system that is supposed to integrate all this terrific functionality into a simple to operate control system, yet, you are still pulling your hair out trying to just play a movie or listen to music in the bedroom. That would be absurd but, unfortunately, it does happen.
"A key requirement for this client was seamless integration of all sub-systems into a simple and easy interface that the entire family could easily understand and operate," said Brian Collins, Project Manager for the Paragon Technology Group. "The wife assumed she was not tech savvy because of the frustration she had with poorly integrated systems in the past. Today, not only is she in love with the system we installed, but she considers herself extremely knowledgeable about it and doesn't feel intimidated anymore."
When Paragon was called into the project, the builder was only weeks away from putting up sheetrock. Called in to pull some wires, it soon became apparent to Paragon that the amount of technology required by the client was too massive of an undertaking by those currently involved in the project.
It was necessary for them to spend a good deal of time educating the developer, builder, architect, and interior designer. None had experience with a system of this complexity or size. Moreover, none of them had accounted for the time it would take to integrate the type of technology required by the client. They had to design quickly, and pre-wire even quicker. Without their expertise, the homeowner would have faced another disappointing home integration system.
"The speed and accuracy at which this system (approx. $1.3million) was designed is unprecedented," explains Collins. "The Paragon design team collaborated with the sales team, project managers, clients, builder, architect, and interior designer to insure we presented a complete, correct, functional, fun, and ultra-simple project. The entire design was created, presented, approved and work began in under three weeks."
Most the equipment throughout the home is hidden except for the touch wallpanels, yet, everything is easy to access and use. For instance, the kitchen touch panel provides full HD viewing and total control of every system in the house. To assist in hiding all this technology, popup lifts and custom cabinets were built to conceal TVs and components.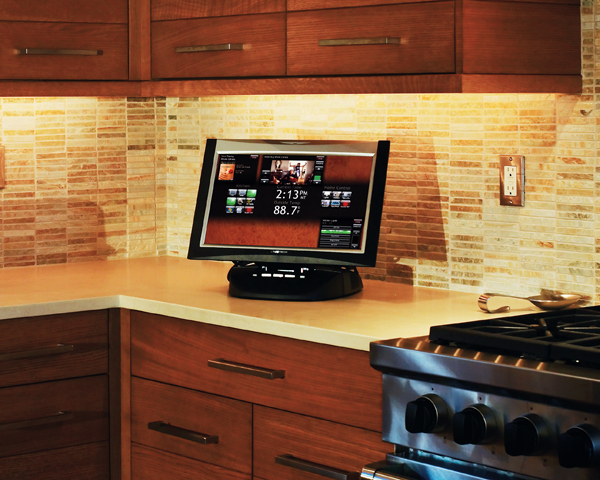 Much of the home's design was a family affair, ensuring everyone got exactly what they wanted. The husband, however, only required two things: a totally connected and controlled home office with web conferencing, yet, it needed to provide him complete solitude with great sound and picture. The other" must-have" was the game room, where he wanted "the absolute best" in sound and video performance.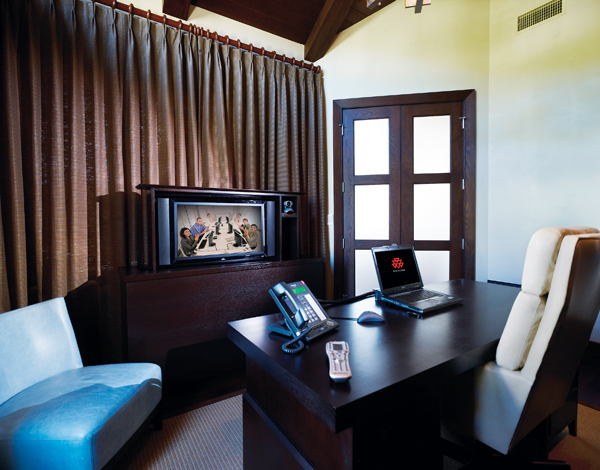 The whole-home AV system was set up with approximately 50 zones and four of them are equipped with surround sound. Other sub-systems include Security/Fire, HVAC, CCTV, front-gate control, telephone, a commercial grade data network, and monitoring of the wine room and Pool/Hot Tub area. Every system is accessible and easy to control via the various Crestron controllers in the 16,0000 square foot house.
Yes, this level of integration is expensive, and not everyone has the means to go this far. However, it does underscore an important point, at any price level. If you want something done right, hire a professional, but be sure to check their references because you want to be sure it's done right the first time.
Contact Info:
Paragon Technology Group with offices in Aspen, Vail, and Steamboat Springs, CO plus Nashville, TN
Contact: Casey Wood
Phone: 866 544 8494
email: cwood@paragon-usa.com
website: paragon-usa.com