Simon & Garfunkel: Live 1969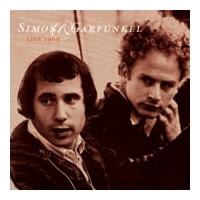 Columbia/Legacy
---
Music •••• Sound •••½
Unlike the case with Bob Dylan, there has been precious little in the way of 1960s concert recordings by Paul Simon and Art Garfunkel. What limited material was available (until recently, that is) included a cover of the Everly Brothers' "Bye Bye Love" on Bridge over Troubled Water, four live cuts that appeared on 1972's Greatest Hits, and 10 more concert tracks that debuted on Old Friends, the 1997 boxed set.
In 2002, the duo's first archival, non-reunion concert recording was released: Live from New York City, 1967, taped at Philharmonic Hall in Lincoln Center. (Completists, take note: It includes four songs that first appeared on Old Friends but not a fifth, "Red Rubber Ball," that was performed at the same show.) And now there's Live 1969, drawn from a tour conducted between the recording and release of Bridge over Troubled Water, their fifth and final studio album. Their next album was supposed to be a live one, but the duo broke up, and those recordings weren't released - save for that quartet of tracks on Greatest Hits. So, nearly 40 years down the road comes this CD, with 17 tracks from half a dozen late-1969 concerts in locales ranging from Long Beach to Carnegie Hall.
The track lineup here is markedly different from the 1967 set, reprising only six songs. And in the innocent pre-digital, pre-Internet, pre-file-sharing/stealing age of 1969, the duo had no qualms about previewing material from their forthcoming Bridge. The title track was beautifully sung by Garfunkel and brought the house down. Simon's eloquent songs and intricate fingerpicking and the duo's heavenly harmonies made for audibly radiant evenings of acoustic minstrelsy as the curtain was falling on the Sixties. The duo also played a chunk of these shows accompanied by four other musicians - guitarist Fred Carter Jr., pianist Larry Knechtel, bassist Joe Osborn, and drummer Hal Blaine - which was a first for them.
More courtly and generous of spirit than Dylan's distaff parables and putdowns, the S&G canon fell easily upon the ears and attracted a following of sensitive, left-leaning coffeehouse intellectuals who were loath to let go of the folk era - although Simon himself was ready to move on by then. Still, considering that their breakup was imminent and that sessions for Bridge had been strained, Simon & Garfunkel sound very much at ease with each other on Live 1969. Any search for obvious fractures is fruitless - although you can't help but wonder if Garfunkel, as he delivered "So Long, Frank Lloyd Wright," realized he was singing what amounted to Simon's affectionate signal that their demise was just around the bend.
The audience's rabid cheering on Live 1969 shows how startling it must've been to hear powerful pieces like "Bridge" and "The Boxer" for the first time, and how pleasing it was to hear favorites like "I Am a Rock" and "Homeward Bound" in ripe, definitive versions. This CD captures Simon & Garfunkel not only at their end, but at their peak, too.