Samsung QN65Q8FN LCD Ultra HDTV Review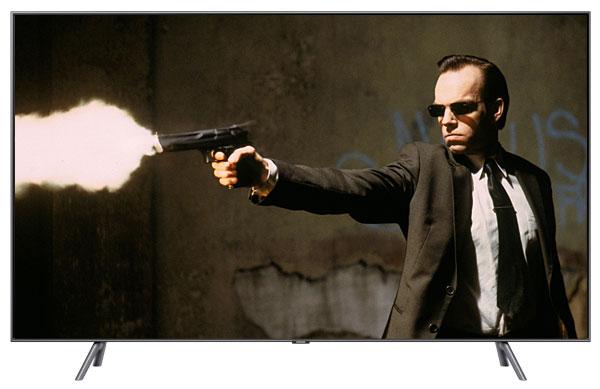 PRICE
$2,799
AT A GLANCE
Plus
Excellent color rendition
Deep, detailed-looking blacks
Full-array backlight with local dimming
Minus
Potentially confusing screen GUI and remote
Unreliable voice command feature
No Dolby Vision
THE VERDICT
Quantum dots in Samsung's near-top-of-line QLED TV allow it to deliver exceptionally rich color. Add in a full-array backlight with local dimming and the QN65Q8FN amounts to a winning proposition from a picture quality standpoint.
Samsung's QLED—not to be confused with OLED—UHDTVs are the company's top-of-the-line models. In case you're wondering, that Q in QLED stands for quantum dot, a backlight technology that provides a more precise method to generate the red, green, and blue light that creates a video image than the process typically used for LCD displays. How does it happen? In a Samsung QLED TV, a blue LED backlight generates the blue component of the image and also stimulates a layer of nanocrystal dots sized to emit a specific wavelength of light —red and green in this case—when energized. The benefits to using quantum dots in a TV include a more saturated color range at all brightness levels, along with increased energy efficiency since filters aren't used to create the red, green, and blue primaries that make up the full-color image.
Along with quantum dots, another benefit to Samsung's Q8FN series LCD Ultra HDTVs, including the 65-inch QN65Q8FN model tested here, is a full-array LED backlight with local dimming. That's a new development for 2018—Samsung's high-end LCD offerings over the past few years have all used edge-lit LED backlights. A key feature that differentiates Q8FN series sets from the company's pricier Q9FN models is the number of local dimming zones. While Samsung doesn't cite a specific number, the Q9FN series provides 10 times as many zones as Q8FN series models.
Anyone keeping track of high dynamic range developments with new UHDTVs will be aware that Samsung doesn't do Dolby Vision. Instead, it supports its own HDR10+ format in addition to standard HDR10 and HLG (Hybrid Log Gamma). Same as with Dolby Vision, HDR10+ uses dynamic metadata to direct the TV's rendering of image dynamic range on a shot-by-shot or frame-by-frame basis. At present HDR10+ is only available on a limited number sources, specifically the library of HDR programs available for streaming from Amazon Video. Another Q8FN series feature that helps with high dynamic range delivery is an Ultra Black Elite Anti-reflective screen. While screen reflections aren't an issue when viewing in a dark environment, most people watch with some degree of room light, and Samsung's light-filtering screen effectively serves to remove glare caused by lamps and undraped windows.
As with other Samsung TVs, careful attention has been paid to the 65Q8FN's design features. The screen is bordered by a thin, almost non-existent 0.25-inch bezel. The spindly legs included for a table mount are splayed wide apart, but they otherwise provide solid support. Samsung's Clean Cable Solution lets you route the power cable from the TV's back through a conduit on either leg, allowing for a clutter-free installation. Adding to the set's design flair is Samsung's Ambient Mode. When this is activated, the TV's black screen transforms into a framed picture-style display that blends in with the TV's background. You can display either a preset image or a custom one that you upload.
Another feature separating Samsung's Q8FN and Q9FN series TVs is the lack of the One Connect Box for the former. (Samsung's One Connect Box is an external AV connection box that links to the TV via a single optical cable.) Instead, the 65Q8FN's back panel provides a full set of connectivity options, including four full-bandwidth HDMI 2.0 inputs (including one with ARC), an RF input for cable/terrestrial TV, LAN and USB ports, and an optical digital audio output capable of passing Dolby Digital surround soundtracks to an AV receiver. On the subject of sound, the 65Q8FN's built-in audio system can play relatively loud for a flat-panel TV, and it also has a Bluetooth option for streaming sound to set of wireless speakers for solo late-night viewing.
The Samsung OneRemote included with the TV is a deliberately stripped-down handset that depends largely on interaction with the set's onscreen GUI to carry out many operations. While I see the appeal of replacing a traditional button-cluttered remote with a more advanced control option, I actually found myself turning to the set's online e-manual to learn how to perform functions as basic as volume adjustment. In other words, I didn't find OneRemote to be particularly intuitive, though I did eventually get the hang of using it after a few visits to the e-manual.
One reason why Samsung may have de-emphasized traditional remote-control options with the Q8FN series is its Bixby intelligent voice command feature. Many new TVs from Sony, LG, Vizio, etc. feature some form of voice control, typically Google Assistant or Amazon's Alexa. Bixby, on the other hand, is a Samsung creation. While it didn't have the same AI chops that impressed me during my past interactions with Google Assistant, it still managed to carry out basic commands like "volume up" and "volume down" on the TV. (More on Bixby in a bit.)
Setup
When you first turn on Samsung's TV, a welcome screen directs you to download the company's SmartThings app to your phone or tablet. After doing so, I was disappointed to learn that I had to register and create a Samsung account to use the app, which only provided rudimentary TV remote control functions. (SmartThings is geared more towards controlling the company's Smart Home devices, which including sensors, hubs, security kits, and kitchen appliances.)
Quitting the SmartThings app and turning my attention to OneRemote and Bixby, I decided to try using voice commands to navigate Netflix, only to learn that that Samsung's assistant isn't compatible with that service. Instead, I searched for a movie. "Watch The Hangover Part II," I commanded. "Did you want to watch The Hangover Part Two Inches?" (Whaaa?) "No," I responded. "Is 'No' what you wanted to search for?" On it went.
I started my picture setup of the 65Q8FN by selecting the Movie preset, which provided mostly accurate out-of-box color rendition. I also selected Warm2 Color Tone (white balance), Auto Color Space, and left Gamma at its default 0 setting. When connecting an Ultra HD Blu-ray player or UHD-capable streaming box to the TV, you will also need to select the HDMI UHD Color option in the External Device Manager submenu under the General Settings menu for a specific input to ensure passage of full-bandwidth signals.