The Roots: Rising Down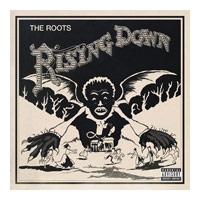 Def Jam
---
Music •••½ Sound •••
For the second album in a row, this long-lived Philadelphia crew has branched into more strident, politically minded raps. In fact, Rising Down bristles with angry rhymes about violence-torn streets, warring nations, and a dying planet.
Set to an ominous low-end buzz and unnerving guitar arpeggios, the title track finds the Roots' Black Thought and guests Mos Def and Styles P sounding a global warning: "You'll see that something's wrong / Earth spinning out of control." The downward spiral continues on "Get Busy," even as Black Thought and guests give positive namechecks to the likes of Nelson Mandela and W.E.B. Du Bois.
The Roots' unsparing wake-up calls won't go down well with those who flock to hip-hop for endless redundant boasts and party-up escapism. But Rising Down is just the sort of reality check that mainstream hip-hop needs to break out of its rut. Even when the band's messages are depressingly truth-filled, you can always get behind Questlove's forceful rhythm, beaten on a real drum kit with an authority that's worthy of the late Buddy Miles. It's largely what sets the Roots apart from the synthetic hip-hop herd - although they increasingly seem to want to be part of that herd. Probably so they can get heard.
To that end, the Roots invited a multitude of outside rappers to join them here. This is a mixed blessing that, on the upside, lends their messages a powerful air of community consensus. On the downside, it sometimes makes their conscious party feel overcrowded. Moreover, by recruiting guests with names like Peedi Peedi and Porn (is that what they put down on their IRS forms?), it's hard to take some of the music and the messages as seriously as the Roots intended.
Still, Rising Down has plenty of forceful tracks with a point to make, including "I Will Not Apologize," "Singing Man," and "Lost Desire." The mix of jazz, soul, and funk from organic and synthetic sources, along with the collision of melodic vocal hooks and straightforward raps, gives the Roots' music both timelessness and timeliness. Moreover, their unflinching topicality and principled admonitions make them seem something like a latter-day Curtis Mayfield - which is to say, an irresistibly funky voice of conscience in difficult times.