Remaster Class – Nine Inch Nails: The Downward Spiral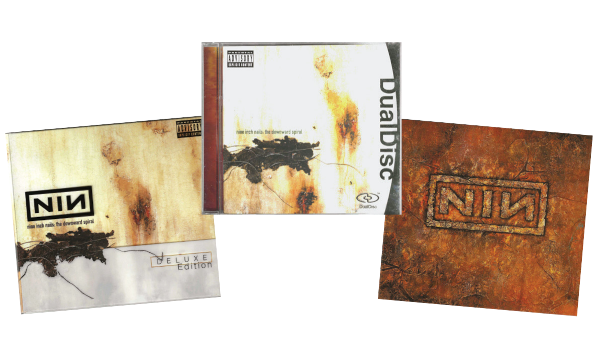 No one does self-loathing, despair, and existential angst quite like Trent Reznor. Right from the outset of his then one-man band Nine Inch Nails' October 1989 TVT debut album
Pretty Hate Machine
and the unforgiving, snarling manifesto of its opening track "Head Like a Hole," Reznor threw down the gauntlet of NIN's take-no-prisoners aural template. Within NIN, he enmeshed industrial synthesizer clank, metal-riff drang, searing layered instrumentation, and sneering vocals all into an unapologetically abrasive style that came to define one particular slice of 1990s alt-rock culture.
With NIN's sophomore album, March 1994's 14-song, 65-minute darkwave magnum opus The Downward Spiral, Reznor left most of his contemporaries behind. Since Spiral was made during the height of the digital age, most of us initially experienced its punishing music via the 1994 Nothing/Interscope CD before re-absorbing it in other formats. It's also worth noting that Reznor has always been quite meticulous with the way he chronicles the hand-picked catalog numbers for all his releases so that each iteration gets its own spelled-out, all-lowercase nomenclature. Hence, The Downward Spiral is cataloged as halo eight, since it followed seven other prior NIN releases like Pretty Hate Machine and various singles and EPs. If you're a hardcore NIN collector, you want every halo permutation you can find.
Reznor didn't skimp on ensuring the 1994 Nothing/Interscope 2LP vinyl edition of Spiral (right) did its expected analog job — especially when it came to its insanely slamming bass content — not to mention how the relentlessly grating objective of the overall sound design remained intact, just as it should. Considering how pricey the original 2LP set is, it's been refreshing to see an affordable, 2023-pressed 180-gram 2LP version from Nothing/Interscope (shown below). Though Spiral was remastered back in 2017 by Reznor for its initial 180g vinyl re-release on the same label, the new 2LP set is still rightfully dubbed as being the Definitive Edition.
That said, once Reznor began experimenting with surround sound, it was only a matter of time before Spiral got its own multichannel due in 2004 by way of a two-disc 10th anniversary edition on Nothing/Interscope that features a killer 5.1 mix on SACD (cover left, booklet right in opener). Incidentally, that 5.1 mix is also available on the concurrently released 2004 CD/DVD DualDisc (middle in opening photo) — but that one's for completists only. When Reznor and I spoke about his surround sound M.O. back in 2002, he was adamant about the role of vocal placement. "The main problem I ran into was, what the hell do I do with the center channel?" Reznor told me. "While it can bring things out in a mix, it can also destroy a mix. One giant mistake is that some people put the lead vocal dry in the center channel. As a singer, I can assure you, I never want anyone to hear my lead vocal dry."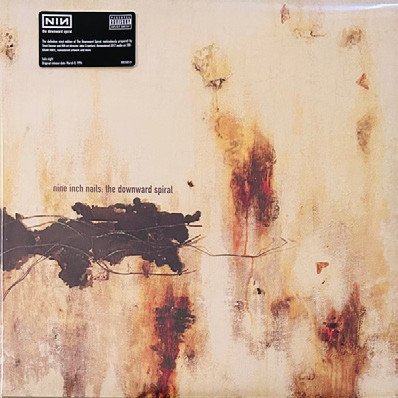 Whether working with live or studio material, Reznor made sure to keep his eyes, and ears, on the all-channel prize. "I wanted the band to be playing in front of you and not lose any of the impact it would have if it was in stereo — but at the same time, I wanted to immerse you," he explained. "When you listen to a powerful stereo mix, you're not missing those 'extra' speakers, so I didn't want to get too distracting with the surround-channel & speakers or rely on reverb to 'set' the space."
As much as I enjoy spinning Spiral on vinyl, Reznor's artistic intent is better realized in its multichannel incarnation. Dig a) how the manic "Lust for Life"-like drumming intro to "March of the Pigs" ultimately gives way to repeated headbanging volume swells and outright all-corners cacophony, and b) the way Reznor follows his aforementioned vocal goals on the choruses of "Closer" by having his voice directly compete with the levels of the bass, percussion, and synth lines that surround him. The lynchpin track, the epic ballad "Hurt," veers from wounded whisper to controlled seething, with Reznor's center-left vocal clearly enunciated but never shrill, even as crystalline piano plinks push through the sub-channel din. The extended encircling, warbling whoosh denouement feels nothing short of a cloying wind billowing through your skull.
Naturally, while the 5.1 Spiral is definitive NIN, I still wouldn't mind hearing Reznor lift it into the Atmos Stratosphere — perhaps as part of an all-out, full-bore 30th anniversary collection to come in 2024. Until then, hearing The Downward Spiral in its surround sound mix on SACD will, without a secular doubt, bring you closer to God.