Remaster Class - David Bowie: The Rise and Fall of Ziggy Stardust and the Spiders from Mars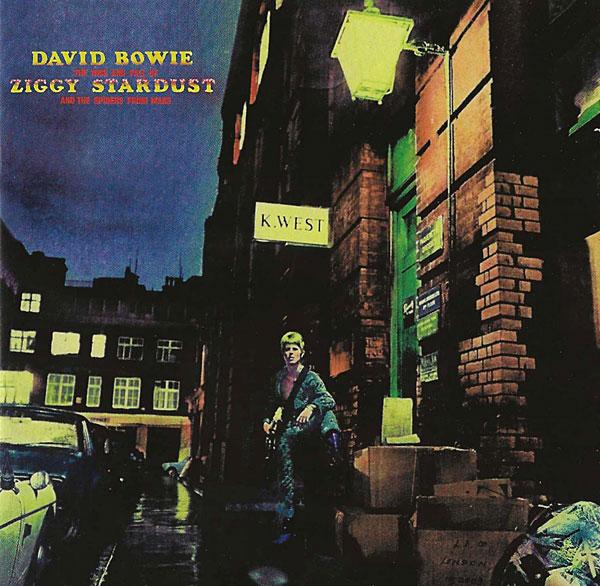 Just Turn On With Me
"To be played at maximum volume." So went the listening instructions appearing in all caps near the bottom left of the back cover of David Bowie's June 1972 career-defining dystopian space-glam saga, The Rise and Fall of Ziggy Stardust and The Spiders From Mars. Though turning one's volume knob way past 11 might actually induce the needle to jump the groove as soon as Bowie screams "you're not alone!" in the back half of "Rock 'n' Roll Suicide," the fact is, Ziggy Stardust was a "loud" release in the sense of the culture-shift it helped spearhead—not to mention it being the conduit for Bowie's ascendency to true "Starman"-level stardom.
"We had never heard anything like it before," observes Simple Minds lead vocalist Jim Kerr of Ziggy Stardust, who bought the album on vinyl upon its release in 1972 when he was a young teenager growing up in Glasgow, Scotland. "The Beatles and The Stones were already considered to be your mom and dad's music by then," Kerr continues. "But with Bowie and Ziggy, you really felt like, 'This is my thing. This is my time.'"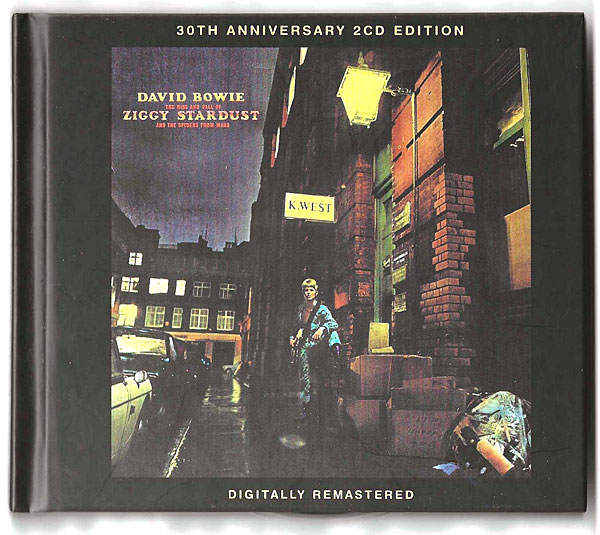 My own original 1972 RCA Victor Ziggy Stardust Rockaway Pressing LP is in such dismal shape that I can't even read what's on the spine anymore. A half-speed-mastered 180-gram Ziggy LP made in Germany was released earlier this year on Parlophone, but if digital sourcing is an issue for you when it comes to modern wax, seek out my personal vinyl-listening favorite, the 2012 EMI LP. (Full disclosure: I bought a copy of the 2022 LP anyway, because I'm an unapologetic collector.)
As for the digital disc realm, the 1984 Ziggy RCA Redbook CD is what it is. The 1990 Rykodisc CD is a sentimental favorite—Rick Wakeman's harpsichord on "It Ain't Easy" is a perpetual treat—but I also enjoy the 2002 Virgin/EMI 30th anniversary 2CD set with demos and alternate takes, albeit not so much the 2012 Virgin/EMI 40th anniversary CD since it lacks bonus material.
When the time came to do a surround mix for the 2003 EMI Ziggy SACD, Bowie himself had a very specific, and non-negotiable, request. "He had the right idea about it, as far as I was concerned," original Ziggy co-producer/engineer Ken Scott told me. "As soon as 5.1 was mentioned, David said he would only allow it if the original producer and engineer did the mixes." Hence, Scott handled the surround duties himself, to great effect. A decade later, Scott suggested Ray Staff, a Trident Studios alum, do the remastering for the 40th anniversary EMI LP/DVD-V edition. "Ray had the same reference point I did," Scott explains, "because he did it in the first place—and it worked out really well."
That may be an understatement, given what you can hear of Scott's own production work in the 24-bit/96kHz DTS and Dolby Digital mixes on DVD-V. For example, "Five Years" unfolds slowly at first before the strings envelop—but don't overwhelm—the front stage, followed by Spiders guitarist Mick Ronson's lead lines deftly nestling in the rears later in the song.
Said string section, as arranged by Ronson, posed a bit of a challenge to mix for surround. "I had completely forgotten about how much leakage there was into the orchestral mikes, while having it blast through speakers," Scott recalls. "That affected things slightly, because you couldn't have the orchestra entirely in the back channels with everyone else in front, due to so much leakage. The original recording set the tone of how the 5.1 had to be."
That it did. For one thing, in surround, the synthesizers on "Suffragette City" have much better clarity. (Though Bowie long insisted those were actually horns and not synths, Scott says otherwise.) Also note how the chord changes in "Moonage Daydream" literally move around in space, and how dramatic Mick Woodmansey's wide-panned drum fills appear ahead of the choruses. The bonus instrumental version of "Daydream" sheds even more 5.1 light on the backing track.
Ziggy may have indeed played guitar, but David Bowie played to the stars. Fifty years on, the electric eye of Ziggy Stardust is as laser-focused as ever. Or, to put it in technical parlance, wham bam thank you ma'am!