Quad ESL-57: The Original Electrostatic Speaker Page 2
"At a time when everything was cone woofers and cone tweeters, the ESL-57 was way ahead of its time in terms of its engineering design — almost like looking into the future," observes SkyFi owner Fernando Zorrilla. "It was the first mainstream electrostatic speaker and it would have been competing with Altec Valencia's, Tannoy Arden's, or some other giant box speaker with 15-inch woofers and horns or high-efficiency drivers that took over your living room. When you look at the Quads in the context of their era, they're pretty amazing."
For these reasons and more, when SkyFi lands a pair of 57s, they sell quickly.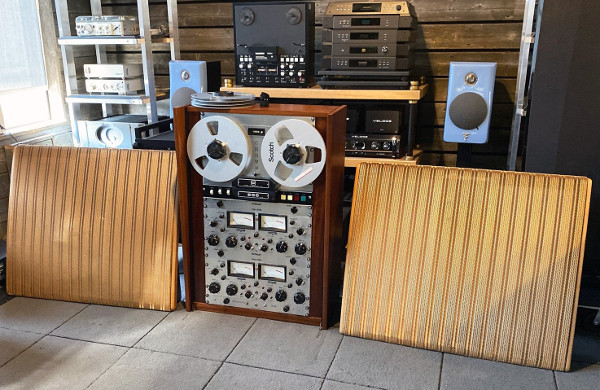 Two of the recent acquisitions were "all original and working perfectly," explains Zorrilla, noting that each set sold for around $4,000. A third, fully restored set (pictured above) sold for $6,000 and lasted all of a half an hour. "I did an email blast and we had a bunch of queries almost immediately," Zorrilla recalls. "Within like 30 minutes someone bought 'em."
The speakers arrived at SkyFi in semi-working condition along with a Thorens TD 124 turntable and Marantz amplifier from the same era. "The gentlemen who brought them in was the original owner and needed to sell everything because he was moving," Zorrilla says. "It was a nice vintage system." Though he doesn't know when this particular pair of ESL-57s were built, he's pretty sure they were one of the early models based on their condition and the associated gear (the original Thorens TD 124 also dates back to 1957).
It turns out that all three of the electrostatic panels in each speaker — a high-frequency panel flanked by two bass/midrange panels — had been replaced at some point by one of two well-known Quad restorers in the U.S. Even so, the speakers weren't working properly when SkyFi took possession of them.
"We discovered that one of tweeter panels was bad," Zorilla says, explaining that you can't just add one new panel because the sensitivity of the panels ages over time, which all but guarantees a level mismatch. "The old and new panels will be completely different, so we sent both panels to Kent McCollum of Electrostatic Solutions in Kansas City, MO to be restored," which he describes as a tedious process that demands special expertise.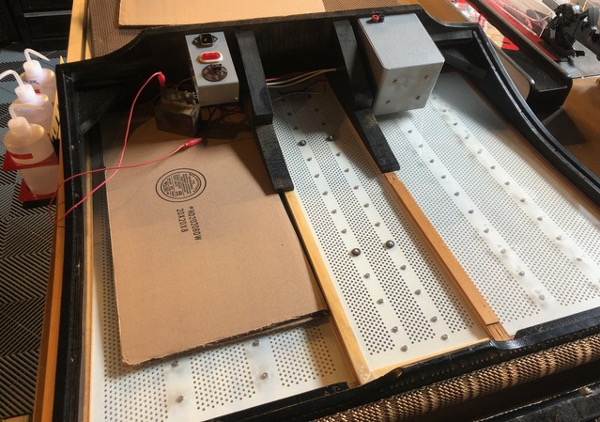 "Restoring Quad speakers is a delicate art. The membrane, for instance, has a special coating on it so it's not something a DIYer — or even a shop like ours — will want to mess with." SkyFi installed the 'new' tweeter panels along with resistor networks to "gain-match the panels so the system wouldn't sound too bright, too boomy, or unequal [in level] from left to right."
As part of the restoration, SkyFi's technicians also replaced the original power cord with an IEC socket and the original speaker terminals with banana-jack inputs. And because the 57s are notoriously easy to blow, they also installed protection circuitry (shown here). "The 57's are full-range and amazing but they're very delicate. Now, no matter what happens, these speakers are not going to blow up. You can put 1,000 watts into them and the circuit will just shut them down."
Cosmetically speaking, Zorrilla gave the speakers a "7" on a scale of 1 to 10. "If you look closely, ESL-57 grilles — which came in sand, black, or cooper — are very complex. They're also easy to dent and impossible to repair. Copper is the most desirable color but finding a pair that doesn't have dents and creases is extremely difficult. And nobody makes replacement grilles. Sometimes collectors will pay quite a bit of money for a second pair of Quads just to get a clean set of grilles."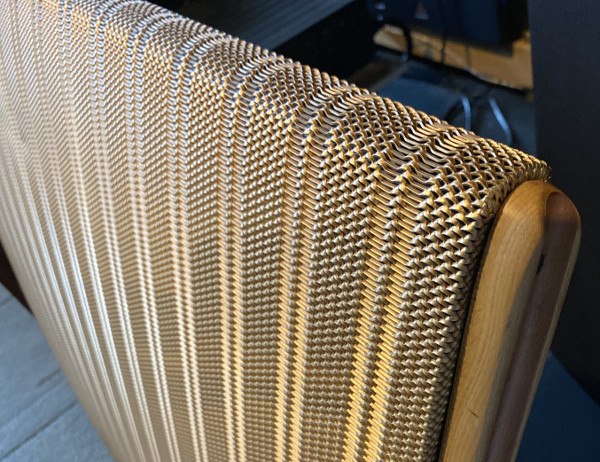 With the Quad ESL-57s, the conversation always turns back to their endearing sound.
"The ESL-57 is a full-range speaker with sizable low-frequency panels that put out quite a bit of bass," Zorrilla observes. "It's surprising. It has a narrow sweet spot (with two speakers playing) but sounds incredibly realistic. It's what I like to call a sit-down speaker. And it's remarkable with vocals, string instruments, and brass. Just unbelievable. In terms of realism, the 57's outperform a lot of new speakers. That's why they have such a huge following and why some people think they're the greatest speaker ever made. It's also why finding a good working pair demands such a premium in price."
SkyFi Audio is a joint venture with New York City's Stereo Exchange specializing in vintage and esoteric audio gear. Click here for more on the Quad ELS-57 and other classic gear.
Related:
Wide Range Electrostatic: Principles of Design for Operation at Low as well as High Frequencies (article by Quad ESL designer Peter Walker, published in the May 1955 issue of Wireless World)
The Quad Electrostatic Speaker (Hi Fi News review of the Quad ESL, published in 1957)
Audio Amateur Interviews Peter Walker at the Quad Factory (published 1978)
Inner Workings: Inside an Electrostatic Speaker (Feb. 9, 2007)
Quad ESL-57 Electrostatic Speaker (Oct. 1, 2012)
Ode to Hi-Fi: The End of an Era? (June 6, 2016)