Professional Digital Cinema at Home
A theater in Birmingham, Michigan, straddles the line between professional digital cinema and home theater.
When we talk about home theater, we normally talk about equipment that is readily available and relatively affordable, as well as brand names that are somewhat recognizable to the mainstream consumer. Bradford Wells, owner of Bradford Wells + Associates in Los Angeles, takes a slightly different approach. Because his business is half home installation and half professional A/V installation, Wells takes some of the best concepts he creates in his professional digital-cinema installations and incorporates them into his home theater business.
One of Wells' recent projects in the upscale community of Birmingham, Michigan, embodies his unique business model. The client, an architect by training, has created a 10,000-square-foot home with unimaginable detail going well beyond even the most exacting professional's expectations. "I've never seen anything like it in all the years I've been doing this work," says Wells, whose modest, polite manner belies an appreciation of fine detail. "Where you'd expect to see chrome, you see nickel plate. The tub is handmade out of one piece of solid marble. The windows, doors, walls, base and crown moldings, walls, fixtures, and furnishings have all been elevated to an art form. It's truly elegant and opulent in every way."
Because Wells spends 50 percent of his time in the professional world, he holds home theater projects to the same technical standards as those of his studio projects. For projection screens, that means big, bright, super images. "I use the term 'theatrical impact' generally to describe the effect I am going for in my rooms," says Wells. "And that starts with the largest possible screen. I have been doing theatrical screens in home settings for the last five years, and I find that you get a complete immersion in the film very quickly if the image size, sound, and picture quality are matched and theatrically correct." In this home theater, or screening room as Wells chooses to call it, the homeowners can emotionally connect with film and TV material via the 15-foot-wide Stewart Filmscreen StudioTek 130 Micro-perforated screen that Wells tricked out with his own custom screen-masking system to frame the different-sized cinema images.
The faultless projected image comes from a true digital-cinema projector, an NEC iS-8. While some home theater projectors can get up to a 1,920-by-1,080 resolution, this three-chip baby has a native resolution of 2,048 by 1,080. The NEC iS8 also has lens memory, a sophisticated function that allows it to zoom out to the full 15-foot-wide CinemaScope image without an anamorphic lens. The lens remembers where to go to make any size image. "The problem with the other approach—anamorphic lenses—is that they make square pixels rectangular, so the picture's geometry is never correct. I work with directors and movie professionals, and they don't want that. They want to see the image with correct picture geometry."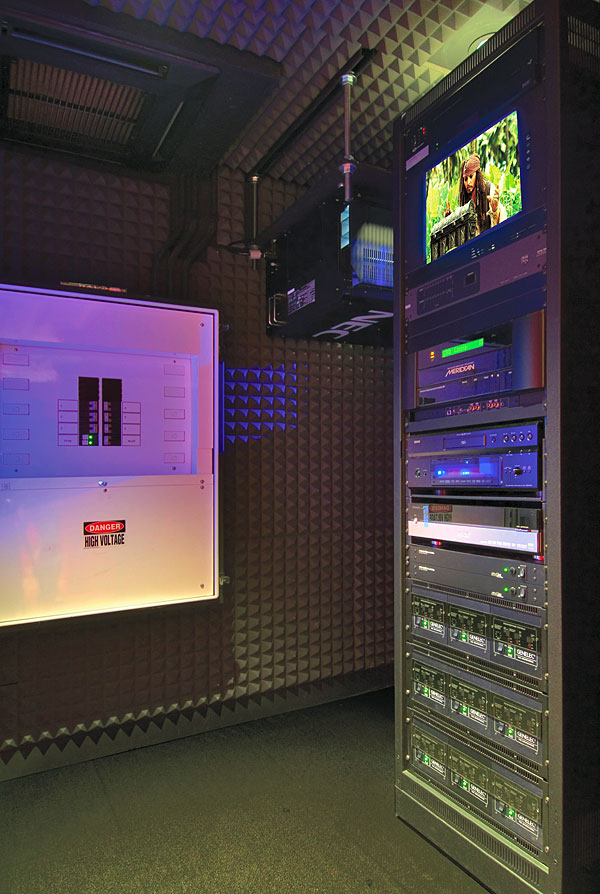 Wells' biggest challenge always seems to be to make professional gear work in a home environment, as well as make consumer gear perform well with the professional pieces. The video system, for example, "is meant to live in postproduction studios," says Wells. "We have to make some electronic modifications and adjustments to make it work in a home environment. The net result is that you can produce enough light to illuminate 15-foot images that are truly world class with the 12 to 16 foot-lamberts of reflected light that professional theatrical applications require."
In this project, Wells used the Meridian 861 surround processor, which he dubs "the best processor in the world," to handle the digital audio. It is routed to the room's three Genelec 1038B screen speakers, two HTS4B subwoofers, and the 10 Genelec two-way in-wall speakers. An Equi=tech 7.5KW Power Panel filters and balances all the electrical power that feeds the equipment, and a Crestron control system and touchpanel control all of the electronics.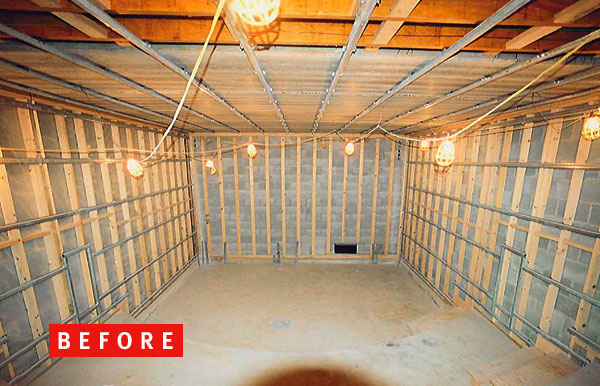 Because so much video processing takes place inside the projector in this professional-grade video system, the picture lags three frames behind the sound, which is noticeable on such a large screen. To remedy this, Wells installed a Rane RPM88 multiprocessor, a digital equalization and delay unit that corrects the picture-delay problem by also delaying the sound by three frames.
The eminent acoustician, Dr. Marshall Long of Marshall Long Acoustics, perfected the room acoustics. Long is the author of Architectural Acoustics, and his resume includes such projects as the Epcot Center in Orlando, the Universal Amphitheater at Universal Studios, and Prince's Paisley Park Studio. While Long does only two to three residential projects a year, he says that the design principles of a small project like this one and a bigger project like a concert hall are very similar. "In any screening-room project, you want it quiet. It's simply a matter of dealing with whatever noise sources you have in the environment and keeping the room calm," Long says. "For home projects, you also don't want sound in the theater to leak into the surrounding environments. Then there are some issues in smaller rooms that don't happen or happen at different frequencies in larger spaces, such as room modes or standing waves. That's why many listening rooms have a lot of low-frequency absorptive treatments."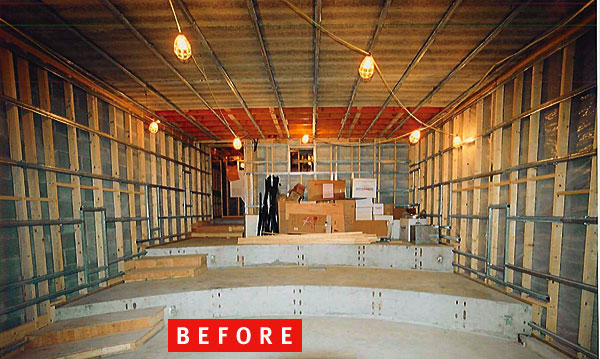 Of course, the precise audio and video isn't the only area where this sort of exquisite attention to detail finds its way into the room. The homeowners had something to do with it, as well. They went to France many times to find comfortable, inviting fabrics, woods, and other materials to finish the room, like the suede leather theater seats (there are 12 seats total) that are "just right for the room." The homeowner's architectural and interior-design expertise also came into play in every room detail. The handcrafted custom wall sconces, for instance, have special glass inserts that not only are the exact right color but also have special acoustic properties that permit them to be used in this room. The room is entirely underground, encased in cement and excavated 15 feet below the home's three-car garage. At 25 by 19 by 10 feet, the room's dimensions are nearly perfect for a home screening room.
Despite all of the different cooks in the kitchen, the meal turned out deliciously, with a pervasive theme of great attention to detail and absolutely flawless execution. Impeccable furnishings and interior design, image perfection, and ultimate acoustics and sound all contribute to the overall experience. "We've really succeeded in making an environment that few experience," says Wells, who is a founding member of CEDIA with strong ties to the professional community. He has colleagues and clients at the Academy of Motion Picture Arts and Sciences, the American Film Institute, and the film department at Emory University. This helps him keep his finger on the pulse of the professional and consumer venues, creating theatrical impact at home that is fit for filmmaker and chairman of the board alike.
Bradford Wells + Associates
(310) 575-4895
www.bradfordwells.com
Marshall Long Acoustics
(818) 981-8005
www.mlacoustics.com