Poolside Theater
The breeze off the Pacific brings unparalleled ambiance to this Maui outdoor theater.
Outdoor theaters are becoming more and more popular, although what constitutes a theater is up for interpretation. Many magazines today sing the outdoor theater's praises, but that theater might be just a plasma in a cabana or a couple of outdoor speakers. Engineered Environments in Alameda, California, however, has set the bar high for outdoor home theater.
To make room for this picturesque installation on Maui, the homeowner bought two adjacent properties and combined them, then remodeled the existing pool house and pool. The house is now approximately 14,000 square feet, and the poolside theater stands as one of its main attractions.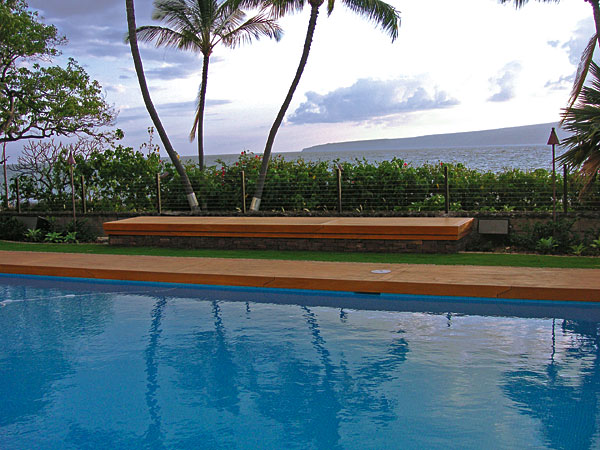 Engineered Environments previously worked on another of this client's homes in Lake Tahoe, so they were a natural choice—especially considering their local offices on the Big Island. "It's really about getting a nice big image and being immersed in surround sound," says Randy Stearns, owner of Engineered Environments.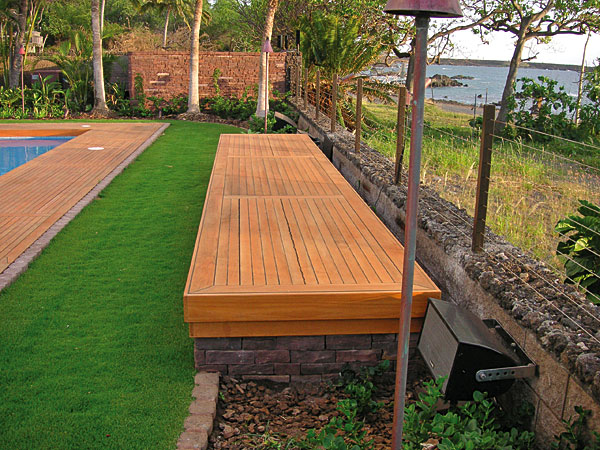 For video, a Stewart Filmscreen front-projection screen on a pneumatic lift hides under a custom-made teak bench by the side of the pool. When it's time to watch a movie, the screen ascends from a concrete vault in the ground. Humidity is not a concern because the vault is completely watertight.
Wind represents a major consideration when working with a screen of this size. "We installed a weather station to determine wind speed, which in turn determines whether or not it is safe to use the screen," says Stearns.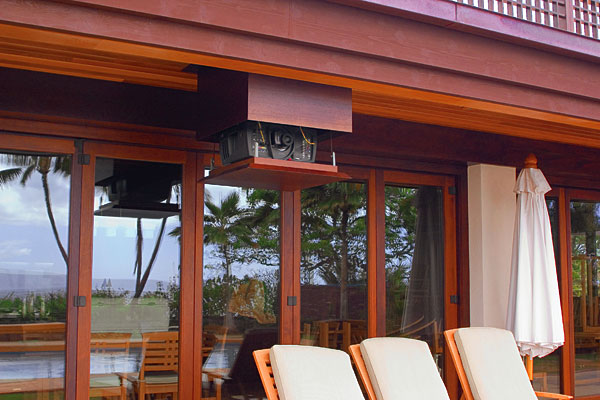 A DPI projector resides in watertight custom housing in the home's roof structure. There are several locations from which to enjoy a night outdoors at the movies. A 7.1-channel system from Community Loudspeaker—a company that specializes in large outdoor waterproof speakers—is installed throughout the various viewing locations. Audio operates on a matrix and is selectable from the AMX touchscreen, depending on whether guests are watching a movie from the rooftop deck, the pool cabana, or from the best seat in the house—a raft in the pool.
While Engineered Environments is no stranger to installing systems outdoors, this is the first true home theater the company has installed. The homeowners enjoy movie nights every couple of weeks, often catering the events and inviting friends over. The homeowners couldn't feel happier with the way the theater turned out. They just grab a Lava Flow, hop in the pool, and watch on the big screen.