Penn Jillette's Magic Theater
Penn Jillette's home theater is, like his entire house, not what you'd expect. The Slammer, a 6,000-square-foot monument to eccentricity and a macabre sense of humor, sprouts out of the Nevada desert a few miles from Las Vegas, where Penn & Teller perform their remarkable feats of illusion nightly at the Rio Hotel & Casino. From the outside, behind a chain-link fence, it looks like a Frank Gehry vision of Blade Runner in pastel. "Frank Lloyd Wrong," someone comments as we drive up to the gate. Within the courtyard, which has seemingly endless new additions under construction to accommodate an 8-month-old daughter and another on the way, multicolored astroturf and red and yellow concrete patios add to the sense that this is as much an adult playground as it is a residence-a very adult playground, given Jillette's well-known affinity for the scatological and the salacious.
His personal recording studio, Vintage Nudes, is named for a table on which classic playing-card pinups from the Bettie Page era-in various stages of dishabille-frolic beneath seven layers of polyurethane. And they're a Disney cartoon compared to the deck of starkly graphic black-and-white ones-of the sort that used to be sold under the counter in Tijuana-enshrined in a frame in the control room. Jillette's most recent film, the appropriately scandalous The Aristocrats, was one of the New York Times choices for best film last year.
But his home theater is more playroom than screening room: two rows of sleek red and yellow recliner couches lead up to a cushioned platform. After a button push on the Crestron remote drops the shades, dims the lights, and powers up the Runco projector (which illuminates a 96-inch Stewart screen) and the Lexicon MC8 processor causes the Genelec speakers, Snell surrounds, and Genelec subs to rumble to life, the 6-foot-6-inch illusionist gracefully plops himself onto the platform.
For all his great gear, Penn Jillette doesn't regard himself as a connoisseur of home theater technology; in fact, he's neither technoid nor Luddite. What this filmmaker, performer, and director does get a kick out of is the fact that, to one degree or another, we've reached the point where everyone can share his ultimate experience-making a movie and then getting to watch it.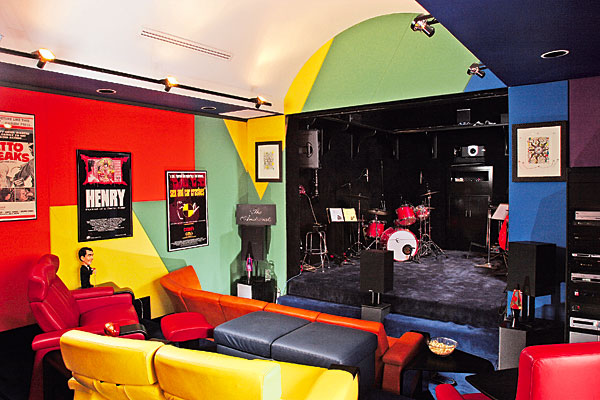 "The kinds of technology breakthroughs that brought about The Aristocrats are more important than the ones that came with Star Wars or King Kong," he says. He's referring to the handheld cameras and near consumer-level digital audio equipment that The Aristocrats was made with-and the Pro Tools editing and mixing system that was used sits 50 feet away from where the film was in part assembled. "The cost of video and audio technology has come down by two orders of magnitude," he says. "A film that used to cost $3 million to make can now be done for $30,000."
The Filmmaker as Film Watcher
But that's what I wanted to ask Jillette about. How does an entertainment-media professional regard the main entertainment system in his own home? When you're placing your talent before people everyday through tube and lens, does the lens look back at you like Nietzsche's abyss? Or is it a busman's holiday, where suspension of disbelief might as well be a programmed macro on the Crestron?
The cinema seduced Jillette at a young age-he worked as a marquee changer at the Garden Theater in his hometown of Greenfield, Massachusetts when he was a teenager. "My hair was too long to be an usher, but I still got to see all the movies for free," he remembers, while digging into a bowl of popcorn fresh from the kitchen a few feet away from his personal bijou. "But I figured out some things early on. When I got my first great stereo system-a pair of Dahlquists, a Yamaha amp, and a B&O turntable-the first record I put on was Never Mind the Bollocks, and I realized then and there that I was playing that record back on equipment that was better than what the Sex Pistols had when they made the record. So, I really think Marshall McLuhan could not have been more wrong-the medium is not the message. The message is the message. I watch movies because I like the content, not because of the special effects. Psycho was a step back in terms of filmmaking technology, but it changed how movies were made, much like The Texas Chainsaw Massacre, a great movie, and my all-time favorite, Dawn of the Dead. It's emotional and political, and George Romero is a genius. The special effects are done with sweat and genius, not technology." Still, he likes the dark, communal environment of the traditional cinema.
"I'd rather see Die Hard on opening night in a 1,000-seat theater in Time Square," he declares. "I want to get pushed by the crowd in line. I want to hear people react." That's why the Slammer's home theater can get nice and dark, and no seat holds less than two people. Its elements and design come from the casual input of dozens of friends and fellow movie/music buffs, including Mike Jones, an extraordinary jazz pianist who duos with Jillette on stand-up bass (which is tinted, like Jillette's three Cooper Minis, in a striking "stripper pink") as the warm-up act for the Penn & Teller's stage show. "People like Jonesy are the ones who push the theater's technology forward," says Jillette. "I keep getting advice, and then one day I'll tell someone it's time to upgrade."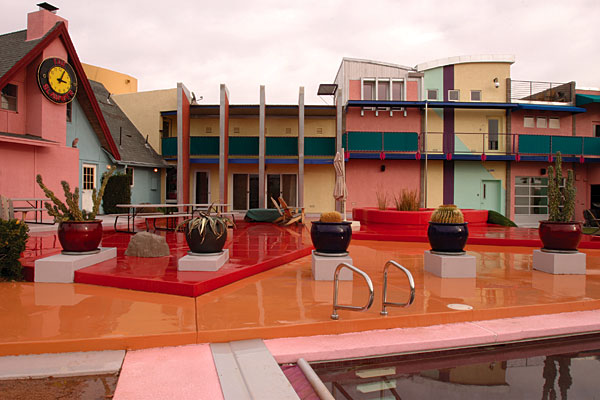 The Pre-Engineered Theater
Most recently, that someone was David Frangioni, owner of Audio One, who had previously designed Jillette's recording studio in early 2004, so he was familiar with the magician's remarkable residence. Like any retrofit project, the challenge would be to integrate the technology upgrades with items, such as acoustical treatments, that would remain in their place. (The theater doubles as a recording space-five jazz records have been recorded there using the controlled acoustics designed by architect Colin Summers.) The renovation was compounded, however, by a tight deadline-the revamped theater needed to be ready for Jillette's famous "24 Party," where he and guests spend a full day and night watching a preview disc of the entire forthcoming season of the Fox network series 24.
"Changing out projectors, processors, and screens is harder on a retrofit than in a new theater, because you have to figure out how to make sure the new and existing components, like the lighting system, all work together seamlessly," says Frangioni, who has done theaters and studios for other celebrities, including Aerosmith's Steven Tyler.
Frangioni's protocol for this is to "pre-engineer" components at his shop in North Miami. "The concept of a custom installation is defined by having something that's very specific to the individual theater owner," Frangioni explains. "So, what you want is to be absolutely certain that a given combination of components will work together before you put them in."
Frangioni will choose from a collection of brands-Stewart for screens, Lexicon for audio processors, Runco for projectors, for instance, and then decide which specific models will work best in each situation. The key, he stresses, is to have them assembled before and to have experienced how they interact. "That's the essence of pre-engineering," he says. "When you have a high degree of confidence in your technology foundation, there are a lot of things you can comfortably do on the fly on site."
Penn Jillette is a man of many quirks, and the theater has a few, as well, such as a rack-mounted TiVo that's shared between the theater and the master bedroom. "The deal is that whoever gets to it first from whichever room controls the TiVo for both spaces," says Frangioni, adding with smile, "It's not what you'd call an orderly household."
Behind the screen is another surprise: it retracts into a ceiling soffit to reveal a stage big enough for Jillette's stand-up bass, a Kawai grand piano and a drum kit (all in "Stripper pink," of course), which was an original part of the architecture of the house. A single button macro on the Crestron, titled "Watch Movie," converts the performance space back into a cinema space.
So Penn Jillette's home theater has become, ultimately, the communal space that he so longs for, whether it's to see movies or hear music, made or played by himself, by friends, or by total strangers. It's a place to get jostled, to talk back to the screen ("During 'Apocalypse Now' you want to hear the guy in the back yelling, 'I was in 'Nam and it wasn't like that!" Jillette shouts) and to ask the person next to you for a recap of the last five minutes while you were out taking a leak. It's less an extension of his career or a tool of the trade than it is a translational portal in which personal instinct and advice from a peanut gallery of talented friends helps Jillette interpret the world.
The perfect example is the understated but nonetheless real ritual that christened the theater 11 years ago, in its earliest iteration. When I asked him what the first movie he ever saw in his own theater was, Jillette imitates a clamor for blockbusters with big sound and splashy visual effects. "Everybody said 'Die Hard!' 'Jurassic Park!'" he yells. "But at the time I was moving from New York-fucking-City to Las Vegas and I needed to calibrate my experience. So I put on 'Viva Las Vegas.' Perfect."
Equipment List
Projector: Runco VX4000D w/PhD processor
Screen: 96-inch-wide Stewart Filmscreen
Speakers (LCR): Genelec S30D (3)
Speakers (surround): Snell SR30 THX
Speakers (subwoofers): Genelec HTS4 subs (2)
Audio processor: Lexicon MC 8
DVD player: Marantz DV 8300
Amplifier: Lexicon LX-5
Controller: Crestron STX 1700 CXP remote with
Gateway and AV2 processor

How it Works for You
Express Yourself. The theater, unlike a living room or kitchen where visitors form first impressions and value judgments, is a place where you are free to be yourself. It is a place where suspension of disbelief is the primary goal. So, creating a world that is you-on steroids-can make it that much more fun and engaging.
Consider Pre-Engineering. Many custom installers will pre-engineer a system in their facility to make sure that all the components will sound good as a unified system. However, the room environment affects how the system will look and sound. So, make sure you take a good listen once the system is installed in your home.