Onkyo PR-RZ5100 Surround Processor Review
PRICE
$2,399
AT A GLANCE
Plus
Unimpeachable audio and basic video quality
Generally good ergonomic design
Eminently useful pop-up Quick Menu
Minus
No aptX for Bluetooth
Local-streaming audio doesn't display file type/sampling info
Fairly downscaled remote
THE VERDICT
Onkyo's latest A/V preamp/processor adds the Dolby Atmos/DTS:X and 4K/HDR capabilities needed to bring the brand's pre/pro current, while maintaining very solid value in the field.
The A/V preamp/processors from Onkyo (and sister brand Integra) have been through five or six generations over the years, and I think I've tested or at least used just about all of them. And for that decade-plus span, my overall reaction to them has remained pretty consistent: all the A/V-system quarterbacking any rational being needs at a fair price. Onkyo's latest iteration, the PR-RZ5100 network A/V controller, seems unlikely to change that conclusion while updating the series to 11.2-channel, 4K/HDR status.
As has been the case with previous generations, the PR-RZ5100 is more or less Onkyo's flagship A/V receiver—in this case, the $3,299 TX-RZ3100—with the power amp section deleted in favor of pro-style XLR balanced-line audio outputs for all 11.2 channels. But I intend no asperity in pointing this out; Brand O's top A/V receivers have long been among the highest performance/value options, and for those who prefer the flexibility and upgradeability of outboard amplification, the $900 savings likely seems eminently fair.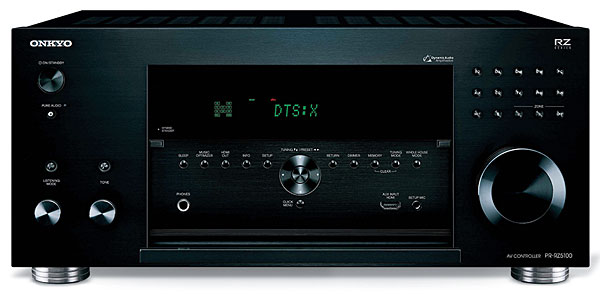 As with so many this-year's-model A/V designs, the PR-RZ5100's evolutions are mostly about two things: Dolby Atmos/DTS:X "objectbased" surround processing and 4K/HDR video. For the former, Onkyo deploys dual Analog Devices SHARC processors wielding an almost unbelievable 6 giga-operations per second (plus discrete 32-bit DACs all around). Meanwhile, its HDR video compatibility and 4K-ness are manifested by 4K/60 HDMI facilities with baked-in HDCP 2.2 copyright management, HDR passthrough (HDR10 now, Dolby Vision later with a promised firmware update), and BT.2020 and Deep Color support, all implemented by unnamed video processing. (Onkyo says 4K video and HDCP 2.2 are supported on only five of the eight HDMI 2.0a inputs and both the Main and Zone 2 HDMI outs; the remaining HDMI inputs are HDCP 1.4.) The pre/pro will scale 1080p (only) to 4K and will transcode analog composite video to component, but that's about it for video processing. (This seems to be the trend among A/V gear makers today, driven no doubt by the fact that any 4K display will, by definition, have its own 4K scaling on board. This makes perfect sense to me, and the incidental cost savings is welcome.)
Features-wise, the Onkyo loads everything you might expect, including onboard Wi-Fi, with Chromecast built in (Google's new name for Google Cast) and Apple AirPlay networking, Bluetooth, and a good range of streaming apps, such as Pandora, Spotify, and Tidal. For the rest, I'll refer you to Onkyo's website; there's far too much to list here.
Cosmetically, the new pre/pro is a bit taller, and thus a bit boxierlooking, than previous generations. Its control arrangement of a single large knob and many small pushbuttons (with tiny on-key graphics) seems chosen more for appearances than for ergonomics, which is perfectly acceptable in a component whose interface, virtually always, will be via remote control and onscreen menus.
Setup
I installed the PR-RZ5100 in my long-term "B-chain," comprising a 7 x 150-watt power amp and assorted-brand loudspeakers in a 5.1.4 Atmos configuration. (A compact 2 x 35-watt integrated amp drives my rear elevation channels, which works just fine in my room.) The Onkyo's main HDMI output went to my 55-inch Vizio M Series 4K display, with source material arriving primarily from my Oppo BDP-105 player and occasionally from an Xfinity X1 cable box, which is crashing only about once a week these days.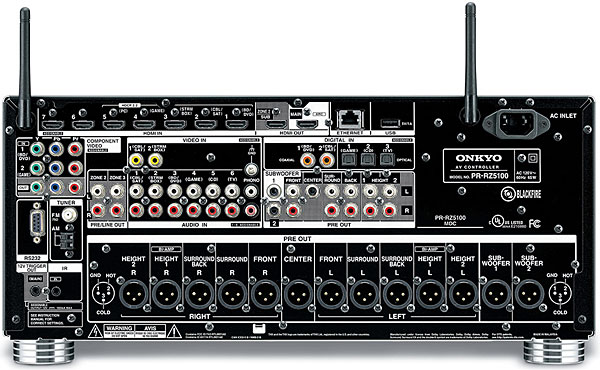 The actual installation was merely a matter of swapping cables—lots of them. While the PR-RZ5100 offers balanced XLR outputs on all 13 channels, my single-ended amps are RCA-in only, which is what I used. (As an aside, I don't feel that a balanced-line connection's potential virtue of lessening induced noise, which is real, is called for in about 97 percent of consumer setups; I've certainly never found it necessary in mine.)
With the wiring complete, I ran Onkyo's AccuEQ auto calibration and room-correction system. (Like several other manufacturers, Onkyo has dropped Audyssey EQ in favor of their own proprietary, non-licensed, and presumably less costly option.) This required about 6 minutes of self-generated noise bursts and clicks from all channels in sequence, and it returned crossover settings that were all just about spot on at 40 hertz L/R, 80 Hz center, and 90 Hz surrounds, as well as distance and level results that were very close to what I expected. Center level was about a decibel high on my meter, but it's rare for any auto-cal system to agree perfectly with another measurement method. So in all, I have to give AccuEQ's setup acumen high marks.
The Onkyo system's room/speaker-correction EQ can be applied to all channels, or to all minus the main front pair. With all channels corrected, I heard a very subtle sharpening of imaging and a tightening of lower midbass, such as typical pop/rock bass lines. This seemed more consistent than otherwise with what other systems, including both toptier Audyssey and Dirac, have accomplished in my room and setup. That said, it's impossible for me to qualify the auto EQ here as better, worse, or the same without recourse to comparisons, which of course is impossible. Onkyo's routine takes data from just one mic position, which would seem to be a limiting factor; but either way, results from one run on one system in one room have to be noted as interesting but absolutely not definitive. As is my custom, I did all of my serious listening with the auto EQ defeated on all channels.
Listening and Viewing
Disappointingly, I have very little to say about the PR-RZ5100's sound quality, except that my system sounded great on everything I played from it. (If you're looking for judgments about how one particular, competently engineered line-level audio component sounds "more tuneful" or "tighter resolving of midfield image depth" than another, you've got the wrong guy.) The Onkyo decodes and plays DSD audio up to 11.2 megahertz, and my limited but growing library produced all the virtues I expected. For one example, a DSD download of an obscure but fascinating Villa-Lobos piece, the Concerto for Bassoon and Low Strings, had all the delicacy and detail required for highly persuasive naturalism. (And as a bassoonist in recovery, I should know.)