Old World Meets High Tech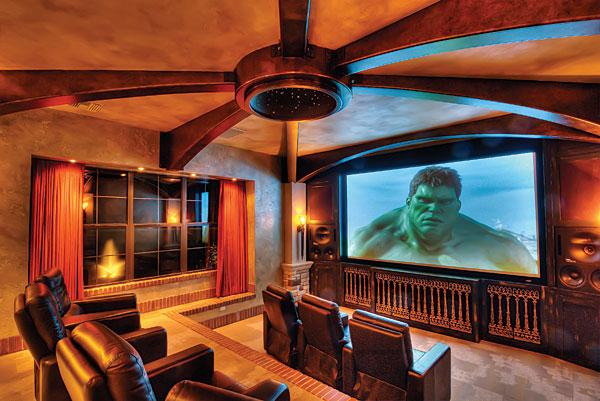 Having built two previous home theaters in other locations, Mark Pierson had a lot of insight as to what he wanted in what would be his ultimate home theater in a brand-new 6,200-square-foot home.
Building and woodworking is one of Pierson's hobbies, so he rolled up his sleeves and did most of the work himself. He framed out the room, installed a dedicated 100-amp electrical panel in the equipment room for power, and installed the equipment, wiring, lighting, and at least one mile of Cat-5/6 cable throughout the house. He also built the custom cypress doors and arches and laid all the authentic brick and stone.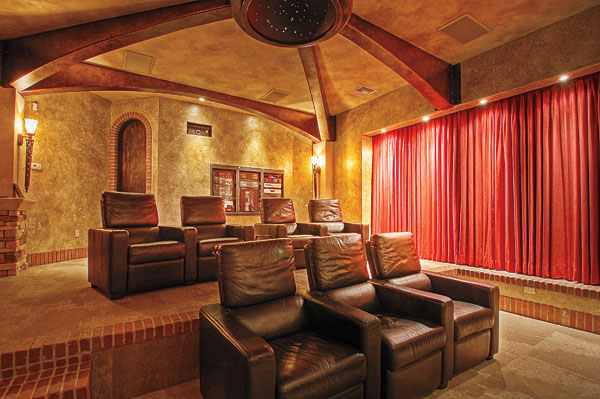 Pierson had always dreamed of building a castle, so he included iron, heavy straps, lots of stone, and some extra-special design elements. For instance, the door handle to the 9-foot-tall custom cypress door is a battle axe Pierson's parents brought back from Spain in the late 1960s. The door handle to the equipment room is a sword from that same trip, and there are vintage cast-iron ballistrades from a 1940s railing.
Pierson said he believes one of the highlights of the theater is the monstrous sound, created with a $95,000 Genelec active speaker system that produces reference-level audio. Some other equipment highlights include the pairing of a Digital Projection M-Vision Cine260-HC projector with a 146-inch SMX Pro-Line screen with Cineweave transparent material, which let Pierson place the LCR speaker array behind the screen. A Yamaha Aventage RX-A3010 A/V receiver handles the audio/video processing and input switching.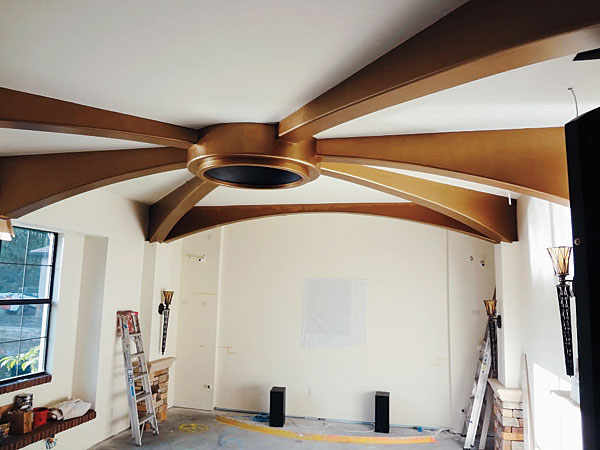 The Piersons give the theater room quite a workout watching a movie, generally, six times a week, mostly from optical discs but also streamed content from Hulu and Netflix. Once a month they have a movie night with friends and play music videos during other entertaining.