News & Gear: Early Spring 2023
The
8K Association
(8KA) has launched a campaign to raise awareness of the progress being made in the development of 8K content. Under the theme "8K — Leading the Way," the organization is participating in trade events such as the upcoming National Association of Broadcasters (NAB) Show.
To kick off the effort, 8KA Executive Director Mike Fidler moderated a panel focused on the benefits of capturing and delivering content in 8K at last week's 2023 Entech Fest. In addition to being able to create futureproof 8K masters, panelists said having more pixels helps with smoothness and eliminates the "screen door effect," making 8K especially relevant to head-mounted displays used for virtual reality and other applications.
Panelists also discussed the "hyper-realism" that is possible when 8K is combined with high dynamic range (HDR) and how Amazon is leading the charge with the creation of the world's first 8K post-production dug stage and exhibition stage. One panelist remarked that HDR has enough range to trigger response in the eye and brain that make you think you are actually outside instead of in a theater, a phenomenon Fidler described as "remarkable and kind of intense." Another stressed the importance of shadow detail and how 8K makes dark scenes more realistic.
Fidler noted that although not much content is currently being delivered in 8K, a lot is being captured in 8K, setting the stage for greater availability of 8K content in the future as the ecosystem becomes established.
Trinnov, the French maker of reference-caliber audio processors, will release a major software update for its Altitude platform the week of April 17. The free update (version 4.3.1) will bring a litany of improvements to all Altitude16 and Altitude32 units, regardless of age. The list includes:
• Improved ambient-noise rejection during calibration.
• Improved time alignment of multiple subwoofers.
• Ability to create separate excursion curves for each speaker.
• Addition of five predefined target curves.
• A new advanced setting that reduces pre-ringing of FIR filters, enabling calibrators to fine-tune filter resolution and phase correction without audible artifacts.
• Improved calibration of active crossovers.
Trinnov recommends downloading the release notes before implementing the firmware update to avoid overwriting existing settings or calibrations. Instructions are here.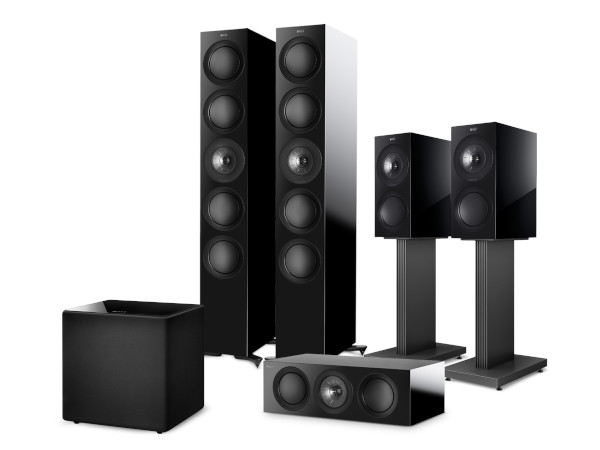 KEF just announced a spring sale offering discounts up to 33% off several speakers/systems, each of which is bundled with a subwoofer. Four of the discounted models are Sound & Vision Top Picks (click on the links for our reviews). The deals are:
• R3 bookshelf speakers + KC62 subwoofer, $3,000 (19% off the regular price of $3,700)
• LS50 II wireless bookshelf speakers + KC62 subwoofer, $3,800 (11% off $4,300 list)
• LSX II bookshelf speakers + Kube 8b subwoofer, $1,750 (12% off $2,000 list)
• Q950 tower speakers + Kube 12b subwoofer, $2,800 (11% off $3,150 list) [Editor's note: The Kube 12b was reviewed with KEF's Q350 system.]
• Q650 tower speakers + two Kube 10b subwoofers, $3,500 (12% off $4,000 list)
• R Series 6-piece 5.1 system with a choice of R3 or in-wall Ci200RR-THX rear speakers (shown), $7,000 (33% off $10,450 list)
For more information on KEF speakers, visit us.kef.com.
Spin-Clean International, maker of the Spin-Clean Record Washer, has launched a broad reaching consumer campaign designed to inform young vinyl enthusiasts about the importance of cleaning and maintaining records. The program, which is being officially unveiled at next week's Audio Expo North America (AXPONA), was spurred by a study that found 18 million consumers purchased vinyl records in 2021 and identified the 18-34 age group as the fastest growing segment of the vinyl consuming public. Of particular note was the finding that four in 10 respondents expressed interest in preserving their records.
Central to the program is a whitepaper entitled "Vinyl Records and the Spin-Clean System," which explains how vinyl playback works and provides a detailed overview of the company's Spin-Clean record cleaning system ($80), which received its first major upgrade in almost 50 years. You can download the whitepaper here and get more information on the Spin Clean system here.
Now, here's a look at some of the new gear headed your way.
Sonos Atmos-Enabled Speaker Now Shipping
Sonos recently started shipping the two Era series speakers it announced in March. One is an all-new design built with Dolby Atmos music and movies in mind, the other a remake of the company's popular Sonos One speaker.
The Era 300 (shown below, $449) is a ground-up design featuring Dolby Atmos processing and six drivers positioned "optimally" around the front, sides, and top of an hourglass-shaped enclosure measuring 10 inches wide, 6 inches high, and 7 inches deep. On its own or in combination with a second ERA 300, the speaker is designed to provide an immersive experience that doesn't require the listener to sit in a "sweet spot."
The speaker is also the brand's first to support multichannel surround sound when used as a rear speaker. As Sonos puts it, "Movie fans can pair two speakers with Arc or Beam (Gen 2) to create a supercharged Dolby Atmos experience that draws them deeper into the action."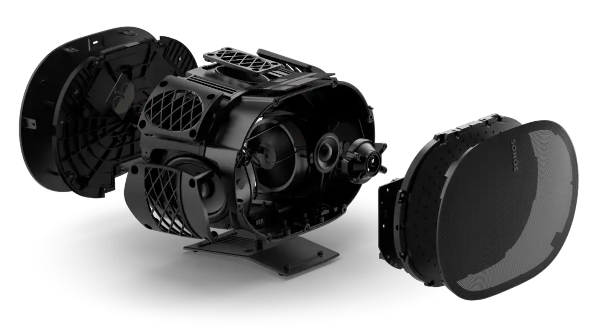 Described as a remastering of the best-selling Sonos One speaker, the Era 100 ($249) comprises all-new hardware and software in a cabinet that's just over 7 inches tall and slightly larger than its predecessor. Inside, two angled tweeters and a larger woofer combine to deliver "detailed stereo sound and deep bass" from a single compact speaker. The ERA 100 can also be used as a rear surround speaker in a home theater setup or simply paired with a second ERA 100 for more room-filling stereo.
The ERA 300 and ERA 100 are Wi-Fi-based speakers with support for Bluetooth streaming, Apple AirPlay 2, and voice control. Both were also tuned by "award-winning artists and engineers" and incorporate Sonos' proven Trueplay room-correction technology, which automatically compensates for speaker placement and room acoustics. The new models are also the first speakers built to Sonos' new design standards, which span long-term serviceability, energy-efficient technologies, and the use of post-consumer recycled (PCR) materials.
Both models also feature a new intuitive user interface, including a capacitive volume slider that complements control via voice commands, the Sonos app, AirPlay 2, or Bluetooth. Beyond Wi-Fi, connectivity has been upgraded to allow a hard-wire connection with a turntable or other audio device using an auxiliary cable and the Sonos Line-In Adapter. Finish options are matte black or white. For more information, visit sonos.com.
Atlantic Technology's First Noise-Canceling Wireless Earbuds Cost $189
Atlantic Technology is hailing its first set of noise-canceling wireless earbuds as a "tremendous value" at $189.
The new TWS1 earbuds are indeed feature-packed. They are carry an IP67 rating, which means they are dust tight and can be submerged in up to 3 feet of water with no consequence, and employ artificial intelligence (AI) to optimize sound quality based on the unique characteristics of the listener's hearing. Atlantic's free TWS App has an Ai-Tune mode that performs a hearing test and adjusts the frequency response accordingly.
The app also provides a seven-band equalizer with seven EQ presets and the two user-set custom profiles plus a series of presets (two of which can be customized) that provide varying degrees of transparency when active noise cancellation is engaged; the transparency presets are Balanced, Talk, Workout, Training, and Transparency Boost, each of which can be accessed by tapping the earbuds. The app even includes a burn-in tool that feeds a "timed pink-noise signal" to the earbuds' 0.27-inch (7mm) titanium-coated drivers to accelerate the process of "breaking in" the earbuds and a programmable workout timer.
Siri or Google Assistant can be summoned with a simple tap gesture and voice command. Each earbud is equipped with a capacitance touch panel that responds to three different tap gestures, each of which can be customized from a list of eleven commands in the app.
Sound is transmitted via Bluetooth 5.2 with aptX Adaptive technology, which has a range of more than 300 feet, supports hi-res audio up to 24 bits/96 kHz, and provides a low-latency game mode to reduce input lag and eliminate lip-sync issues with games and video. Four microphones are used to ensure good call quality and side-tone activation is said to make it easier to hear yourself in noisy environments.
Rated battery life is 9 hours on a single charge and up to 35 hours with the charging case; a 15-minute quick charge mode provides an hour of playtime. It takes 1.5 hours to fully charge the earbuds and 1.5 hours to fully charge the case, which is compatible with Qi wireless charging. Color-changing LEDs on the case and earbuds along with voice prompts provide battery status.
The earbuds turn on automatically when inserted in the ear, turn off when removed, and can be simultaneously paired with two Bluetooth sources for instant switching between them. To ensure a tight seal and comfort, the TWS1 comes with silicon eartips in four sizes, three sizes of boom tips, and four sizes of ear fins. For more information, visit atlantictechnology.com.