News & Gear: Early Spring 2023 Page 2
Origin Ups Its Landscape Speaker Game with New High-End Models
Origin Acoustics, the Las Vegas-based company specializing in architectural and outdoor speakers, has announced that its uniquely styled Ambisonics Bollard 10 landscape speakers are now shipping.
The new Ambisonic Bollard 10 outdoor speaker, available in the round and square versions shown above, are higher performing versions of Origin's existing Bollard models. The speaker is a clever two-part system with a 10-inch woofer encased in a burial chamber that ports above ground and a two-way mini-tower that mates a 6.5-inch midrange driver with a planar-magnetic ribbon tweeter that fires down into an acoustic lens that disperses sound through a series of slots near the top of the enclosure.
The entire structure and its components are built to withstand outdoor elements and the tweeter is coated with the polymer Kapton using a special application process to make it weather-resistant without affecting the sound. The enclosure is made of treated aluminum and available with a silver, black, or bronze finish.
To accommodate different applications, the Bollard 10 is available in configurations that disperse sound either 180° or 360°. Each speaker has an impedance setting for 8 ohms and 70v/100v low-voltage taps that accommodate multiple wattages to provide installation flexibility.
The Bollard 10 is rated to play down to 32 Hz and handle up to 300 watts of peak power. All speaker configurations are priced at $3,125. The models numbers are as follows: ALSB106RD (round/180°), ALSB106RD (round/360°), ALSB106SQ (square/180°), and ALSB106SQ (square/360°). For more information on Origin's landscape speakers, visit originacoustics.com.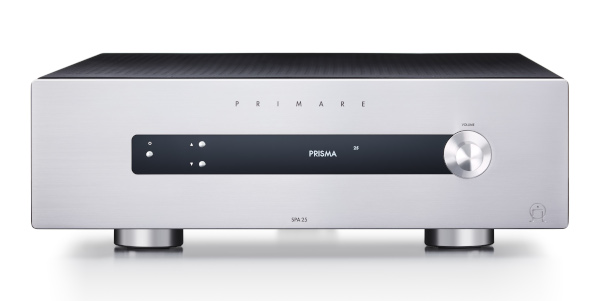 Primare Launches 7.1.4-Channel Integrated Amp
Sweden's Primare, maker of the
A35.8
power amplifier that received a Top Pick citation last year, has introduced a 7.1.4-channel integrated amplifier with onboard streaming capability, nine powered channels, and Dirac Live room correction processing.
Intended to engage cinephiles and audiophiles alike, the new SPA25 Prisma ($6,000) is rated to deliver 9 x 90 watts into 4 or 8 ohms and, thanks to an adaptive power supply, 145 watts/channel in stereo mode with the ability to bi-amp the main left and right channels for 290 watts/channel into 8 ohms or 405 watts into 4 ohms, making it Primare's most powerful "stereo integrated amp"ever.
In addition to providing a full complement of analog and digital connections, the amp provides up to 11 channels of Dolby Atmos or DTS:X surround processing and features 4K dynamic HDR switching and dual ESS eight-channel digital-to-analog converters (DACs) in a unique arrangement that allocates four channels of conversion to the front left and right channels for improved stereo performance.
The limited-frequency version of Dirac Live room correction comes standard with the option of upgrading to full frequency processing for $99. The patented technology provides mixed-phase impulse response processing that corrects both magnitude and time-domain response, a feature exclusive to Dirac that is "critical for creating accurate staging, clarity, and tight bass." Dirac Live room correction also automatically generates a target curve based on the sound system's unique measurements to improve sound quality. The target curve is customizable so listeners can personalize the sound.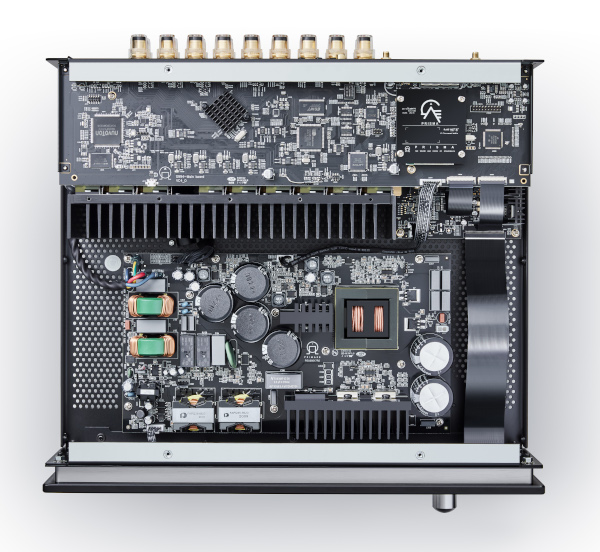 Primare's Prisma network player platform provides streaming features with multiroom/zone playback via AirPlay2, Bluetooth, Chromecast, and Spotify Connect. A future update will bring Roon Ready status to the SPA25 and direct access to the Tidal and Qobuz hi-res streaming services; no date or time frame was specified for the update. The Prisma app provides control of network connected hard drives and simplified access to the embedded Prisma Radio and eventually Tidal and Qobuz.
Connections include optical, coaxial, and USB Type B digital inputs (one each), four HDMI 2.0b inputs (one with eARC), a 7.1 multichannel input, and five analog RCA inputs plus two HDMI outputs, two Ethernet ports, and an RS232 port for system control.
The SPA25 is offered in black or titanium and is the first Primare product to include the new Prisma remote control, which provides backlit buttons, basic video display controls, and infrared (IR) control for all past and present Primare models. For more information, visit primare.net.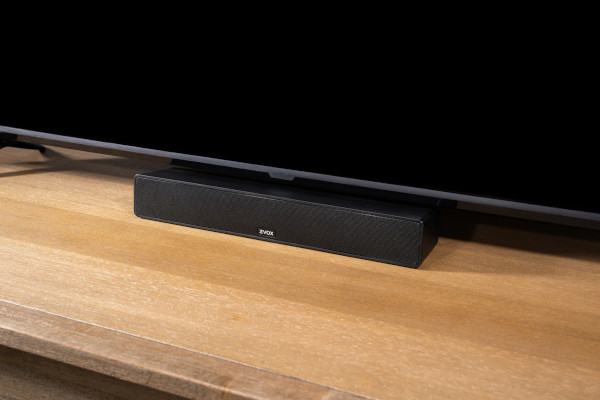 Zvox's Latest Voice-Boosting TV Speaker Costs $100
Zvox, the Massachusetts-based soundbar specialist that uses patented AccuVoice technology to "lift" dialogue out of the soundtrack and separate it from background sound, has introduced a new model designed for people with hearing loss.
Measuring only 15 inches wide, 2 inches tall, and 2.5 inches deep, the AV120 supports Bluetooth streaming and is quick and easy to setup, requiring a single analog or digital connection to the TV (cables included).
Key features include output leveling to tame loud commercials and two levels of AccuVoice boost, which in addition to separating out voices, uses an algorithm to clarify them. The regular retail price is $150 but Zvox is currently offering the AV120 for the introductory price of $100.
Offered with a black or bronze finish, the bar includes a simple remote control with large, easy-to-read buttons and is covered by a 30-day try-before-you-buy return policy. For more information, visit zvox.com.