New Gear for the New Year Page 2
Monster Launches Gen 3 Blaster Boombox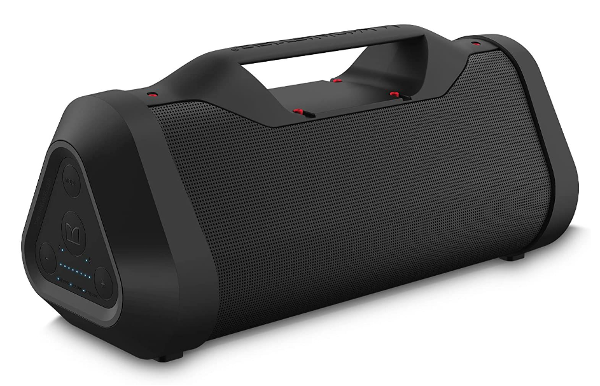 And you thought the boombox was dead. Not by a long shot. Monster today introduced Blaster 3.0, the third generation of the excellent Blaster Bluetooth boombox I reviewed back in 2016. Somehow I missed the Gen 2 version of Blaster but was pleased to learn that the Blaster is still around. (I actually looked for it a couple years ago and assumed it had been discontinued because I couldn't find it.)
The Gen 3 version looks almost identical to the original Blaster, but is now offered in three colors: red, white, or black. (The original was offered only in gray with a black handle and endcaps.) The Blaster 3.0 has four full-range drivers and a down-firing woofer bolstered by two passive radiators (same as its Gen 1 predecessor) and packs 120 watts of power: half goes to the full-range drivers, which are arranged as two stereo complements, while the other half is dedicated to the woofer.
Power is delivered by a rechargeable battery rated to provide up to 12 hours on a single charge, which takes 3.5 hours (the original had a rated maximum playtime of 15 hours). Like the Gen 1 Blaster, the new model is splash-resistant (an IPX4 rating, in this case) and one of the endcaps has a row of LEDs to indicate battery life and buttons for power, volume up/down, and indoor/outdoor EQ, though the layout has been reconfigured. The other endcap has two 3.5mm minijack inputs (one for a microphone), a USB-C port for charging your smartphone (cable included), and a power-cord receptacle (for charging the internal battery).
The Blaster 3.0 appears to be as rugged as its predecessor with its polymer cabinet, painted steel speaker grille, and vibration-resistant feet. Remarkably, the Blaster 3.0 sells for $399 — same as the original Blaster I reviewed almost 6 years ago. I haven't checked out the new version and have no idea whether the same drivers and components are used so I can't say whether it performs as well as the original. At least Monster offers a 30-day return policy. For more information, visit monsterforever.com or amazon.com.
Acura's New Flagship SUV Gets a Killer Sound System
If you've been eying up Acura's new MDX Type S SUV, here's a bit of news that might get you into the local dealership sooner than later or, if you're on the fence, push you over the edge: The Type S Advance package includes Panasonic's ELS Studio 3D Signature Edition sound system, a follow-up to the outstanding ELS Studio 3D system designed and tuned in partnership with eight-time Grammy award-winning producer Elliot Scheiner. You might not know him by name but you know his work through the countless pop/rock albums he's mixed, engineered, or produced over the past 50-plus years.
The Signature Series setup takes the ELS Studio 3D system to the next level, becoming Panasonic's best automotive sound offering to date as well as the most powerful sound design ever offered by Acura. How powerful? For starters, the system is rated to deliver more than 1,000 watts from two DSP-controlled amplifiers and boasts 22 channels with 25 speakers, including three cutting-edge coaxial designs that use the main speaker cone as a horn for the titanium tweeter at its center.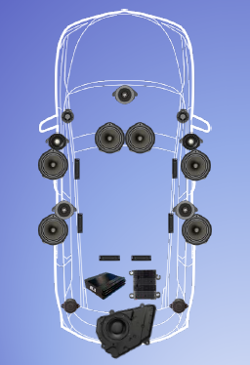 Making the system even more compelling, six elongated and ultra-slim Highline speakers are mounted in the vehicle's headliner to create a spacious 3D ambience that expands what Panasonic describes as a balanced symmetrical sound stage with exceptionally smooth bass response that extends to 12Hz. The height speakers join six 6.7-inch woofers, two 3.5-inch midrange drivers, two 1.7-inch carbon-graphite dome tweeters, three coaxial speakers, each comprising a 1.2-inch titanium-dome tweeter mounted in the throat of a 3.5-inch carbon-fiber driver, and an 8-inch subwoofer concealed in the rear cargo area.
Recognized as one of the finest sound systems on the road today, the speaker layout comprises a three-way combination up front and a time-aligned three-way arrangement for second row passengers — all designed to replicate the experience of "center parquet" seating in a concert hall. Panasonic credits the use of new carbon-fiber drivers and carbon-graphite dome tweeters with reducing distortion and delivering "precise vocal reproduction with extended high frequency enhanced clarity and transparency."
"This is the highest level of performance and power for Acura to date and celebrates nearly 20 years of contributions to automotive audio by Panasonic and Elliot Scheiner," said Tom Dunn, director of Panasonic Automotive's global audio solutions business unit. "The combination of system content and craftsmanship creates a unique studio sound experience for any seating position." ELS Studio systems were originally offered on the 2004 Acura TL. For more information, visit na.panasonic.com.
Jabra's New Earbuds Are Waterproof and Won't Fall Out — Even If You're Boxing
Last week at CES 2022 Jabra introduced an addition to its Elite series of wireless earbuds, which includes the Elite 85T, which was one of Sound & Vision's Top Picks in noise-canceling wireless earbuds for 2021.
Designed for listeners on the move, the new Elite 4 Active earbuds ($119) put the emphasis on "active" with active noise cancellation (ANC) for blocking out noise at the gym, an "athleisure" design to guarantee a secure fit without wings, and an IP57 rating to ensure they are sweat/waterproof and resistant to dust. Jabra is so confident of their ability to stay put in your ears that it recommends them for all kinds of workouts — even boxing.
The 'buds are equipped with features the company says are unique in this price range: Built-in Alexa voice control, Spotify Tap playback for faster access to music, and Google Fast Pair for instant pairing with Android devices (OS 6.0 and higher). Other features include a customizable equalizer (accessible through the Jabra Sound+ app) and a one-tap HearThrough mode that makes listeners more aware of their surroundings, which is especially important for runners in an urban setting.
Battery life is rated to last for up to 7 hours when fully charged or up to 28 hours with the included charging case. When you're in a pinch, a 10-minute quick-charge option provides an hour of playback.
Jabra promises great call quality thanks to the use of four microphones, each protected by a special mesh covering designed to reduce wind noise. Navy, black, and light mint color options are available. For more information, visit jabra.com.