Elliot Scheiner, Surround Sound Mixmaster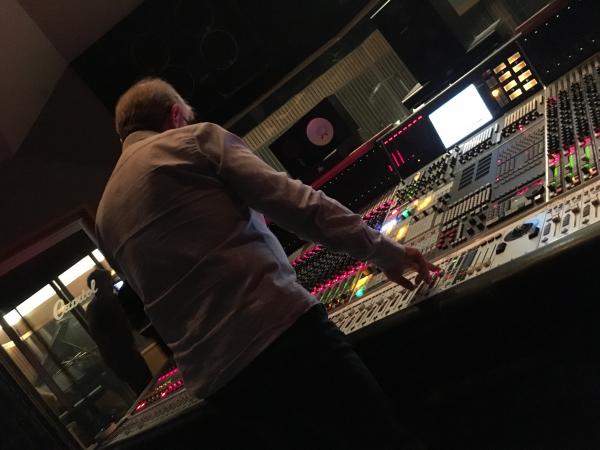 "I make these records, so I know what the artists want to hear. And there's something so vibey about this place that makes for such great music." Legendary producer/engineer Elliot Scheiner (a.k.a. ELS) is taking a break while perched behind the main mixing board in Capitol Records Studio A in Los Angeles on a late June afternoon. Today's main task for ELS is mixing two classic tracks by the acclaimed indie/folk-rockers Dawes in surround sound. The man unquestionably knows of what he speaks when it comes to 5.1, having spearheaded a number of benchmark surround mixes for the likes of Steely Dan, Eagles, Porcupine Tree, R.E.M., Toto, Beyoncé (for her self-titled album that won a Grammy for Best Surround Sound Album in 2014), and even Guns N' Roses.
And there's definitely more ELS 5.1 to come, especially since the Scheiner-designed/approved ELS Studio 3D premium audio system recently debuted in the 2019 Acura RDX. The design of this state-of-the-art 16-channel, 16-speaker, 710-watt system was again helmed by Jon Ikeda, vice president and general manager of Acura, who also led the 2004 ELS charge. Me, I had plenty of firsthand (and first-ear) listening experience with that first-gen ELS Premium Audio system in the 2004 Acura TL back in the day when it debuted 15 years ago in September 2003, which I soundchecked and auditioned on more than one occasion in both S&V and its then sister publication, Mobile Entertainment.
Fast-forward to the treat I experienced on that recent June day in L.A.: an exclusive, early-morning 90-minute audition in the aforementioned 2019 Acura RDX in the Capitol Studios parking lot with fellow audiophile Mark Ziemba, Panasonic Automotive's principal engineer, in the passenger's seat. Ziemba (who knows this system inside and out, I might add) cued up a number of favorite tracks — including Dire Straits' "Money for Nothing," The Beatles' "A Day in the Life," Steely Dan's "Babylon Sisters," Eagles' "Hotel California" (the live Hell Freezes Over version), and Art Pepper's "Groovin' High" among them — and the level of detail and clarity we heard in terms of ambience, timbre, soundstaging, placement, volume, and more was all top-shelf, to say the least, just as if we had been sitting in Studio A while these artists were recording their masterpieces right in front of us.
In between the day's recording sessions, I sat down exclusively in the control room with both Scheiner, 71, and the members of Dawes to discuss their mutual and individual goals for surround sound recording and mixing, and how well it all comes across in the 2019 RDX. "The main idea for all this is to capture this sound, without any obstacles," Scheiner observed. "It's always, 'What's it going to sound like? Is it going to sound great in the car?' And we know that it will, because it's going to sound like you're in the studio." Couldn't agree more, ELS.
Mike Mettler: We go a long way back with the surround systems you've designed for Acura — 15 years and counting, in fact. And you've never wavered from your original goals, either.
Elliot Scheiner: You're right. Originally, when we first started manufacturing this system for Acura, my idea was I wanted any artist to get into the car and say, "F---, this is it! This is exactly what it sounds like in the studio." That was the whole intention. And now it's at that place where, whenever a musician gets in the car to listen to their own tracks, they go, "This is unbelievable!"
We've always gone to the car to listen to in-progress mixes, because it's the common denominator. We'd always say, "Well, how does it sound in the car?" At A&M [Studios], you'd go out to a '57 Chevy with the top down, and listen to a mix in mono. But now you get into the car, and it sounds like you're in the studio.
We started doing it this way in 2004, and one of the surrounds I did then was for the Foos — the Foo Fighters, for In Your Honor [a double combo electric/acoustic album released in June 2005]. But they had no way of listening to it. They were in Northridge, and I was mixing it here. Dave [Grohl] called and said, "How can I hear this? I don't want to go back and forth [between studios]." They were working on the electric portion of the record over there while I was doing the acoustic. So, we had someone drive the Acura over to Dave — and that whole album was determined strictly by what they heard in the Acura. That was it!
Same thing happened with the Eagles, for Long Road Out of Eden [released in October 2007]. We had an original 2007 Acura RDX with us. We'd come out of the studio and all of us would get in the RDX, and listen. That was the final say: "What does it sound like in the car?"
Mettler: Taylor, now that you've experienced it firsthand, what's your take on the 5.1 recording experience in general?
Taylor Goldsmith [Dawes vocalist/guitarist]: After you've experienced all the growth and abilities of the stereo systems over the last however many years, you go, "Okay, this is as good as, say, Beggars Banquet [The Rolling Stones' December 1968 masterpiece] could possibly ever sound. At the point in time they recorded it, with the mics positioned in the rooms they recorded in and the gear they used, it can't possible get any better." But when I hear things mixed in 5.1, all of a sudden, it makes songs I'm very familiar with and very much love sound like I've never heard them before.
Mettler: Just like what you heard on Steely Dan's "Babylon Sisters" [from November 1980's Gaucho], which we were all just talking about after hearing it in surround here in the control room.
Taylor: Yes! "Babylon Sisters" was insane, especially because I know that song so well — or at least, I thought I did. But in certain inflections on [Donald Fagen's] lead vocal, or certain choices by the bass player [Chuck Rainey], and parts from the background singers — I thought I knew them. But hearing that song mixed in that way, it sounded like something I had never heard before.
Mettler: I bet you're rethinking doing your own material that way, aren't you? Like working with the multitracks you've got in hand for Passwords [Dawes most recent studio album, released in June 2018].
Taylor: Totally! It's really fun to listen to music in that way. Yeah, yeah, I could see that.
Mettler: I saw how you all had your eyes closed and your heads nodding when you were listening back to the 5.1 mixes of your own songs in the car.
Taylor: (nods) And that was just the board mix, which was before we really had refined anything yet. This is one of the best rooms I've ever been in for recording, and that mix sounded even better in the Acura. I know that sounds like an advertisement (all laugh), but it's really true.
Every single thing that we heard in the car, from [Dire Straits'] "Money for Nothing" to [The Beatles'] "A Day in the Life," was simply incredible. And then hearing our own music that we just recorded coming at us from every direction was really crazy! I loved it.
Mettler: Will you release these two songs in 5.1 in some way, like on Blu-ray?
Taylor: When you hear sound as good as this, it's hard not to imagine finding another life for it beyond this, so yeah, hopefully we will be able to bring them into the world in this way.
Griffin Goldsmith [Dawes drummer]: If we could get our own Acura, we'd definitely mix our next record in 5.1! (all laugh)
Mettler: Griffin, why does surround sound appeal to you in general?
Griffin: You've got more speakers, for one thing. What you hear that way is more definitive. You're hearing aspects of songs you know really well in 5.1 like it's the first time you've heard them.
Lee Pardini [Dawes keyboardist]: The sense of space you get in surround is crazy. The difference of feeling like you're in the middle of the room as the band is playing is something else.
Scheiner: I started out making mono records, and then I did stereo records for 30 years, and I found it to be very boring!
Griffin (to Scheiner): When you first started doing stereo, was it a revelation? Was it like, "Oh, wow, I can mix in two channels"?
Scheiner: You started to do weird things, like The Beatles did. You'd put vocals on one side, and the band on the other. But the revelation really came with surround.
Griffin: It feels like you're closer in the room with the musicians, playing together all at once. You feel like you're sitting there with them in the studio.
Mettler: Tell me why you guys decided to re-record "When My Time Comes" [from their August 2009 album, North Hills] in surround.
Griffin: It's probably the song of ours people are most familiar with, and it's one we've played many, many times. When we first recorded it, we were such a young band. Taylor wrote the song after we finished the album, so we went back to the producer [Jonathan Wilson], and recorded it after the fact.
I felt like we should do another version of it now since we're better musicians. We were so green back then, and we didn't know enough about the recording process. But whenever you play songs live, that helps inform the way you go in and record them — as opposed to being 17 and just, well, going for it. (chuckles heartily)
Mettler: Elliot, you get the last word. What's your overall goal when it comes to what artists and listeners alike can expect to hear with the 2019 Acura RDX ELS Studio 3D system?
Scheiner: I want these guys to love it. No matter what, I want an artist to go in there and go, "This is the sh--." Consequently, the user appreciates it more too.