Reviving a Classic: The Rebirth of KLH Audio
15 Minutes with David P. Kelley, CEO of KLH Audio
The return of the KLH was big news at 2018 CES. Industry pundits and audio enthusiasts looked on with great interest and a little skepticism. Could the iconic brand cofounded by hi-fi pioneer Henry Kloss in 1957 be resurrected in a way that would pay homage to its founder? Or would it be just another example of an entity acquiring the rights to a once-famous brand with little or no interest in honoring the identity and values that made it famous in the first place? Ironically, Acoustic Research, the speaker brand Kloss helped launch in 1954 before moving on to co-found KLH, is a good example of a once-revered brand that still exists but bears no resemblance to the original AR with its modern-day focus on cheap speakers and earbuds. In the case of KLH, though, the answer to the first question is a resounding "yes." Under the guiding hand of former Klipsch executive David P. Kelley, who acquired the brand in 2017, KLH has successfully reestablished itself as a quality speaker brand that not only honors but builds on the ideals of its founder. We recently caught up with Kelley to learn more about what the new KLH has accomplished in its four-plus years and to get a preview of what's on the horizon. Indeed, the future is bright as he reveals plans for a new speaker built around the acoustic-suspension principles Henry Kloss made famous.
S&V: Before you took on the task of reviving the legendary KLH brand in 2017, you were a top executive at Klipsch, another iconic speaker brand also based in your home state of Indiana. Tell us about your background and experience in home audio.
David P. Kelley: I began my career selling audio in 1984 for the Michigan-based Highland Superstores. I always had a passion for hi-fi and a healthy addiction to live music. As a teenager, I could often be found either rebuilding my father's Fisher 500-C receiver and AR-3 speakers or installing new audio gear in my 1978 Ford LTD II Sport. Like so many people in our industry, my hobby of rebuilding vintage hi-fi and obsession with live music turned into a 40-year career.
I joined Klipsch in 1992 as a regional sales representative and held several leadership positions prior to becoming president of global sales. I also served on the board of directors for Jamo China Ltd., Klipsch Audio Trading Shanghai Co., Ltd., and Klipsch Group Europe BV. During my 23-year career at Klipsch, I grew to appreciate and understand the intrinsic value of the brand and its classic speakers. Many of the original Paul W. Klipsch designs are still in production today, clearly proving the business case for vintage speakers.
S&V: So how did the KLH deal come about? What did you find most enticing about KLH?
Kelley: I was introduced to the owners of KLH through a mutual friend and purchased the company in January of 2017. As a dyed-in-the-wool audiophile and industry veteran, I clearly recognized the extraordinary value of KLH, an iconic brand with a rich history, founded by Henry Kloss, irrefutably one of the most influential engineers in the archives of consumer electronics.
Kloss, with his myriad contributions to audio, is an elite member of a distinguished class of engineers that includes Saul Marantz, Hermon Hosmer (H.H.) Scott, Rudy Bozak, James B. Lansing, Paul W. Klipsch, and David Hafler, all of whom have been inducted into the Engineering and Science Hall of Fame.
S&V: Has your mission or philosophy changed since you reintroduced the KLH brand back in 2018? You must have felt a tremendous sense of responsibility as the new caretaker of this storied brand. 
Kelley: I would say my mission has evolved to focus more of our product development endeavor on the acoustic suspension principles made famous by Henry Kloss. This is the speaker technology co-developed by Kloss that made KLH the dominant player in the audio industry for decades, with highly regarded speakers like the KLH Model Five, Model Six, and Model Twenty Three, among many others.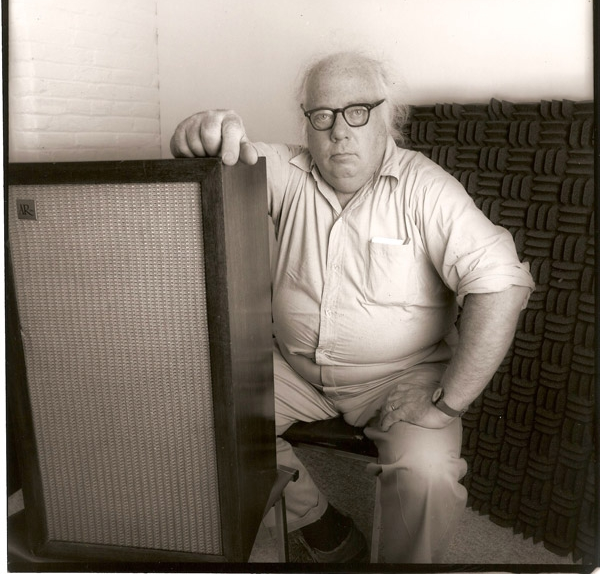 I am committed to honoring the celebrated legacy of KLH by staying true to the founding design principles of Henry Kloss. I know this sounds good in theory, but it is more difficult in practice, which is why I have deliberately invested in engineering talent and resources. The KLH research and development team is led by our chief engineer, Kerry Geist, who is one of the most respected names in modern acoustic engineering. Based on the recent success of the KLH Model Five reissue and its sibling, the Model Three, I will let your readers decide for themselves.
The updated and reissued KLH Model Five, and newly developed Model Three, were the most awarded loudspeakers in the world over the past 24 months, gracing the covers of Stereophile and Sound & Vision, and winning critical acclaim as Stereophile Recommended Components and Sound & Vision Top Picks. Globally, both models were named Speaker of the Year by five industry publications and received six Editor's Choice awards. Additionally, the KLH Model Collection to which these models belong has received hundreds of 5-star consumer reviews and millions of YouTube views. In total, KLH has received 33 global awards over the past 24 months for the Model Collection speakers.
S&V: The KLH comeback is certainly inspiring and our reviewers absolutely loved the Model Five and the Model Three. How does the modern KLH approach speaker design — and how does that approach relate to the philosophy and design principles of the brand's co-founder Henry Kloss?
Kelley: We reimagined the Model Five and Model Three by employing a modern interpretation with a classic perspective. We kept the timeless design of the original models, balancing the geometric shape with the natural beauty of genuine wood veneers and organic linen grilles, and combining that with the foundational strength of a 14-guage steel base that serves both form and function. The base, or riser, is angled 5 degrees on the Model Five and 8 degrees on the Model Three so the speaker is positioned to ensure the best vertical coverage for all listening positions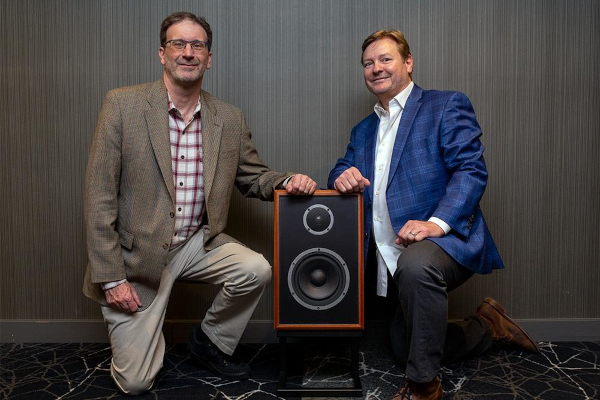 S&V: Can you expand a bit on the technical design of these models and talk about the drivers and materials used today and how they compare with what was used in the original KLH models?
Kelley: We used similar materials in some areas, and completely changed the material in others. For example, we still use pulp paper for the woofer and midrange cones because it is a wonderful material and has great dampening characteristics. But the original Model Five also used a paper cone tweeter, which is a completely inadequate material for that purpose. Instead, we selected a more contemporary 1-inch aluminum dome which buys us much smoother frequency response and dispersion characteristics.
The acoustic suspension design principle has not changed over the years, but the techniques and equipment used to develop modern acoustic suspension systems has. The modeling techniques and test equipment available to us now make it possible to minimize nonlinearities in the driver suspension and motor structure and to minimize distortion during high diaphragm displacements. We can also optimize the design of the driver magnet assembly and voice coil, which results in better efficiency, power handling, and reliability.
S&V: When you unveiled the new KLH at CES 2018, you started with an ambitious lineup of speakers for stereo and home theater applications, including a remake of the famous Model Nine, the first full-range electrostatic panel and a model widely praised as one of the best sounding speakers of all time. What's the status of the Model Nine?
Kelley: The KLH Model Nine has proven more difficult than we originally thought for a variety of reasons and has been delayed accordingly. We are still intent on relaunching this game-changing speaker, but that will likely happen about two years from now.