Producer Richard Chycki on Mixing The Tragically Hip's Road Apples in Atmos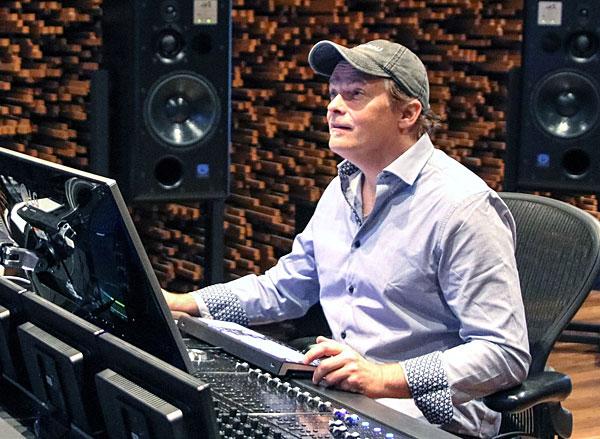 "I heard a bunch of things in it I had never heard before."
That's Rob Baker, guitarist of Canada's still-favorite sons The Tragically Hip, recounting the feelings he experienced upon hearing the recent, fully completed Dolby Atmos mix of his band's seminal February 1991 release, Road Apples for the very first time. That truly stunning Atmos mix, courtesy ace producer Richard Chycki (who was also behind the board for a number of stellar surround-sound releases from the likes of Rush and Dream Theater), appears alongside his 24-bit/96kHz LPCM Stereo, 24/96 Dolby TrueHD 5.1, and 24/96 Dolby TrueHD 7.1 mixes on the Blu-ray disc that's included in the pair of 30th anniversary deluxe editions of The Hip's aforementioned Road Apples, which was released in its respective multidisc physical configurations in November.
Said Pure Audio BD is included in both the Road Apples 4CD box set and the 5LP 180-gram vinyl box as well. Both box set configurations also include The Hip's Saskadelphia EP (six rare tracks unearthed from the vaults), Hoof-Hearted (a litany of Apples outtakes, demos, and alternate versions), and Live at The Roxy Los Angeles, May 3rd, 1991 (the latter of which contains late Hip vocalist Gord Downie's legendary live "Killer Whale Tank" improv story, smack in the middle of "New Orleans Is Sinking"). In short, this deep-dive collection is a treasure trove of both polished and uncut gems for Hip fans both old and new alike.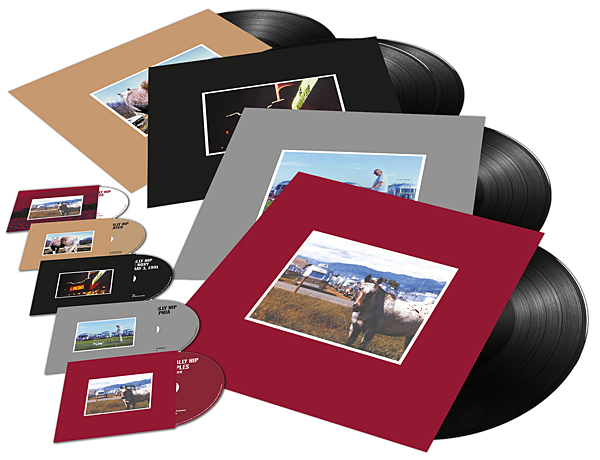 Full disclosure: I wrote the liner notes that appear in those big Road Apples box sets myself, but due to the tight printing/manufacturing deadlines, I was unable to include any discussion of the Atmos and surround mixes in those liners whatsoever. Hence, every Atmos-and-Apples-related comment you see quoted directly in this story all come from interviews I conducted exclusively for Sound & Vision.
The one Apples multichannel mix that sold the merits of Atmos to The Hip in full is what Chycki did with "Fiddler's Green," one of the album's more touching tracks that, on its surface, chronicles the intimacy of the lyrical content in addition to the intuitive interplay between Downie and Baker—but it goes much, much deeper than that.
"It's such a naked sort of song that I thought I knew everything that was there," Baker admits. "But suddenly, it was like, Oh no! There's other stuff on there like little room sounds, or how you hear the space differently. And then there's that whole accordion thing at the end of the record you don't even really hear much at all. But in Atmos, you really hear it. And after hearing that, I was like, 'Geez, if I knew we were going to hear that so clearly, we should have spent some more time on it!'"
The ambiance and character of the place where the album was recorded—at Daniel Lanois' The Kingsway Studios, located in a mansion overlooking the French Quarter—played a large part in the sound that was captured there, confirms Hip bassist Gord Sinclair. "'Fiddler's Green' is a perfect example where the candles would be lit and we would all move into the front hallway, which served as a quote-unquote control room," Sinclair recalls, "and in that case, you also had three stories of air on top of you. Rob and Gord had headphones on where that song was put together, and there's one version of it on Hoof-Hearted that's so intimate, it's almost unlistenable—but in an emotional way, and that's a fantastic thing. That's just testimony to Don [Smith, their producer], and the layout of that house. And kudos to Daniel Lanois too, who thought, 'What do I need a separate control room for if I have a great band here that can really, really play, and all we need to do is capture their vibe? What do I need to be worried about?'"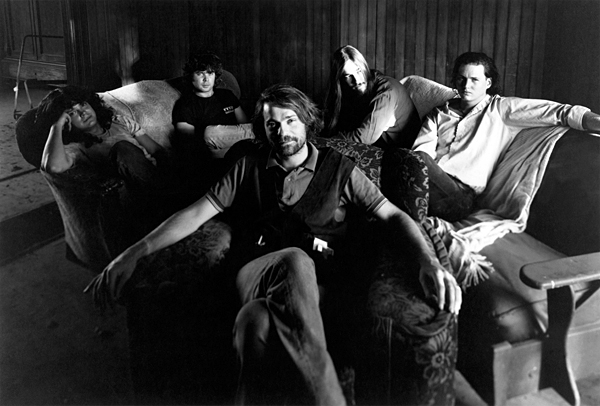 Concedes Baker, "One of the challenges for Don [Smith] for making the record was, you're hearing it in the room as it happens. To a large extent, you're recording just what you hear—and it should sound that way. You're hearing all this natural reverb that isn't necessarily going down on tape, but Don was able to recreate the sound of the room in the mansion in the mix he later did in a different studio."
Now that the Atmos door has been duly opened, what Hip album should cross Chycki's multichannel mixing desk next? "I can't wait to hear what an album like [September 1994's] Day for Night will sound like in Atmos," Sinclair offers. "Like Road Apples, that's an album where we were actually playing together in the room at the same time, and that seems to really lend itself to this technology. It's funny, because it seems commonplace for us to be playing songs together at the same time and actually know what we're doing, but I guess it's increasingly unusual these days."
I got on a Zoom call with Chycki—who, incidentally, is all-in for doing both the above-noted Day for Night and October 1992's Fully Completely in Atmos next, if either or both are greenlit by the powers that be—so we could discuss why Atmos mixes are so impactful, why the core of Road Apples is perfectly suited for Atmos, and why getting direct feedback from artists about these Atmos mixes helps solidify the validity and very necessity of the format itself. It's been a long, long, long time running / It's well worth the wait. . .
Mike Mettler: First, let's take the macro view of Atmos here—or, to borrow a Gord Downie line, let's take the "bird's eye view of a bird's eye view" for a moment. (Chycki laughs) In your mind, what is it about Atmos that clicks with the listener? What makes an Atmos mix such a special and powerful listening experience?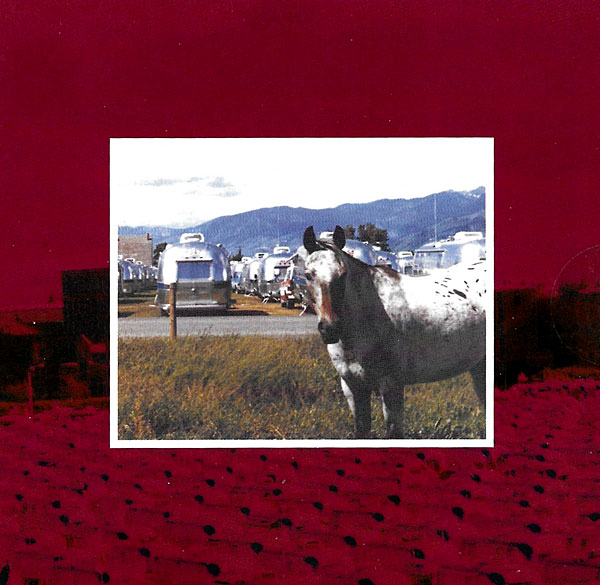 Richard Chycki: Well, you're actually using the exact word, in that it is more of an experience listening to music in that way. All the buzzwords that are used for Atmos, like the concept of it being "immersive"—that, in itself, really is self-explanatory in that you feel you're part of the soundscape, as opposed to being an observer.
Listening in stereo—look, stereo is a great medium, but there's this feeling that we can only do so much with two speakers by using phase and delay to create height and width. But when you get the discrete placement of speakers all around you, and you're allowed to enjoy music that's coming at you from all different sources of audio around you, it's something I think just triggers our adrenaline even more.
Mettler: Yeah, I couldn't agree with you more about that. I mean, calling it "immersive" is one thing, but I think Atmos being "an experience" you're a part of is even a better way of explaining it. Also, one of the key differences between 5.1, 7.1, and Atmos mixes is height. For example, when you listen to The Beatles' "A Day in the Life" in Giles Martin's Atmos mix, suddenly, you're way up in the clouds. And that's the way it should be in Atmos, with practically no restriction on how a truly 360-degree mix can be a fully dimensional thing.
Chycki: Absolutely. There's an Atmos mix I had been working on recently where some of the people listening to it said, "Hey, these things were just overdubs; they were added in." No, they were there all along. It's because we had physical separation that things become more audible.
And that type of approach is amplified more now, because instead of just being able to move stuff around us in this lateral plane, we can also put it "up" as well. You get even more separation. It doesn't matter how dense the audio is. There's enough space for it where you could take things and just put them anywhere.
Mettler: Well, when we're able to talk officially on the record about that project, we will do so. In the meantime, let's dive into what you've done with the Atmos mix for The Tragically Hip's Road Apples. The first two tracks on the album, "Little Bones" and "Twist My Arm," probably had to be done a little more traditionally, because those are the two best-known tracks for most people. You must have thought something like, "Ok, I gotta set the table here first." That's how I look at it—you're setting the table out of the gate, and then by the time we get a few more tracks into it and come across a more atmospheric song like "The Luxury," then you're really able to take it out into space, so to speak.
Chycki: Yeah. It's funny you mention that, because I started with "Little Bones"—and I started with that song because it was the template to get the atmosphere and the way the guitars were going to sit, because the record was recorded mostly live off the floor.