Monster Blaster Bluetooth Boombox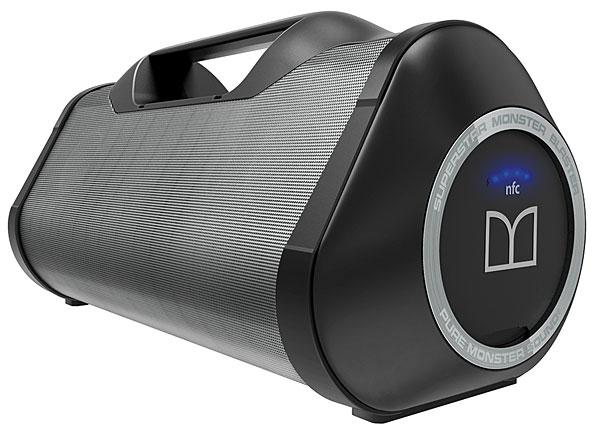 PRICE
$400
AT A GLANCE
Plus
Killer outdoor music system
Super sturdy design
Battery powered
Awesome one-time, "no-fault replacement" policy
Minus
Pricey
Heavy!
THE VERDICT
The Monster Blaster will shock you (and your neighbors) with its powerful sound.
As I removed the Monster Blaster from its box, I felt like I was lifting a dumbbell from the rack. Seriously, the thing weighs about 17 pounds, and it's built like a tank, ready for the rough and tumble of outdoor use.
And when I say rough and tumble, I'm not kidding. If you buy the Blaster from monsterproducts.com, it's covered by a lifetime warranty with "one time, no-fault replacement." As Monster explains on its website: "If the Blaster has any issues (your fault or ours), return the product and get a replacement." Buy it elsewhere, and you get the one-year standard warranty.
The Blaster is sleek and unassuming with its gray/black finish and rubberized endcaps. On one end, you have buttons for power, volume, and indoor/outdoor mode. On the other, a rubber flap seals (and conceals) a handful of connections: two minijack inputs (one labeled mic for when you're in the mood for a little karaoke), a USB port for charging cell phones and other portable devices, and a power cord receptacle (for charging the internal battery). The connection end also has an NFC sensor.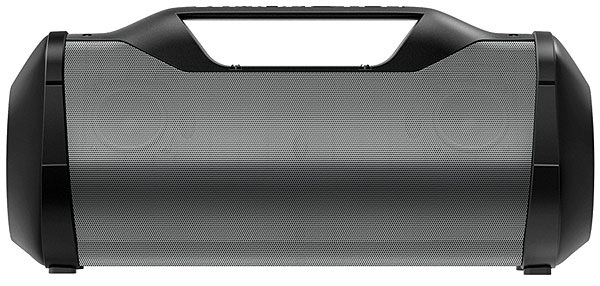 A sturdy metal-mesh grille wraps around the boombox, protecting two full-range drivers on each of its angled side panels and a down-firing woofer with an oblong bass radiator on either side. The drivers are arranged to more or less project sound 360 degrees. Rubber feet lift the svelte enclosure about a quarter of an inch off the ground—just enough for the bass to breathe.
Monster says the Blaster is splash resistant, meaning you can put it by the pool, but don't drop it in the pool.
When I walked in the house carrying the Blaster, my daughter said, "What's that?" OK, so it's not much to look at, but who cares when you're rocking out in your backyard, in a park, or at the beach. And, I do mean rocking out, as I'll explain in a moment.
I Wanna Rock
When you turn on the Blaster, you're greeted with an ascending piano scale, and a female voice says, "Ready to Connect" (and "Goodbye" when you disconnect). I tried connecting my Samsung Galaxy S6 via NFC but nothing happened, so I opened its Bluetooth menu and selected it manually. A couple seconds later, the little lady inside announced: "We are connected."
My plan was to get right to the good stuff—wailing guitars, heavy grooves—so don't ask me why I selected the Diana Krall station on Amazon's Prime Music. It turned out to be a welcome side trip, though, as I was immediately captivated by Krall's slow, sultry rendition of "Superstar" from 2015's Wallflower. Her contralto voice sounded appropriately lush and smoky, the string accompaniment rich and full.
I worked my way through a dozen stations/genres before settling on The Eagles, which served up a steady stream of mostly classic rock. I moved the Blaster around the house—from office to foyer to kitchen to garage (hey, it's a boombox)—reveling in the '70s anthem, "Carry on Wayward Son" by Kansas. The sound wasn't as refined as what you might expect from a good set of home speakers, but it was powerful and loud—very loud—when I cranked it up. Distortion encroached as I approached max volume, so I left it a few clicks from maximum, which was still plenty loud.
It was time to take the show outside and let the Blaster strut its stuff—like I said, it's a boombox—so I stepped out onto my patio, walked across to the far end, and put the Blaster on a stone wall. I was instantly impressed by how loud it could play, even when I was standing (or sitting) a good 25 feet away. I waved meekly to my neighbor as I turned down the volume—before turning it back up…and down. Over and over. I'm sure he thought I was losing it.
From Aerosmith's "Walk This Way" to ZZ Top's "Sharp Dressed Man" to Boston's "Something About You," it was a lively mix that really showcased the Blaster's party potential. Even lighter fare such as Marshall Tucker's "Can't You See" and the ethereal production of Bruce Springsteen's "Tunnel of Love" filled the open space.
Monster says the Blaster's internal battery is good for up to 15 hours of play time, depending on volume, which seems accurate based on my experience. You just have to remember that if you're continually playing it at top volume, run time will be a lot less.
I switched between the Blaster's Indoor and Outdoor modes, hard-pressed at first to detect the subtle shift in tonal balance, which pushes the midrange and treble forward a bit in Outdoor mode. Whether I was in the house or out in the backyard, I preferred the Indoor mode's slightly more focused bass and less edgy sound.
Monster's Blaster isn't the cheapest outdoor speaker on the block, but its simplicity, rugged design, and ability to play loud and clear will delight backyard revelers for hours to come.