Review: Audyssey Wireless Speakers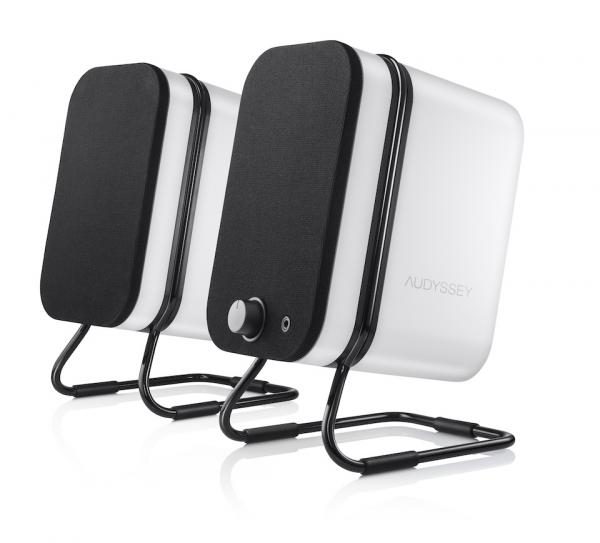 Audyssey, a firm that's long been on our radar as a near-ubiquitous provider of software algorithms for home theater, has in recent years stepped up its efforts to become a force in the desktop audio hardware market. We loved their first powered speaker pair, the Audyssey Media Speakers, and the company's now followed those up with a Bluetooth version, the aptly named Audyssey Wireless Speakers.
The Wireless Speakers trade in their predecessors' optical digital input for a Bluetooth receiver, making them, well, wireless. Functionality otherwise remains the same (you'll find a 1/8-inch analog input around back, and form factor is identical); the driver design has been updated the idea is to provide an alternative desktop system (the original Media Speakers remain in the Audyssey lineup) that'll interface just as easily with smartphones, tablets, and visiting laptops as well as it does with your main computer.
Setup
Well, "setup" is a bit of a misnomer here, since there's more or less nothing to it. Like their predecessors, the Wireless Speakers have integrated stands that elevate the units at an appropriate angle for desktop use, and they are small enough to tuck into even the crowded desktop setups where these are likely to find favor. As with any desktop speaker, you'll ge the best results if you position the speakers with their baffles forward of the plane of your computer monitor, though given how many people these days (pretty much everybody aside from journalists and developers, apparently) are using laptops or tablets at work, this may be antiquarian advice by now.
Once positioned, you plug in the power supply; connect the speaker pair with a traditional piece o' zip cord, hold down the pairing button behind the right speaker (which sports a volume control and headphone jack on its front baffle) 'til you hear a beep, find the Audyssey's from the device of your choice, and start playing. Should you want to go the traditional route, simply plug in via the minijack line input.
Performance
I really liked the overall sound of these speakers (especially wired, which I'll get to in a moment), finding that they made good sense of a wide variety of program material, with vocals and acoustic instruments coming through with appreciable clarity. There's a bit of mid-forwardness here that benefits vocalists but otherwise things sound impressively flat to my ear.
But it's the bass performance - impressive enough that it belies the speakers' small size - that's probably going to get the notice of anybody auditioning these things. Audyssey's DSP wizardry - in particular the BassXT, EQ and Dynamic EQ algorithms - is put to good use here, pulling solid bass out of the little 3-inch woofers (which are paired with rear-facing passive radiators) that really is competitive with larger units. While many small desktop stereo systems demand a sub, you won't be immediately looking to spend more money to fill in the bottom end if you pick up a pair of Audysseys.
From the driving, dubby electric bass of Fugazi's "Recap Modotti" (from End Hits) to the subterranean acoustic of Holly Cole's Temptation to the synths-and-sampes of Actress' "Get Ohn," the little Audysseys handled pretty much whatever my collection could dish out, basswise, with aplomb. As for the rest of the frequency spectrum, vocalists male and female from Mark Lanegan to Gillian Welch to S+V test mainstay Radka Toneff benefited from the forward midrange. Guitars, pianos, strings, synths - across a wide range of jazz, classical, experimental, and orchestral material, everything sounded about as well-represented as I could imagine from a system based around 3-inch woofers and 3/4-inch tweeters. For a desktop system with such a minimal footprint, it makes for a fine experience all around.
As was the case with the originals, dense, extremely heavy rock music (Meshuggah's overpowering "The Demon's Name is Surveillance," from, Koloss, for instance) didn't fare so well; the fast double kicks, and ultra-low-tuned guitars seemed too much for the little passive radiators (don't get me wrong - they do a fine job with most material, but need a little recovery time between blows, apparently) and the results sounded cluttered, with definition and note attacks lost, especially when played loud.
Vocal presence was still good even on this and other dense rock tracks, even though overall mixes in the harder genres can sound small and soft at top volumes, even though Audyssey's DSP subroutines and internal limiters manage distortion extremely well. But then again, this sort of material isn't generally handled well by extremely small speakers, so I can't imagine that'll really be a negative for most listeners, just an indicator of the limitations of even well-designed DSP facing the reality of shoving the air around.