ClearView Clio Bluetooth Speaker Review
PRICE
$349
AT A GLANCE
Plus
Blends into any décor
A cinch to setup
Clear, clean sound with vocal and acoustic music
Minus
Volume and bass are limited
Sound is confined
Pricey
THE VERDICT
Clio is an unobtrusive, one-of-a-kind speaker that is capable of producing clear yet confined sound with limited volume and bass potential.
They call Clio the first invisible speaker. And even though it's not really invisible, when you put this unique specimen on a kitchen counter, end table, or fireplace mantel, it's pretty darn hard to spot with its low-profile base and acrylic glass "windshield" that disappears into the room.
The flexible and slightly curved windshield (my term, not theirs) is actually a dipole speaker that radiates sound to the front and back when excited by a couple of small piezoelectric actuators hidden in the base—one for the left channel, one for the right channel. High-frequency sound generated by the acrylic panel is supplemented by a 2-inch "woofer" that fires down from the bottom of Clio's base; rubber feet lift the base just enough for the speaker and a tiny port to breathe.
Clio is super simple to set up and use. Decide where you want to put it, run the supplied power cord to a nearby AC outlet, and either plug in an iPod or other audio source or pair it with your Bluetooth device of choice. (Someday we'll be able to dispense with the power cord for truly wireless sound—it's coming, don't worry—but for now, we'll just have to tolerate those unsightly wires.)
Controls are minimal like the Clio itself: Four buttons on the right side of the base for volume up/down, mute, and Bluetooth pairing. An LED on the front indicates status (white for standby, red when using the lone minijack input, and blue for Bluetooth). The speaker is available with a Charcoal, Silver, or Dark Bronze base.
Here, There, Everywhere
Setting up my Samsung Galaxy S5 and iPad for streaming was quick and easy. Press and hold the Bluetooth button to put Clio in pairing mode, select "Clio" from the list of Bluetooth devices on the phone or tablet you want to use, and start streaming. It's that simple. If you plan to use more than one Bluetooth source, Clio automatically connects to the most recently used device, or you can select Clio on the device you want to use.
I spent several hours setting up Clio in different rooms around the house, including an acoustically live kitchen and living room, a carpeted family room, a small guest room, and a decent-sized bedroom.
I listened to a broad selection of music on Pandora via my iPad, and the sound was generally clean and clear no matter where I set up the speaker, but it can't play very loud and bass output is limited, neither of which is surprising given Clio's diminutive size and light weight (just under 2 pounds). Moving Clio closer to the wall bolsters the bass but at the expense of clarity; vocals, in particular, can sound cupped if you move the speaker too close to the wall (remember, it radiates sound in both directions).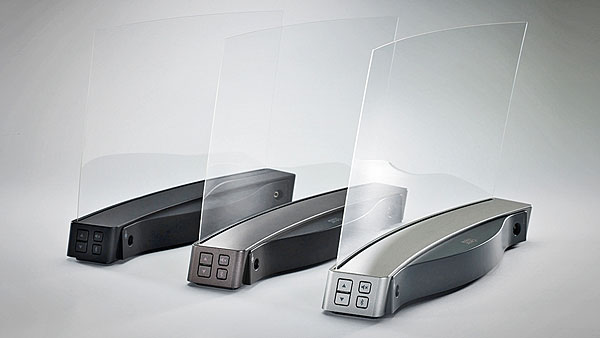 ClearView describes Clio as a stereo speaker capable of delivering "panoramic room-filling sound," but that's quite a stretch. Clio can fill a small room with sound, but it's not terribly full-bodied, and it's definitely not panoramic. In an e-mail exchange I had with a company executive, he admitted that, like many compact all-in-one systems, "separation is not great" and said they chose to exclude spatial processing because they didn't want to degrade the sound. ClearView is planning to offer an accessory cable for those who want to use two Clios as a stereo pair.
All that aside, Clio is fine for background music and casual listening in spaces where bulky speakers are not practical or welcome. It's particularly adept at reproducing acoustic music, particularly vocals. Gavin James' acrobatic falsetto on "Nervous" (Live at Whelans) was remarkably clear, as was Scotty McCreery's baritone on "The Trouble With Girls" (Clear as Day). The interplay between violin, cello, and guitar on Natalie MacMaster's "Farewell to Peter" (Yours Truly) was also an acoustic standout, along with anything from acoustic guitar master Will Ackerman. Rock—old and new—didn't fare as well, often sounding thin and congested. The signature crunch-guitar crescendo leading into to the chorus of Weezer's "Undone (The Sweater Song)" lacked the power it's known for. If you're looking for a party companion or just like to rock out, you'll be much better off with a conventional—albeit much clunkier—speaker setup.
If you're intrigued by Clio, as I was, ClearView offers a 60-day, money-back guarantee, so go ahead and try it. Worst case, you send it back.