Kanto SYD Bluetooth Speaker Review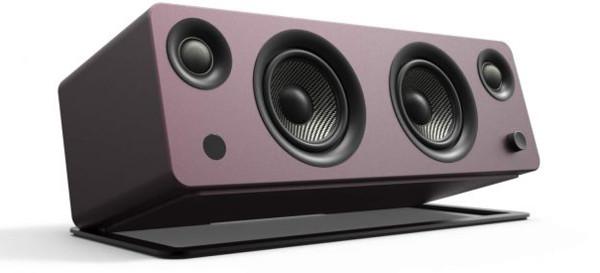 PRICE
$330
AT A GLANCE
Plus
Excellent sound quality
Compact and well-built
Easy to set up and use
Great value
Minus
No Wi-Fi streaming
No visual feedback
No grille cover
THE VERDICT
Kanto's SYD is a simple, high-performance Bluetooth speaker that will wow you with rich, powerful sound that belies its size.
I could tell SYD was a serious speaker the moment I heard Joni Mitchell singing "A Case of You" from 1971's Blue. Her angelic voice was mesmerizing in a way I didn't expect from a speaker this size, not to mention a 47-year-old recording — and I was streaming from my phone.
Actually, SYD had my attention as soon as I pulled it out of the box. The perfect satin finish. The woven Kevlar woofers. Those smooth silk-dome tweeters. Attributes that show Kanto cares about quality. I'm a fan of the exposed-driver look but was a bit surprised that there was no grille cover option. So if you have young kids, or animals that roam freely, beware.
Apart from those expertly crafted drivers, the front panel is sparse with only an LED indicator in the bottom left corner and a small volume dial that doubles as a source selector in the bottom right. In other words: Don't lose the remote. Around back, Kanto provides 3.5mm minijack, RCA, and optical input options. In a nice twist, the RCA jacks double as a phono input so if want to hook up a turntable you won't need an outboard phono preamp — just move the slider switch to its Phono position. There's also a USB port but it's for charging only. A USB connection that supports audio would be a nice addition.
Kanto provides a medium-size remote control with buttons for source selection, volume up/down, mute, and track skip/play/pause, the latter for Bluetooth streaming. Best of all, there are buttons for adjusting bass, treble, and balance, which are nice to have and something you won't find on most other Bluetooth speakers. Kanto also throws in a useful stand that tilts the speaker so it projects sound upward at a slight angle.
Let the Musical Journey Begin
Setting up and using SYD is super easy. Want to stream? Push the Bluetooth button on the remote — or tap that lone front-panel dial until the LED turns blue — and select "SYD by Kanto" in your device's Bluetooth menu.
Seeking instant gratification, I usually start wireless speaker evaluations with Bluetooth, the rationale being it can only go up from there. The quality of Bluetooth/aptX streaming was consistently good and perfectly fine for casual listening as I moved from Amazon Music to Pandora to Slacker Radio on my phone or iPad, exploring folk, blues, rock/pop, and other genres along the way. From Joni Mitchell on Amazon to the Eagles on Pandora, I stopped to savor the signature harmonies and Don Felder's sticky-sweet guitar solo on the title track of 1975's One of These Nights — one of my all-time favorite riffs.
For the next musical excursion, I dusted off my Sony CD player and connected it via SYD's optical input. I sampled a wide variety of music, relishing the opportunity to dig through hundreds of discs that don't see much action these days. I sought out favorite tracks I had heard in years, including "Figure of Eight" from Paul McCartney's overlooked 1989 album Flowers in the Dirt and Led Zeppelin's bittersweet "Ten Years Gone" from 1975's Physical Graffiti, both impeccable recordings — and special songs. The sound was rich and full with mostly ample volume in a large 25 x 13-foot room. The soundstage didn't spread much beyond the speaker and, at times, I wished SYD would play a tad louder but these are quibbles.
McCartney's voice was raw and engaging and his driving bass appropriately fat and round, punctuated by a snare drum that sounded as real as the one in my basement studio. All was revealed on the chosen Zep track with little of the congestion I expected to hear from such a dense recording: The juxtaposition of Jimmy Page's graceful acoustic guitar with his vintage telecaster, edgy and multilayered to great effect, behind Robert Plant's passionate, at times ragged, vocals &mdas; all anchored by John Bonham's signature thud in lockstep with John Paul Jones' understated bass. Brilliant.
For one final sound check, I upped the ante with a series of hi-res recordings to see how SYD sounded at 96/24. I was blown away by the intimacy, clarity and depth of Holly Cole and her jazz quartet performing "Larger Than Life" from 2007's Holly Cole) — and that's just one example of many. Quite an accomplishment for such as small speaker.
Kanto's SYD is a great little speaker that will bring all but the largest of rooms to life with surprisingly robust sound. I wish it had Wi-Fi/multiroom capabilities but maybe that's too much to ask from a fine sounding speaker system that costs only $330.