Kicker Bullfrog Jump Outdoor Bluetooth Speaker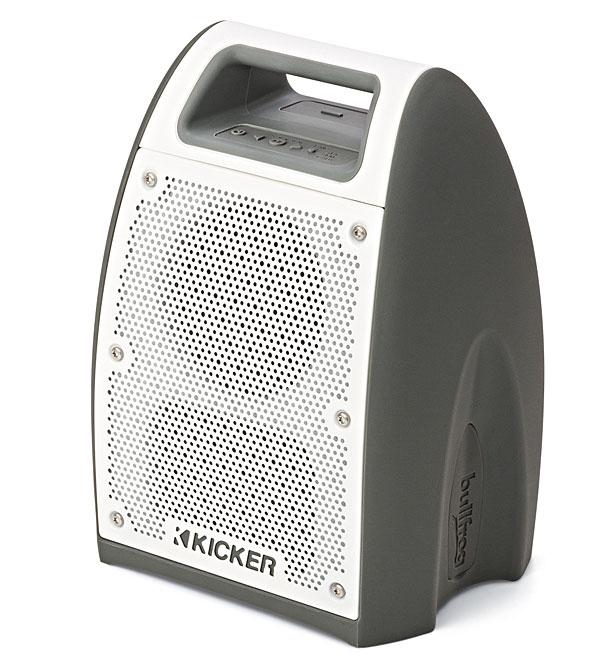 PRICE
$400
AT A GLANCE
Plus
Great for impromptu gatherings
Easy to transport
Rugged build quality
Plays loud and clear
Water resistant
Minus
A bit bulky/heavy for a portable speaker
Pricey
THE VERDICT
The Bullfrog Jump lives up to Kicker's reputation for delivering big, bold sound that you can take with you wherever you go.
"That's an ugly speaker." Oooh. That's not what I was expecting to hear when I walked into the family room, Bullfrog Jump in tow. I like the way it looks. Then my son chimed in: "Well, it does sorta look like a space heater." Hmmm…. He's got a point, I thought to myself. OK, so it isn't a work of art. It's not supposed to be—it's an outdoor speaker. And a darn good one at that.
The Bullfrog Jump hails from Kicker, the iconic car stereo brand founded by Oklahoman Steve Irby in 1973. Irby invented the self-contained speaker box for cars and pickups and went on to build a company that today offers a range of audio products—from headphones to portable speaker systems to a full line of autosound gear, including those famous ground-pounding Kicker boxes.
Built to Last
The Jump is superbly crafted, boasting what Kicker calls a "near impenetrable" rubberized enclosure. No joke. This thing is bad-ass with a 4-inch driver/3x4-inch bass radiator combo on each side—firing in opposite directions from behind weather-resistant metal grilles—and an IP66-rated enclosure that's impervious to dust/dirt/sand and direct water sprays from a high-pressure nozzle. Definitely a Kicker.
Its sleek handle beckons, encouraging you to take it along on your next adventure, whether that's tailgating, camping, boating, or just hanging out at the beach or on your deck. Rubber-encased controls are located below the handle along with a row of LEDs that shows battery status and a small button for switching from Bluetooth mode to FM radio (nice) or auxiliary input (for times when a wireless signal just isn't available); press and hold the button, and it puts the Jump in pairing mode. A second LED trio indicates source: blue for Bluetooth, red for radio, green for aux.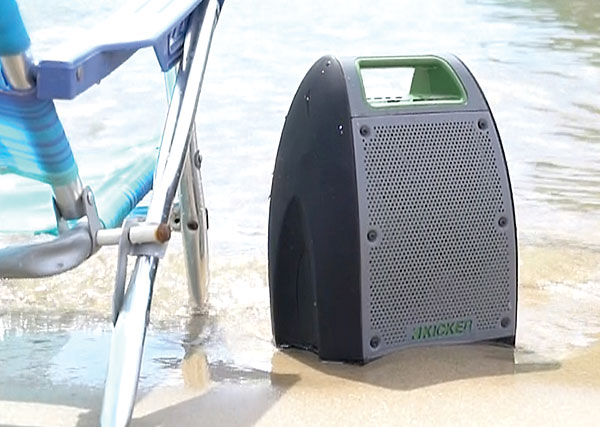 Buttons are multifunction: A short press on the arrow buttons changes the track or station, while a long press engages track scan or station seek. Better yet, the Kicker Connect app lets you control the Bullfrog from your phone or tablet, create radio presets, and access EQ settings. Unfortunately, the app wasn't available during my review period so I didn't get to try it out.
I love that the Jump has an FM radio, which Kicker says is a nod to tailgaters who may want to follow the pregame coverage while they're still in the parking lot. Unfortnately, my preproduction sample was not equipped with the external antenna jack found on production models. It pulled in a handful of stations, but reception was poor. Kicker says a simple antenna will be included in the box. All connections, including a USB charging port, are located beneath a waterproof rubber flap near the bottom of the speaker.
If you're a fan of raucous tailgate parties, it's good to know that you can pair two Jumps together for a "Double Kick" with one speaker broadcasting to the other (there's even a threaded screw insert so you can mount the speaker on a tripod or truck mount). Kicker claims a 100-foot Bluetooth range and up to 20 hours of play time per charge—both checked out.
Good Vibrations
From Amos Lee to the Zombies, I gave the Bullfrog a serious workout on Pandora, hopping from station to station, artist to artist, and genre to genre while moving room to room and eventually outside. The Jump was a great companion, especially when I was doing yard work. It beat the heck out of wearing earbuds, turning drudgery into entertainment. (I play a mean shovel guitar…just ask my neighbors.)
Kicker's Jump held its own against the best Bluetooth speakers I've evaluated, including Monster's excellent Blaster boombox. It can't play as loud or pump out as much bass as the Blaster, but it's half as big and weighs 8 pounds less—thought it's still a quite hefty 8 pounds to carry around. Whether I was raking grass to James Bay's haunting "Let It Go" (Chaos and the Calm) or swinging an axe to the "Best of You" (Foo Fighters, In Your Honor), the sound was full, clear, and reasonably balanced.
I had to dial the volume back from its max to evade distortion— especially when I switched to Weezer Radio, my go-to "hard" channel—but that's par for the course with portable speakers. Even at 75 or 80 percent volume, the sound was still plenty loud.
Yard project complete, I lingered in Oldies Land, kicking back in my chair while a parade of '60s classics filled the air: The Everly Brothers, Dave Clark Five...the Beach Boys singing "Good Vibrations" (Smiley Smile). I closed my eyes marveling at how present the angelic vocal arrangement, driving cello, and whimsical Electro-Theremin sounded over this small speaker.
If you're in the market for a portable outdoor sound system, Kicker's Bullfrog Jump deserves a serious look and listen. I wish it was a little less expensive, but then again, it sounds great and is pretty much bulletproof.