MUSIC REVIEW: Sarah Harmer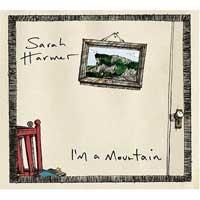 I'm a Mountain Cold Snap/Zoë/Rounder
---
Music •• Sound •••
Many of Sarah Harmer's current fans don't know that she used to be in a terrific pop group, Weeping Tile, which made three Canadian records that no Squeeze or Finn Brothers fan should be without. But with each of her American solo albums, she has smoothed out more of her edges and taken more of a middle-of-the-road, singer/songwriter approach. Sadly,
I'm a Mountain
continues that trend. It's ostensibly a country & bluegrass disc, but since it never gets too gritty or too haunting, it comes out sounding more like a typical Adult Contemporary set with mandolins. The songs cover a lot of familiar bases, including a predictable if heartfelt ecology song. Harmer still has a gorgeous singing voice, but she overdoes the high-register leaps enough to ruin a cover of Dolly Parton's "Will He Be Waiting for Me?" The lust-driven "I Am Aglow" livens things up a bit, as does the wry title track. If Harmer hadn't done such strong work with Weeping Tile and on her solo debut,
You Were Here
, it might be easier to settle for a pleasant and pretty disc like this one.
WHERE TECHNOLOGY BECOMES ENTERTAINMENT