MUSIC REVIEW: Paul Simon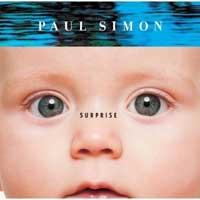 Surprise Warner Bros.
---
Music •• Sound •••
Paul Simon's first album in six years is called
Surprise
, without an exclamation point, and it's a bit like that: mold-breaking, to be sure, but an artistic flat tire. The surprise here is the union of Simon and Brian Eno, but what sounds interesting on paper is preposterous in reality. Eno (credited with "sonic landscape") and Simon (the titular producer) dispense with the pensive backdrops that Eno does so well, opting instead for beatbox rhythms and sampled snippets that make the singer seem as out-of-place as a buttoned-down accountant at an all-night rave. Add to this the bloodless input of slick session dudes like Steve Gadd and Pino Palladino, and you've got an album that manages to be both weird and boring. Lurking beneath are some fine songs with thoughtful lyrics, notably the heartbreaking "Wartime Prayers." Ultimately, however, Surprise is at best a noble failure.
more of this month's reviews Back to Homepage What's New on S&V
WHERE TECHNOLOGY BECOMES ENTERTAINMENT