MUSIC REVIEW: John Mellencamp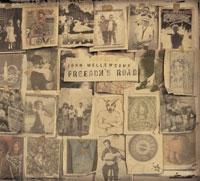 Freedom's Road Universal Republic
---
Music ••••½ Sound •••½
John Mellencamp remained true to his Midwestern roots by cutting Album No. 18 live in the rehearsal space (an actual garage, in fact) that's adjacent to Belmont Mall, his hometown recording studio in Bloomington, Indiana. And Americana doesn't get much more organic than this, as
Freedom's Road
echoes the sensibilities, values, and heartland-rock sound that Mellencamp blueprinted on his two masterpieces, 1985's
Scarecrow
and 1987's
The Lonesome Jubilee
.
The hopeful opening track "Someday" lays down the album's main groove, with longtime guitarists Andy York and Mike Wanchic playing off each other in the left and right channels, respectively. Miriam Sturm's violin, a constant presence, even gets to take a few leads: the first break in "Ghost Towns Along the Highway" and during the stark "Rural Route." Background harmonies by the popular country quartet Little Big Town enhance a number of songs, and they're especially sweet when punctuating the word "road" in the title track by extending it to four syllables.
Mellencamp's gravelly vocals are as strong and consistent as ever, showing no signs of age or the need for studio "enhancement." He's in especially fine form on the hard-hitting, racially charged "Jim Crow" and perfectly complemented by the soprano of his duet partner, Joan Baez. And the phrasing on album closer "Heaven Is a Lonely Place" underlines Mellencamp's debt to Bob Dylan.
Road's vibe is most definitely a populist one, though Mellencamp does strive to understand all points of view within U.S. borders on "Our Country." (Yes, the song has been exposed to death thanks to those Chevy truck commercials - but that hasn't diluted its message.) And he does manage to put forth his own personal "I yam what I yam" stamp on "The Americans." He leaves his most blatant political leanings for the hidden track, "Rodeo Clown," a practically jubilant joust at the policies of our current White House occupant. All told, the timeless sound and the sharp observational tone of Freedom's Road strengthen John Mellencamp's position as one of America's most important songwriters. Let Freedom ring.
more of this month's reviews Back to Homepage What's New on S&V