The Mummy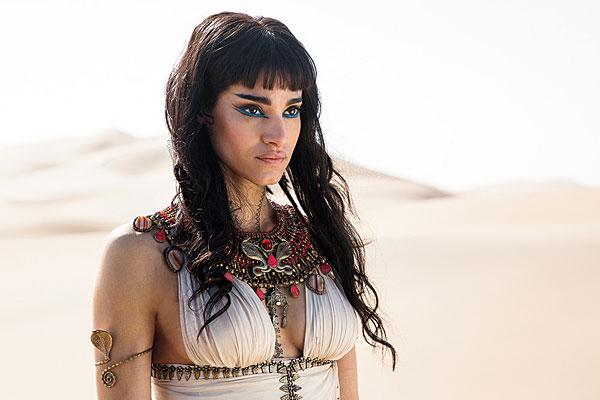 Cruise plays Nick Morton, a rogue military tomb raider who awakens the ancient Egyptian princess, Ahmanet (Sofia Boutella), who was mummified and buried alive for killing her family and trying to raise the god of death in an effort to solidify her rule. Now Ahmanet wants to use Nick as the portal to bring the god of death to Earth and get her revenge. Russell Crowe stars in a hammy performance as Henry Jekyll, and Annabelle Wallis provides the obligatory attractive and much younger love interest for Cruise.
The Mummy was shot mostly on the Panavision Panaflex Millennium XL2 using 35mm film and some scenes in Super 35. Certain scenes were also shot on an Arri Alexa 65 in 6.5K resolution. The Ultra HD Blu-ray from Universal gets an HEVC 2160p (4K) encodement with HDR10 high dynamic range framed at 2.40:1. The overall image looks very consistent and filmic, with a crisp presence of grain. The added HDR looks best in the darker scenes where the highlights like flames or LED flashlights really stand out against dark shadows.
Audio is where this release truly shines. Universal doesn't disappoint with a Dolby Atmos (compatible with Dolby TrueHD 7.1) mix that offers a thunderous low end. Scenes in underground caverns literally sound cavernous, and there are moments when you feel like the house is going to collapse on your head thanks to those overhead Atmos channels. Something tells me a lot of folks will be pulling this one out as a showcase for their systems.
The Mummy comes with over an hour of behind-the-scenes featurettes packed onto the included Blu-ray platter. The strongest extra in this package is an audio commentary with director/producer Alex Kurtzman and cast members Boutella, Wallis, and Jake Johnson. Video extras worth a watch are the interview segment "Cruise & Kurtzman: A Conversation" and the brief yet enjoyable motion graphic novel "Ahmanet Reborn." Universal also includes an UltraViolet + iTunes Digital HD copy as well as a bonus code for another free digital movie.
Blu-Ray
Studio: Universal, 2017
Aspect Ratio: 2.40:1
Audio Format: Dolby Atmos / TrueHD 7.1 core
Length: 110 mins.
MPAA Rating: PG-13
Director: Alex Kurtzman
Starring: Tom Cruise, Sofia Boutella, Annabelle Wallis
Forget about the Mummy movies starring Brendan Fraser, which kicked off in 1999 and launched their own spinoffs. This version of The Mummy is in fact a reboot of Universal's vaunted Classic Monsters franchises of the 1930s onward. Although it is meant to be a horror flick, this Tom Cruise vehicle directed by Alex Kurtzman—known more for his writing on TV series like Hawaii Five-0 than for directing—is less about horror than it is about big action set pieces.