Morel SoundSpot MT-3 Speaker System Review Page 2
Neverland
, the effects-laden Peter Pan prequel, gave the Morels a continuous stream of surround effects with just a moderate amount of bombast. Operating well within their dynamic envelope, the satellites impressed me with their wide-open soundfield, as they did with every subsequent piece of content. Dialogue was clean and natural, quite intelligible, but without obvious enhancement. For this demo only, I tried both subs, and I found that the wheel-shaped PSW150WR had a bit more oomph—not a surprise, since it has twice the rated power. The wireless feature worked as soon as I plugged it in, with no further intervention.
The 2013 DTS Demo Disc offered greater dynamic challenges. The satellites gave a forceful account of the original Hunger Games in the scene where induced wildfire chases Katniss through the forest. Snow White & the Huntsman is the clip I use for the "does this hurt?" test, in the battle between Ms. White and the evil stepmother. It did not hurt, though it was plentifully detailed, and the satellites guided movement through the soundfield precisely. Battleship gave the less powerful box-shaped SUB-8X a chance to raise hell. Instead, it raised heck, but a reasonable amount of heck for an 8-inch sub. The standout was the cave clip from Prometheus, which came alive with subterranean ambience and the fluttering echo of the explorers' electronic tools. The Morels loved picking apart the delicate timbres of effects and routing them around the room.
Movies I intended for mere break-in listening bore unexpected fruit and tested my appetite for irony. In 12 Years a Slave, the matched satellites knitted together a seamless soundfield, which was most noticeable in the naturalistic insect noises that surrounded the 19th-century plantation exteriors—including scenes of horrific barbarism. A similar wraparound enriched a scene in The Book Thief that juxtaposed lovely choral music with WWII-era barbarism. In August: Osage County, the jaunty guitars of Eric Clapton's "Lay Down Sally" eventually became the ironic soundtrack for the Meryl Streep character's emotional meltdown. All of which gives me another chance to point out that the benefits of surround sound—yes, even old-fashioned 5.1—go beyond thundering, clattering, whiz-bang effects. Surround also enhances the less bombastic but more devastating scenes that tug at our hearts.
Yesterday and Today
I thought the LP and first-generation CD versions of the Grateful Dead's Reckoning would be sufficient for my library. How was I to know that Rhino would issue a double HDCD of the unplugged album with loads of previously unreleased tracks? It brings the acoustic guitars into finer focus. Rather than vanish abruptly into blackness, notes linger a little longer. The Morels emphasized the transient pick-on-string bite and brought me forward to the front rows of Radio City Music Hall. Turns out steel balls and steel strings get along great.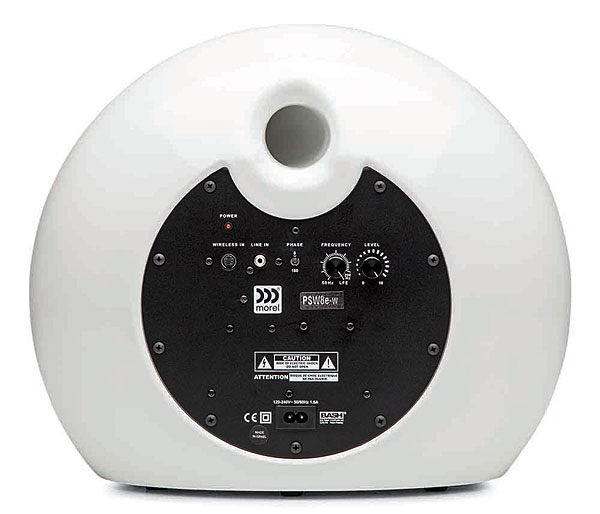 An old CD of Brahms' Symphony No. 3, with Sir Georg Solti leading the Chicago Symphony Orchestra, is sitting on my desk. Its 1985 copyright date reminds me that the $15 I paid for it would now be an inflation-adjusted $32.92. When I contemplate how many other $15 CDs I bought in those days…well, excuse me while I weep. This first-generation digitalia earned a place in my listening notes by accentuating how merciless the Morels could be to what is, by today's standards, an antiquated mastering job for a format that isn't considered "high-resolution." These satellites were incisive and analytical, not warm and forgiving, and they revealed this substandard treatment of the Chicago strings for what it was: crude and unsatisfying.
I feel better about my $3 investment in Billy Cobham's third solo album, Total Eclipse, circa 1974: $14.37 in today's dollars isn't too shabby compared with the cost of new vinyl now. The volcanic style Cobham developed for the Mahavishnu Orchestra, though still muscular on this record, had modulated to a funkier percolating undercurrent. The Morels delivered a scaled-down version of it—Cobham Lite—within the smaller sub's inherent limits. The Brecker brothers' sweet brass and John Abercrombie's crackling guitar brought out the best quality of the satellites: their treatment of complex textures, including the benign analog patina that overlay the whole thing via my vintage poor man's vinyl rig.
Although I didn't use the PSW150WR subwoofer in most of the main demos, it did accompany me through both of the Blu-ray Discs of surround and stereo material in King Crimson's vast Starless box set (which also includes two DVD-As and 20 CDs). What it lacked in sheer force, this little sub made up for in cleanly pitched bass notes, easily extending down to the bottom string of John Wetton's aggressive, virtuoso bass playing—though Bill Bruford's mighty kick drum was inevitably understated. The manufacturer attributes the sub's bass purity to the solidity of the composite resin enclosure. If you're buying a Morel system, the PSW150WR is worth the extra couple of hundred bucks, especially if you need your sub to be wireless.
The Morel MT-3 is a superlative sub/sat set, with most of its special qualities residing in the satellites. It is not cheap, but if you're looking for speakers that not only are visually unintrusive but also might actually make your room look classier, these have that magic power. Whether or not you eventually go for Atmos, the Morels offer several advanced design features that are rare elsewhere (such as the concentric drivers and spherical enclosures) or nonexistent (such as the lotus grilles). And yes, in their candid way, they do sound gorgeous.