Morel SoundSpot MT-3 Speaker System Review
PRICE
$3,000 as reviewed
AT A GLANCE
Plus
1mm-thick steel sphere Concentric drivers Superb imaging, soundfield
Minus
Predictably modest bass Satellites pricey
THE VERDICT
Morel's MT-3 Music Theatre combines steel truncated-sphere enclosures, concentric drivers, and a unique grille pattern to create a visually striking and high-performing compact sat/sub set.
The advent of Dolby Atmos casts a shadow over existing 5.1- and 7.1-channel surround systems. Some home theater buffs want the new technology and want it now, while others may decide not to go all in. In between are those wondering whether to leave the door open for Atmos. And that brings us to the Morel MT-3 satellite/subwoofer set. The 5.1-channel configuration reviewed here does not support Atmos; at least, these satellites lack the up-firing drivers that constitute an "Atmos-enabled" speaker system. However, their base provides for wall-, ceiling-, or tabletop positioning with no additional hardware, and surface-mounting an extra pair (or two) of satellites on a ceiling would indeed bring this speaker system into Atmos territory with a 5.1.2 (or, better yet, 5.1.4) configuration.
Craig Eggers of Dolby Labs offers a few stipulations: "Our guidance with regards to overheads is a design that is timbre-matched to the primary speakers." Check that box—with identical speakers, timbre-matching is perfect. The ceiling speakers must be "capable of supporting the same power equivalent as the primaries." Check again, for the same reason. They must have "a wide dispersion angle." Check—these satellites aren't beamy. And they should "support a wide frequency response." Regarding the top end, my ears say yes, though wide isn't the same thing as perfectly even; check our measurements. As for the bottom end, the bass cutoff for Atmos ceiling speakers is 180 hertz, within the limits of what these little satellites will produce. There would have to be some bass management, of course, but any Atmos receiver would handle that.
So although the MT-3 isn't billed as an Atmos-upgradable system, it could actually be one.
Music Theatre's Secret Sauce
Morel is an Israeli manufacturer whose SoundSpot Theatre 2 Ultra sat/sub set won a coveted spot on our Top Picks list more than three years ago. The MT in MT-3 stands for Music Theatre, suggesting that these satellites and subwoofer are as good for music as for movies. That's a hurdle not all sat/sub sets can clear—but the best ones can.
The secret sauce of the SoundSpot SP-3 satellite, on which the MT-3 system is based, is the enclosure, a sliced sphere of matte-finished steel just 1 millimeter thick. Inside, the enclosure is deliberately bare of internal bracing or damping materials. "Damping absorbs energy, which has to be released somehow," says Morel's Nir Paz. "We find it distorts sound and inhibits transient response."
Instead, the enclosure resonates along with the signal, but "when the music stops, the sphere stops, resulting in a much cleaner sound." Other benefits of the spherical enclosure: It defeats the bass-bloating, sound-coloring standing waves that build up inside rectangular enclosures. And it is structurally strong, a good thing for low frequencies. "It's all about getting distortion of all kinds to their lowest levels," says Paz.
Inside the metal ball is a 0.75-inch polymer-coated silk-dome tweeter mounted in the center of a 4-inch treated-paper cone woofer. This concentric design allows the drivers to operate as a single point source, which improves off-axis response consistency and allows the use of a simpler crossover design.
The metal "lotus" grille's geometrically intriguing perforations—in addition to being beautiful in a quasi-psychedelic way—fine-tune the speaker's output. Large holes at the woofer's outer edge gradually fade down to smaller holes toward its inner edge. But then the holes suddenly enlarge in the area over the tweeter. Nir Paz claims that the pattern "reduces the reflective and cancellation effects of grilles. The different holes create a different resonance frequency, which cancels itself out." I'm not sure about that explanation, but the grilles are also tough, an advantage when certain household members explore the speakers with curious little fingers or large tails.
Morel provided two subwoofers for this review. The one I used for most of the demos—because it least resembles the sub in the last Morel system I reviewed—is the SUB-8X ($499), with front-firing 8-inch treated-paper-cone woofer and 80-watt RMS amp (note that an RMS rating is more conservative than a peak rating). While its enclosure is a simple fabric-grilled rectangle, the SUB-8X does have a better look and feel than the utilitarian subs in most other sat/sub sets, with a beautiful gloss finish and rounded edges. Considering the price, this pushed up my ratings for build quality and value.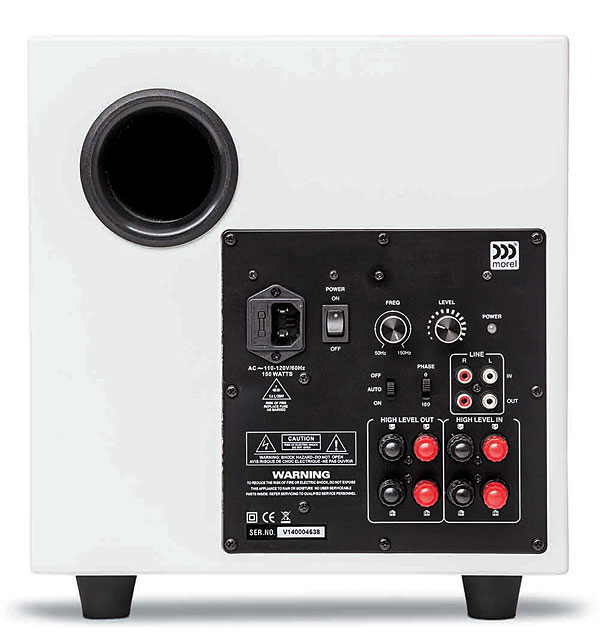 A more costly option would be the PSW150WR (previously known as the PSW8E, $699). This wireless sub comes in a wheel-shaped composite resin enclosure, with a port molded into its rear side, and it houses a 7-inch treated-paper-cone driver backed with a 150-watt RMS amp. I spent a few evenings with this model at the end of the demos. More on that later.
Associated equipment included a Pioneer Elite VSX-53 A/V receiver, Oppo BDP-83SE universal disc player, Micro Seiki BL-21 turntable, Shure V15MxVR/N97XE cartridge, and the phono stage of a Denon PRA-S10 preamp. All movie demos were on Blu-ray Disc with DTS-HD Master Audio soundtracks.
Facts on the Ground
Imaging and soundfield integrity are the strong suits of the SP-3 satellites. With a performance boost from their concentric driver arrays, they produced a vibrant soundfield with consistent timbre-all around and strongly imaged objects in every possible position and trajectory. Spellbinding would not be too strong a word. Tone and texture were equally vivid, even in two- channel mode, which called attention to the weaknesses of some content but benefitted most selections. Bass wasn't especially forceful, but I've come to expect that in compact sat/sub sets. (But note that of the two subwoofer options in this case, I chose the less powerful one.)